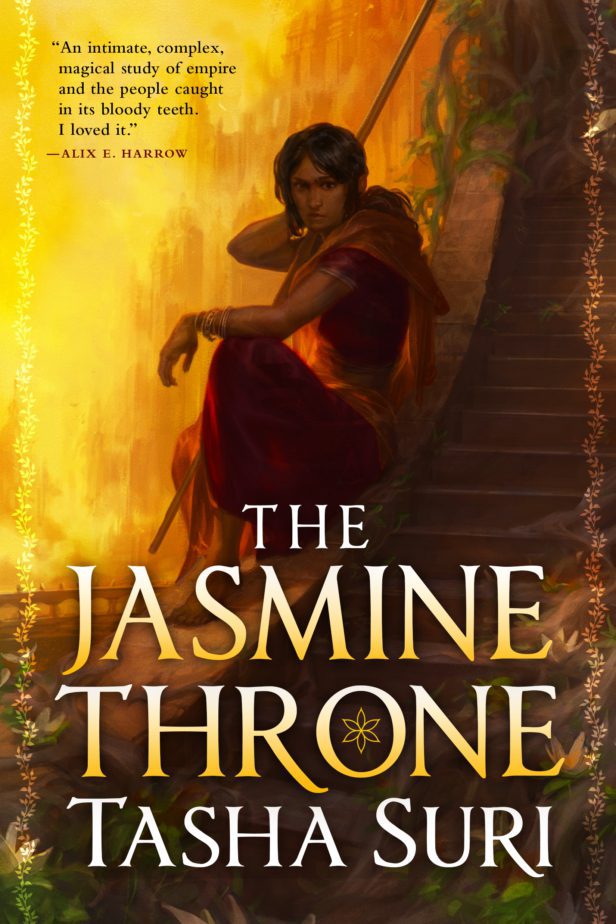 Rating: 10/10
Synopsis:
One is a vengeful princess seeking to depose her brother from his throne.
The other is a priestess searching for her family.
Together, they will change the fate of an empire.
Imprisoned by her dictator brother, Malini spends her days in isolation in the Hirana: an ancient temple that was once the source of powerful magic – but is now little more than a decaying ruin.
Priya is a maidservant, one of several who make the treacherous journey to the top of the Hirana every night to attend Malini's chambers. She is happy to be an anonymous drudge, as long as it keeps anyone from guessing the dangerous secret she hides. But when Malini accidentally bears witness to Priya's true nature, their destinies become irrevocably tangled . . .
The Jasmine Throne begins an epic fantasy trilogy set in a world inspired by the history and romances of India, in which a captive princess and a maidservant in possession of forbidden magic become unlikely allies. The sapphic romance and Booktok sensation!

Follow the author on Tiktok at @tashasuri.

'Raises the bar for what epic fantasy should be' Chloe Gong, author of These Violent Delights
'This cutthroat and sapphic novel will grip you until the very end Vulture (Best of the Year)
'Suri's incandescent feminist masterpiece hits like a steel fist inside a velvet glove' Shelley Parker-Chan, author of She Who Became the Sun
'It left me breathless' Andrea Stewart, author of The Bone Shard Daughter
'I loved it' Alix E. Harrow, Hugo award-winning author of The Once and Future Witches
'Lush and stunning . . . this sapphic fantasy will rip your heart out' BuzzFeed News

'A fierce, heart-wrenching exploration of the value and danger of love' Publishers Weekly (starred review)
Review
This is a tale of empires and kingdoms, of revolt and dissent, of pride vs unjust anger. It illustrates the anger of what people will do when they are oppressed, and it evokes the themes of power and love being mixed in a cluster of politics that is seriously at the heart of this book. There are so many story arcs within each character's chapter that the story moves progressively fast-forward. There's a spiritual level to this story that requires a bit of a deep interpretation because it is worth it. What made me the proudest, was the fact that this book called to my roots as someone that is from an Indian background. From little details such as 'onion sabzi' and the illustrative details of the homes, the cities, the names, everything about it made me happy. Even the names roti and paratha brought a smile to my face. Many Indians grow up in their households eating their mother's cooked food (though it is not always the case, it can differ) and it brought back memories of that. But enough about what it brought in terms of my personal feelings.
You have to understand that the plot can not be simply unveiled in one go. It's a massive book, and I think some areas could have been trimmed down or not needed. Moving onwards, the Parijatdvipan Empire is a massive empire, ruling over many places, subjects, and lords you name it. Its oppressive rule over the Ahiranyans from banning their culture, preventing them from doing things that they would do is driving them to the edge of revolt. Add other neighbors such as the Saketans and others. Emperor Chandra, who is considered to be a despotic Emperor is the worst of the worst. In his belief, what he does is right, and doesn't see what is wrong in this area. In a way, it reminded me of the Demon King Kamsa of Mathura, in a tale that may or may not be familiar to lovers of Hindu mythology, when he discovered that Krishna was the seventh born son of Devaki and her husband Vasudeva, and that child would kill him, Kamsa did something unspeakable, much like Herod in the Bible had done. Of course, Chandra doesn't do this, but he does something even more unspeakable.
This novel is certainly and heavily in my opinion, inspired not just by the Mahabharata or Ramayana, but by other Indian tales as well, perhaps even from the richest area of Indian literature which is the Ancient Tamil Literature, the Sangam Era of the Chola Empire. I did not expect this novel to be a recreation or staying true to the Hindu Mythos, because studying Hindusim in itself requires understanding hundreds of folklore tales passed down through generations, and it is a very old religion. To understand Hinduism itself, well the very beginning is just the tip of the iceberg. Hindusim is like a massively multiplayer MMORPG with hundreds of Gods, folklore, and clans to choose from if you look at it from a gamer's perspective. But why am I saying all of this? Because this novel is unique in its creation its own cultures, own creatures such as the Yaksa, the introduction of new temple faiths, etc. There must also be Buddhist/Jainism influence in it as well. I have no doubt that Tasha Suri did her research, and it shows.
In the end, it's a tale of love too. I thought I would be able to summarise all of the novels, finding the hidden nuances here and there, but I just can't. It's so good that I felt for Rukh, I felt for Rao, I felt for Vikram, even if I felt that his character didn't have the best of arcs. With Bhumika, I was a bit iffy but I understood her motivations. Malini and Priya have great chemistry for certain. Though I was a bit unclear about the Gods, and maybe the second book will show more of this world. It's a massive book, but now I can confidently say that as a book blogger, it's great to read some fantasy set in the rich world of mythical tales and just it's great to see an Indian-inspired fantasy novel. I can't wait to read book 2, and I want more of my Desi Brethren to go out there, write their own novels based on Indian culture and showcase it to the world.
We have a culture that spans thousands of years of stories to be told from. If not, then when? India has given the world yoga, food, culture, and music. Now it's time we Desi Folk, the creative bunch, gave our stories to the world. This novel made me so proud that I discussed it with my family, and the story is very similar in a way to Baahubali, which is an Indian Epic Fantasy film released in 2015 directed by Rajamouli S.S. I'd very much compare it with RRR which if you haven't watched it on Netflix, you need to watch it as the Russo Brothers really enjoyed it. When I compare these epic Indian films to the story, I find some events that are similar. If there is a film or TV series being adapted for this trilogy, then I'd love Rajamouli to direct it. Or even Netflix makes a series to direct it. It's that good.
This is a fantastic novel and a 10/10 from me.