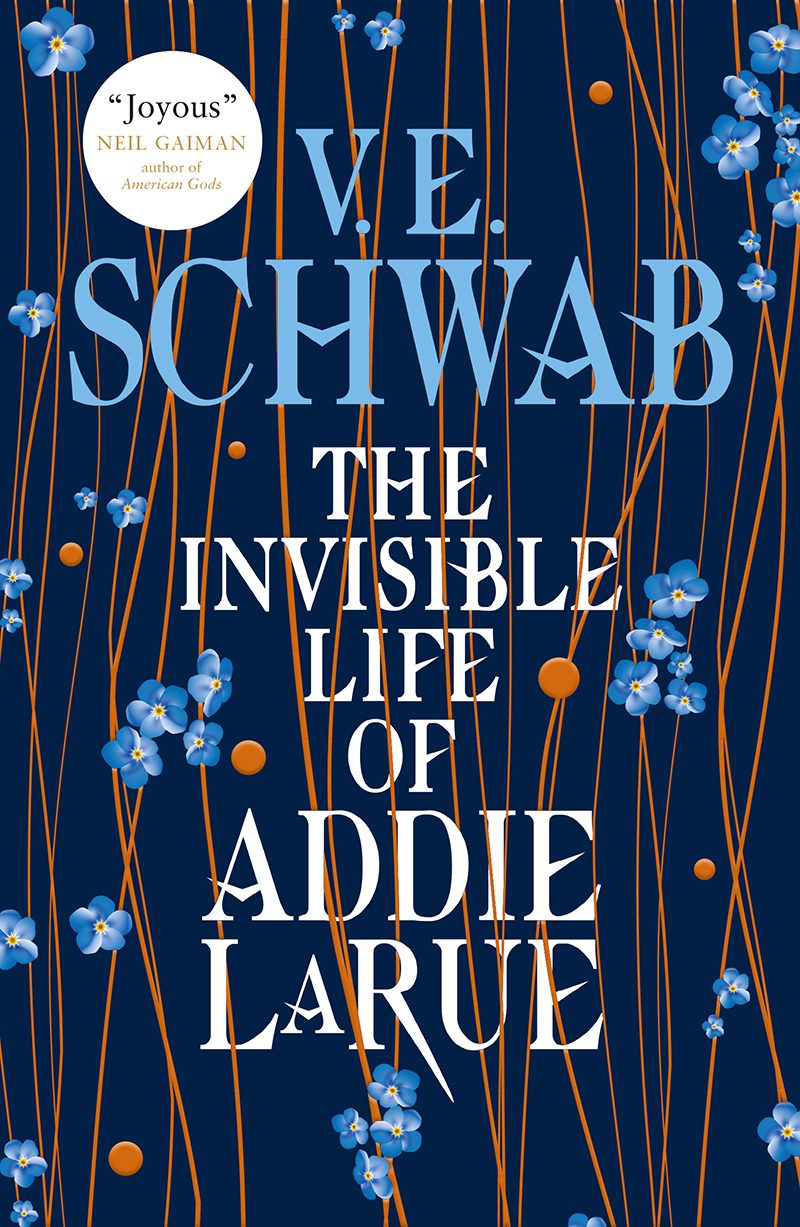 Rating: 6.5/10
Synopsis:
A Life No One Will Remember. A Story You Will Never Forget.
France, 1714: in a moment of desperation, a young woman makes a Faustian bargain to live forever-and is cursed to be forgotten by everyone she meets.
Thus begins the extraordinary life of Addie LaRue, and a dazzling adventure that will play out across centuries and continents, across history and art, as a young woman learns how far she will go to leave her mark on the world.
But everything changes when, after nearly 300 years, Addie stumbles across a young man in a hidden bookstore and he remembers her name.
Review:
Would it be better to have people genuinely adore you but be immediately forgotten after or to be remembered by all but not truly loved or appreciated?
Well, I finally read The Invisible Life of Addie LaRue. I can see how this novel has garnered so much interest. Schwab's prose is dreamy enough to drown in. I will admit, I've only read her Shades of Magic trilogy, and I found it enjoyable… but dry. Forgettable, even. The Invisible Life of Addie LaRue, in direct contrast to its title, is NOT forgettable. I will note that for me, it didn't land as the perfect novel that many readers seem to have experienced.
I'll start off by saying for about fifty percent of this novel, I could see this landing as a 5 star read. I really was taken in by the romantic prose. The trouble is that as the novel progressed, I was more enthralled in Henry's story. Addie is used as a device to set Henry's life back on path. How sad is it to be a supporting character in your own story? The way Henry's story unfolds is much more clever and shocking than Addie's 'girl-becomes-quirky-muse-for-generations-of-men-but-none-of-them-can-ever-get-a-grasp-on-her' storyline. All leading to the interesting man finding his place in life due to the girl. Manic pixie dream girl, indeed. I found myself cringing more and more as the story went on. I don't know if the author is doing a good job when you center a book around a girl but the reader (me) ends up liking the other (male) character better. But hey, this book has so many accolades and positive reviews that my opinion doesn't really matter in the scope of things.
Though I have my criticisms, this book wasn't a complete waste. As I said, I was enthralled by a lot of it. Even as the story progressed, I consumed this book eagerly. I listened to most of it on audio, except for the last hundred pages or so, when I wanted to see how it ended and knew I could read it faster. The audio was lovely. I've listened to quite a few audiobooks narrated by Julia Whelan now, and I love how she can make her voice unique to each story. I think this is my favorite performance by her thus far. Her soft, languid way of telling The Invisible Life of Addie LaRue only added to the dreaminess. I think there's a good chance I would have enjoyed this book less if I didn't hear her stunning narration.
The jump through different times and locations provided for some historical entertainment. I do think that the sheer amount of moments this happened made the book a bit longer than it needed to be. This could knock off some enjoyment for many readers as after so many it becomes repetitive, but again, I wasn't bothered by this because of the gorgeous audio.
There's a focus on addiction and depression, the depths of the lows that one feels when in their grasps, that makes a deal with the devil for happiness seem believable. I thought Schawb did a decent job of making us understand this. Also, I can see how a girl would give up her soul to make choices for herself, especially in times when women had no choices, and a desire for more in life. I was fine with the limitations of the curse(s) but Addie shows very little growth. Yes, she sheds a degree of selfishness in her final choices, but there's a moment before that where she's willing to sacrifice an innocent soul to gain what she wants. I found this more selfish than anything she has done and it did not endear me to her. Even at the very the end, all of her choices still come down to a degree of selfishness because she can't stand to exist in a world where her heart is aching from loss… though she condemns another person to that fate (again). This is a fantastical novel so it's easy to say, "oh, everything turned out great because LOVE is the greatest sacrifice" but is that realistic? I fully realize the romanticism of this is what is going to make this novel beautiful for some, but I'm not quite sure I'm there.
There is more romanticizing of her toxic relationship with Luc throughout the novel that goes on for centuries that Schwab decides to admonish within the last like… thirty pages of the book that just didn't feel like enough for me. The focus on a safe, gentle love started to take hold throughout the novel. As someone who has experienced a toxic relationship, sometimes I fear the way we create these exciting, disastrous relationships through fiction. They happen in real life, and they should be featured, but I feel that too many people will validate the rush of adrenaline they get from a bad relationship when it is described in such an idealized manner for most of a novel. I do not doubt that there are many Luc and Addie shippers out there in the reading world, because he's described so enticingly and only loses that hold in the last few moments of the book. I do have to remember that authors are people too, so while I have gained insight after escaping a bad relationship, that doesn't mean that every person has.
And there we have it. I've broken this down as honestly as I can think of. The good parts of this book are ALMOST so good that I could overlook the imperfect parts. Alas, I could not but I can see why so many people love this. I don't expect or want my review to change anyone's mind. I think there's so many reviews out there now that this is just a raindrop in the ocean at this point, anyway. The Invisible Life of Addie LaRue is one of those books that will swim about my head for a bit because the beautiful writing style really did take hold.