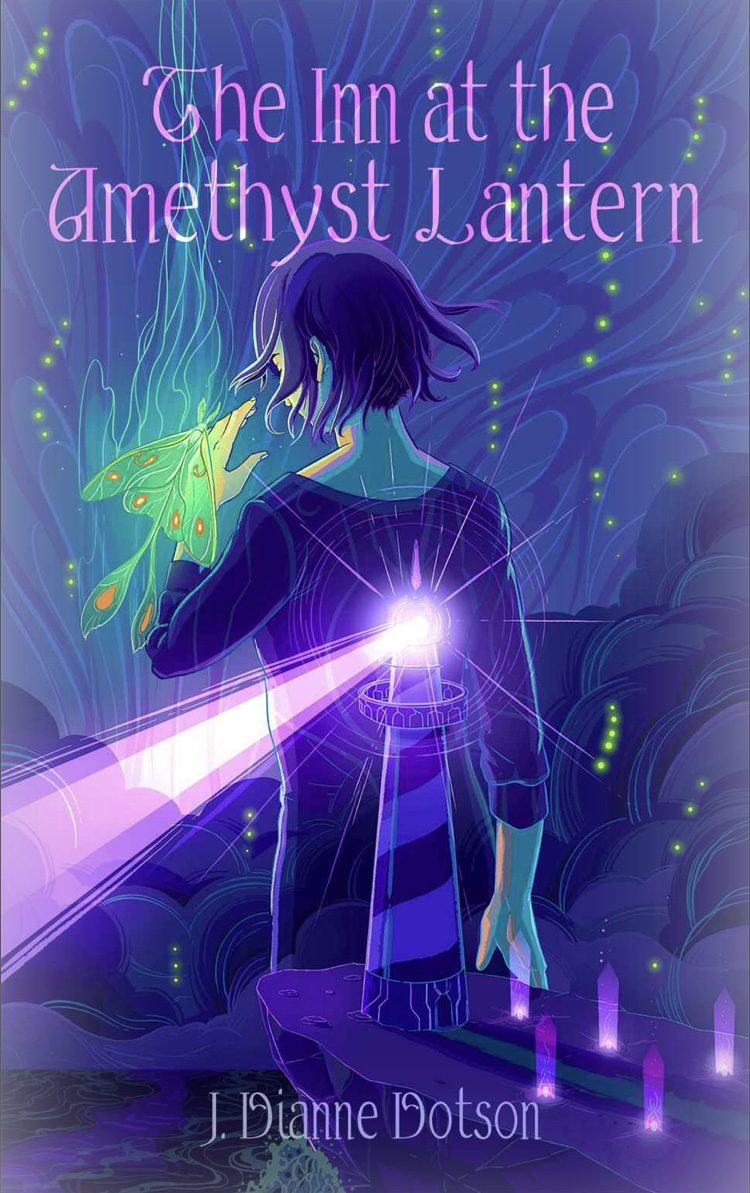 Rating: 8/10
Synopsis 
Long after a climate catastrophe, when a utopian future faces an unearthed evil from our present, Gentian "Gen" Lightworth and her friends in the night-living town of Glimmerbight must stop the past from repeating itself by using all their wits and talents…and perhaps a bit of magic.
Review
When genre-mashes work, they really work. Such is the case with this Young Adult Lunarpunk coming-of-age sci-fi action-adventure. At first glance, that mix might seem ambitious, but from page one, it's obvious that all these elements truly belong together. And that's what makes this book feel just a little bit magic.
If you've ever wondered what The Goonies meets Pitch Black might look like, this is the book for you. And if you've never wondered that, then start wondering, because it's awesome!
The first thing that leaps off the page is the level of worldbuilding on display. It's phenomenal. There are so many details squeezed in to every chapter. The environment seeps out of the pages and into your soul. I fell in love with the world of Glimmerbright, and I could happily read an entire series set here. Just to give you a flavour of what to expect — sunlight is so fierce that humanity has spent centuries adapting to life in the dark. Moonlight, bioluminescence, and shadow are the ingredients that soak the atmosphere in rich purple hues. Whether it's glowing mushrooms, giant owls, or a waxing moon, there's always something to remind you of the world, and it's utterly brilliant.
In terms of characters, the plot revolves around a ragtag group of teens who come together to stop a malevolent force that's literally ripping the world apart. Focussing on so many characters could easily bloat the story, but each is unique enough to stand out, and after a few chapters of them being together, you'll know each of them enough to keep track of who's who, and you'll have definitely found a favourite among them.
The protagonist is Gentian Lightworth, known as Gen, and she takes the role of the reluctant hero. Her crises of confidence throughout the book don't feel forced, and young adults will find plenty to relate to and admire in her loyalty and courage despite her fish-out-of-wateryness.
This is the first time the author has deviated from adult fiction into the realm of YA, but she fully commits to it, and it really suits her style. The prose is clean. It reads very well. If you're a fan of YA, you'll find it hard to put down.
The final third is particularly strong, tying everything together in clever ways, and there's a definite sense of completeness about the story being told. I love the folkish quality that pervades the sci-fi elements, making this feel more like a fairy tale than a science lesson. And I particularly enjoyed how thoroughly satisfying the back end of the book struck home.
The Inn At The Amethyst Lantern puts the YA in YAAAASSSSSS! From its sublime world-building to an eclectic cocktail of characters, you're sure to find something here to light the darkest night.