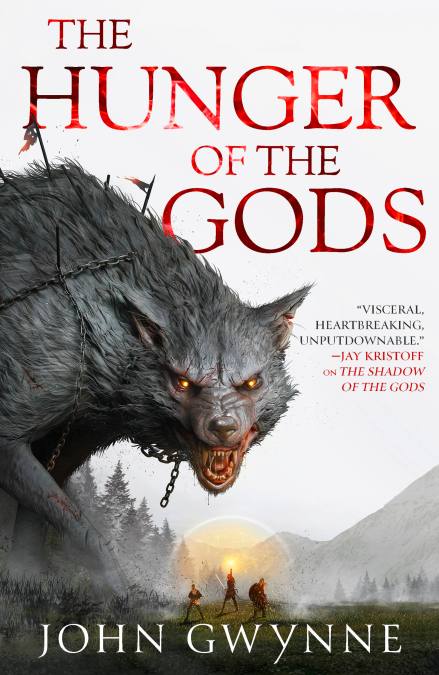 Rating: 10/10
Synopsis
Set in a Norse-inspired world and packed with myth, magic, and vengeance, this epic saga follows a band of warriors as they face the wrath of ancient gods and change the shape of the world.
Lik-Rifa, the dragon god of legend, has been freed from her eternal prison. Now she plots a new age of blood and conquest.   

As Orka continues the hunt for her missing son, the Bloodsworn sweep south in a desperate race to save one of their own–and Varg takes the first steps on the path of vengeance.   

Elvar has sworn to fulfil her blood oath and rescue a prisoner from the clutches of Lik-Rifa and her dragonborn followers, but first she must persuade the Battle-Grim to follow her.  
Yet even the might of the Bloodsworn and Battle-Grim cannot stand alone against a dragon god.

Their hope lies within the mad writings of a chained god. A book of forbidden magic with the power to raise the wolf god Ulfrir from the dead . . .and bring about a battle that will shake the foundations of the earth.
Praise for The Shadow of the Gods
"There is not a dull chapter in this fantasy epic." —Vulture (Best of the Year)
 
"A satisfying and riveting read. It's everything I've come to expect from a John Gwynne book." —Robin Hobb
 
"A masterfully crafted, brutally compelling Norse-inspired epic." —Anthony Ryan
 
"A masterclass in storytelling . . . epic, gritty fantasy with an uncompromising amount of heart." —FanFiAddict
Review
Thanks to the publisher and author for an advance reading copy of The Hunger of the Gods (The Bloodsworn Trilogy #2) for review consideration. This did not influence my thoughts or opinions.
The Hunger of the Gods is sheer perfection. From start to finish, I was utterly captivated. It is a merciless, heart-wrenching Norse-inspired epic that never lets you catch a breath. Much like Shadow in 2021, Hunger will be my Top Read of 2022. I can't imagine a better novel exists.
What words are there that can accurately describe how much I enjoyed this novel?
I read it from cover to cover over the course of 2+ days. Every single second I wasn't engaged with either family, sustenance, or sleep, I was reading.
It is a book I have been EAGERLY anticipating for for over a year. I want to be honest with you: it is RARE that I get this excited about a book. I think the only book that even remotely compares would be Lightbringer (Red Rising #6) by Pierce Brown.
So, much like Shadow, Hunger is a multi-POV Norse-inspired epic fantasy novel. Unlike Shadow, it features additional POVs to those we already know. Varg, Elvar, and Orka are back and are now joined by Biorr and Gudvarr. While this many POVs might sound daunting at first, Gwynne gives every single one a unique voice with which to tell the story and fortunately/unfortunately, you really begin to become emotionally attached to each one – even though you probably already were with three (3) of them from the previous installment.
What really makes this book so epic is the cliffhanger ending from Book 1 leading into what becomes an even broader expansion of the world-building, lore, creatures and plotting. You thought Lik-Rifa's emergence in Shadow was going to be the biggest thing to happen in this series? Yeah, think again.
When I say Gwynne doesn't let you catch your breath, there literally is not a single chapter out of the seventy-plus that slows down the pacing. Each chapter brings a unique piece of character growth, battle, lesson-learned, etc. that leads to an explosive ending that still feels like it will pale in comparison to the finale of the series.
I can promise you this: if you ask me for a recommendation to read over the course of the next 12 months, The Hunger of the Gods is going to be that book. If you haven't read The Shadow of the Gods, buy it and pre-order Hunger. Understand me when I say you DO NOT want to miss out on this series.