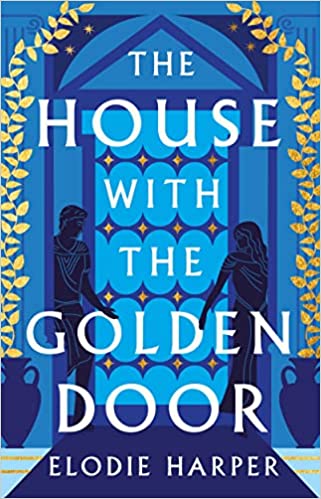 Rating: 9.5/10
Synopsis:
The life of a courtesan in Pompeii is glamorous yet perilous . . .
Amara has escaped her life as a slave in the Wolf Den, the city's most notorious brothel, but now her survival depends on the affections of her patron: a man she might not know as well as she once thought. At night in the home he bought for her, the house with the golden door, Amara's dreams are haunted by her past. She longs for her sisterhood of friends—the women at the brothel she was forced to leave behind—and worse, finds herself pursued by the cruel and vindictive man who once owned her. To be truly free, she will need to be as ruthless as he is. Amara knows her existence in Pompeii is subject to Venus, the goddess of love. Yet finding love may prove to be the most dangerous act of all. This is the second installment in Elodie Harper's acclaimed Wolf Den Trilogy, which reimagines the lives of women long overlooked.
Review:
"Perhaps you shouldn't have discarded her so easily. There is always a price to pay for underestimating a woman."
The Wolf Den was one of my favorite books last year, and I was anxiously awaiting the sequel. The House with the Golden Door was hard for me to read this straight through, only because I care about the characters too much. Amara is playing a dangerous game in this one and everyone around her could pay the price. I don't fault her, as she's trying to make a way for herself in a brutal society. She's finally free, but is she ever really free when she's at the mercy of the men around her? I was so anxious waiting to see what would happen to her, Victoria, Philos, Beronice, Britannica, and more.
Britannica took such a spotlight as one of my favorite characters in this book. She's such a fun and lively character. Philos becomes a major part of the story as well. Amara keeps us on our toes, per usual. She's daring and shows no fear even when she's internally cowering. I love her so much, even though she can be infuriating at times. The loss of a certain character from book one (don't want to spoil for others), really drives her to become ruthless especially when confronting Felix.
"He was always generous, but my father really did not deserve the godlike worship my mother lavished on him. No man does. A mistake she was later determined her daughter would not repeat."
These books are so unique and I've learned so much of the enslavement that took place in Pompeii (and other parts of the world during that time). You can tell that Elodie Harper does her research. I love learning while I'm reading and that's I'm such a huge fan of well done historical fiction. This trilogy is going to be one that I recommend time and time again.
These books are full of heart-racing excitement. The characters make you fall in love with them. The House with the Golden Door is as equally heartbreaking as it is fulfilling. I cannot wait to read the final book. I would follow Amara's story for many more installments, but I'll settle for one more! The House with the Golden Door is out in the UK already and will be out in the US on September 6, 2022. Thanks so much to Union Square and Co. for the advanced copy!