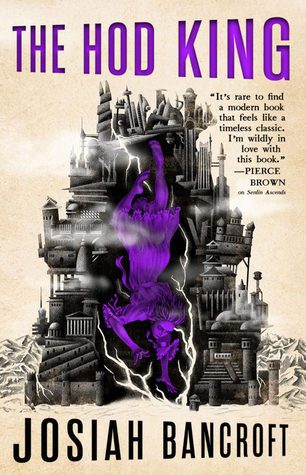 The Babbling Ant
Pelphia's "Most Trusted" Source of Daily News and Nightly Gossip
From the desk of Asher Robinson, Editor-in-Chief
Dearest reader,
Today I find myself in a precarious position. I've received a book whose contents I haven't decided to act on yet, but could likely prove dangerous. Allow me to paint the scene.
The gaslight dawn had just broken over our beautiful city of Pelphia. On this bright morning, your humble editor-in-chief was stumbling in the kitchen in his slippers. My sleep-heavy eyelids turned the simple act of brewing a pot of coffee into a puzzling zoetrope of texture and color.
Tap, tap, tap. A sound from somewhere in my home. Am I still dreaming?
Tap, tap, tap. Perhaps that wily old macaw is roosting in my window-box again. I opened the window to shoo him off, but the only thing outside my window was a young couple (clearly in love) just outside the Bon Royal Hotel.
Tap, tap, tap. At this point I began to question my sanity. I scuttled through my kitchen, around my velveteen sofa and past my ancestral grandfather clock to reach the front door. This tapping was no doubt the work of some meddlesome children, or perhaps a poor hod who had shown up to clean the wrong condominium. Unlike many in Pelphia, my heart bleeds for the hapless hods. Try as I might, I can't convince my brother Oren to write a sympathetic piece in The Daily Reverie on the common hod. After all, it's on the hods' sweat and blood that we revel in such splendor. Why would anyone upend the grand party that is Pelphia?
At my door was not a hod, nor a macaw, nor a pair of lovers. A brown package sat on my stoop, not a Reverie-hawking newsboy in sight. I do not receive packages often, but I am always curious about them when I do. Receiving mail feels much like receiving a present, until you realize the present is actually a bill. I hurried back to my armchair and opened the package, fumbling with the paper wrapping.
Ladies, gentlemen, noble friends, I venture to say that what I have found will change our ringdom – nay, our Tower, forever. A thick tan book, with a terrifying depiction of the Tower of Babel, emblazoned with the daring title: The Hod King. The author, Josiah Bancroft, remains an enigma, though the surname suggests he is one of the drab Boskops that are known for their mysterious skills like worm harvesting and toadstool-sniffing. (A trite assessment perhaps, but Boskops will be Boskops.)
I assure you: though the author may be a Boskop, his authorship is as vibrant and compelling as the Duke's Midwinter Ball. I was thrown into the shoes of one Thomas Senlin, a man as familiar with danger as any dashing hero of old. Our hero is heartbroken, having lost his wife Marya (The Mermaid herself!) in the Tower just like many of us have lost loved ones. But does he give up? Never! Senlin seeks to infiltrate the upper tiers of the Pelphian nobility. Though he is on mission from the mysterious Sphinx to investigate strange happenings surrounding a hod-fighting ring, Senlin's own heart proves stronger than even the Sphinx's will. Seeking to free Marya from the clutches of the Duke Wilhelm Pell, Senlin finds himself at the center of a tangled web of intrigue that could bring the Tower to its knees. Come the Hod King, indeed.
We are then taken to the charming capers of Voleta and Iren – the former playing the courtly debutante niece of the Sphinx, the latter acting as muscle-bound governess to the spritely trapeze artist. They have been sent by the Sphinx to assist Senlin in his exploits. They are also instructed to contact Marya and "pluck her from the jaws of the dragon", so to speak. Voleta's rambunctious attitude has Pelphia buzzing with excitement, and even draws the eye of the Prince of Pelphia. Many are afraid to speak badly of the Prince. I am not such a man, but I will allow you to make your own assessments. With parties and danger at every turn, can Voleta reign in her wild heart long enough to maintain decorum in the velvet bear-trap that is the Pelphian high court?
Finally, The Hod King brings us to our final actor: Edith Winters. Newly-minted captain of the Sphinx's flagship, the State of Art, Captain Winters is instructed by the Sphinx to journey to Pelphia to retrieve a copy of the painting, The Bricklayer's Granddaughter. To what ends I have no clue, but it quickly becomes apparent that perhaps the seemingly all-powerful Sphinx is in over his head. Captain Winters quickly befriends a fellow Wakeman, and in their journeys about Pelphia many secrets are revealed. Edith is determined to retrieve the painting and to help Senlin, but the nobility of Pelphia have other plans for her and her ship.
Discerning reader, I will not delve further into the plots. The Hod King is as much danger and intrigue as it is fun and enjoyment. Suffice it to say, I am now absolutely convinced that Pelphia, the Tower of Babel, and perhaps the land of Ur are all in grave danger. There is much I have read that shocked me, right down to my old weathered bones. I implore you now, People of Pelphia – stay home from your frolicking, take a break from the ballrooms, stuff your garments and garters in suitcases. Take time to gather the things you hold most dear (and for the Sphinx's sake put some sensible clothes on).
Despite what the Crown may say, I believe we are in for turmoil the likes of which Pelphia has never seen.
With that being said, I think I will set out some seeds and nuts for that old macaw to eat. Trying times are upon us. I think we all might rely on the kindness of strangers soon enough.
Yours in truth,
A. Robinson
Amazon| Audible | Google Books | Libro.fm
Review by Griffin