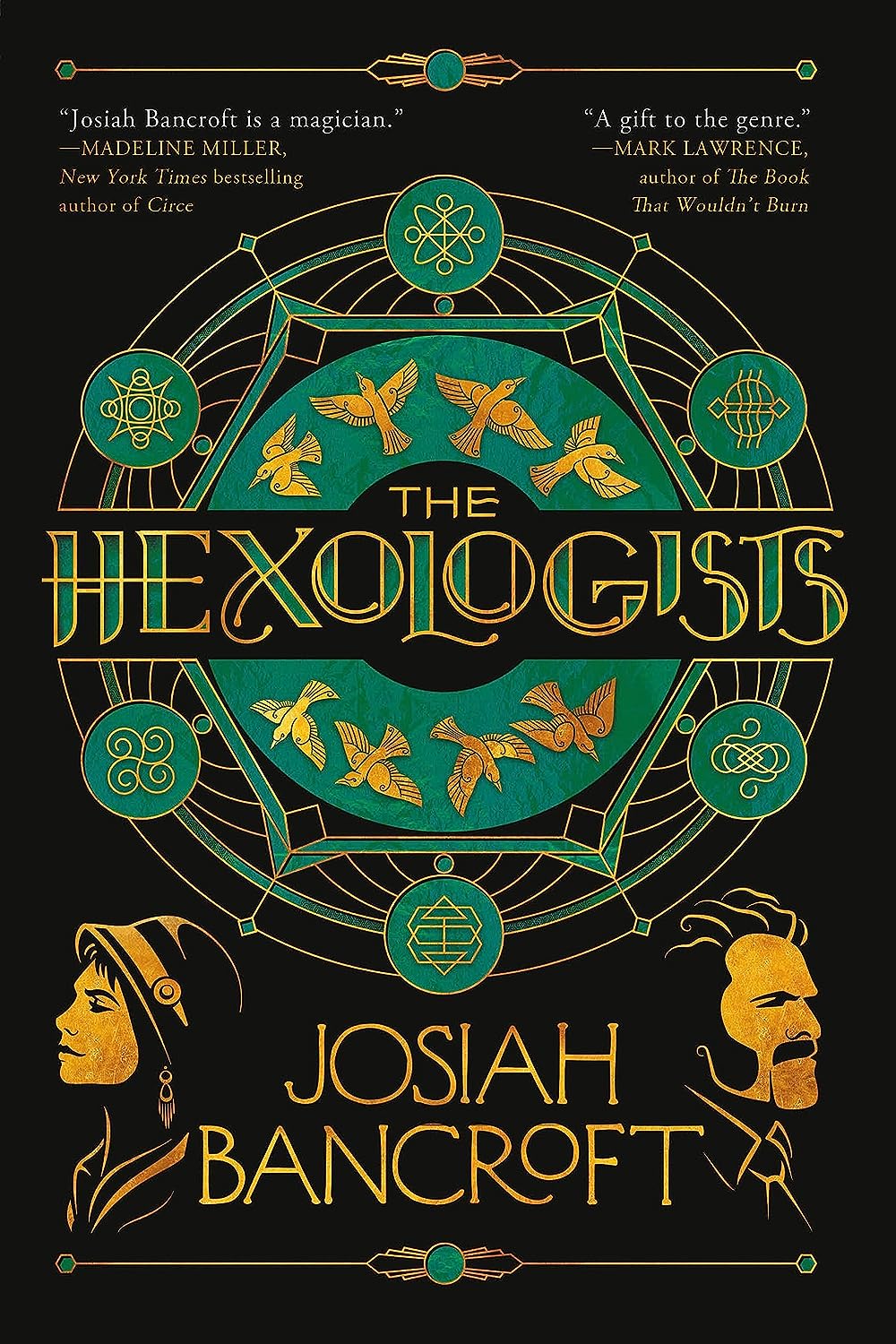 Rating: 9/10
Summary:
The Hexologists, Iz and Warren Wilby, are quite accustomed to helping desperate clients with the bugbears of city life. Aided by hexes and a bag of charmed relics, the Wilbies have recovered children abducted by chimney-wraiths, removed infestations of barb-nosed incubi, and ventured into the Gray Plains of the Unmade to soothe a troubled ghost. Well-acquainted with the weird, they never shy away from a challenging case.

But when they are approached by the royal secretary and told the king pleads to be baked into a cake—going so far as to wedge himself inside a lit oven—the Wilbies soon find themselves embroiled in a mystery that could very well see the nation turned on its head. Their effort to expose a royal secret buried under forty years of lies brings them nose to nose with a violent anti-royalist gang, avaricious ghouls, alchemists who draw their power from a hell-like dimension, and a bookish dragon who only occasionally eats people.

Armed with a love toughened by adversity and a stick of chalk that can conjure light from the darkness, hope from the hopeless, Iz and Warren Wilby are ready for a case that will test every spell, skill, and odd magical artifact in their considerable bag of tricks.
Info:
386 pages
Publisher: Orbit
Audio: 14 hrs
Narrator: Sarah Slimani
Review:
The Hexologist is an immersive and charming frolic through a land of common magic and whispered arts. This all takes place after the Meridian War, waged from 4012 to 4033 which ended in an armistice that prevented the use of magic on the battlefield, though many still practice the arts. Though the whole thing has a feel of 'ye olde' meets current-day almost Steampunk type feel.
Isolde and Warren Wilby are like the 'Holmes & Watson' power couple whose talents in the arts render them a valuable candidate for certain investigative tasks, using their knowledge and experience in ways that others could not. Their husband and wife dynamic is the glue that holds this book together. It is that of a strong-bonded couple who can communicate through a glance, keeps things organized, and rarely engage in frivolity. The pragmatic approach allowed me to connect to them on a deeper level than characters who may act irrationally to build suspense or fear. Whatever they were faced with, they would face it together and without fear.
Through the novel you'll get to learn about the Portalmanteau, Felivox (favorite of mine), Henry, Jess, Victor, as well as a surrounding cast of trolls, talking starlings, and sorcerers.
The pacing of this story was well organized and really kept the plot moving. There were plenty of leads to chase and obstacles along the way. Answers to questions only led to more questions and the suspense kept a steady clip as the mystery started to unfold the stakes get higher. The methods of the investigation is where the excitement and imagination ramp up. The hexes used and methods practiced really portray Bancroft's level of detail in this world. (There's even a Glossary in the back for those fun extra details)
Josiah Bancroft's writing is truly a remarkable thing. His poetic and verbose prose always give such a rewarding and fulfilling experience. The Hexologists is a perfect recipe of magic, fantasy, action, wonder, and charm. I can't wait to see where this series goes!