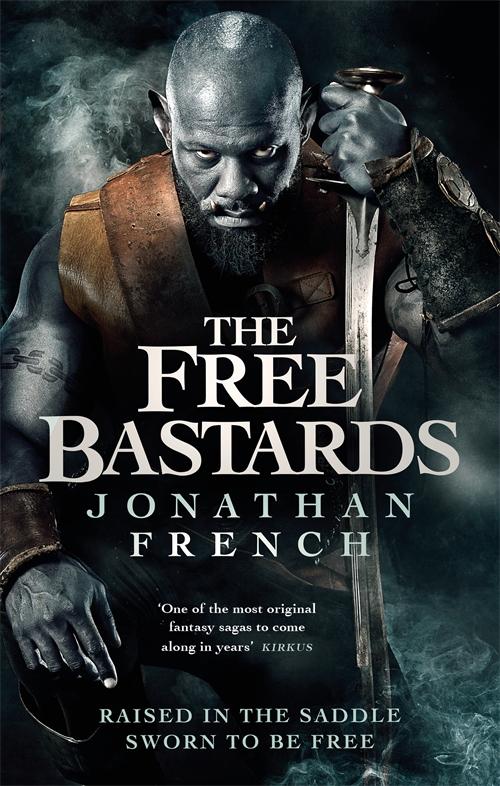 Rating: 10/10
Synopsis
The long-awaited war has come in the conclusion to the Lot Lands trilogy.
War has come to the Lot Lands—and Oats stands upon the frontline.
The Hisparthan armies on the horizon are mighty, bolstered by divine champions, dread sorcerers, and gunpowder. It's almost more than the half-orc rebellion can hope to repel.
But Oats has won impossible fights before. He's a thriceblood, after all, more orc than man. And he hasn't forgotten how to kill. He'll stack the bodies high for his chief and his brethren, if that's the price of freeing the Lots from human tyranny.
Besides, the invading forces are getting a damned sight more than they bargained for. They're not facing a handful of half-orc hoofs, but a true army—one forged from all the peoples of the Lots. At its head are Fetching, in full command of the ruinous power that runs through her veins, and Jackal, armed with the blessings of a dead god.
Yet Oats can't help but find his faith wavering. Once the strongest Bastard, he soon realizes that in this battle, even the strength of a thriceblood is easily conquered. And after a grievous loss strikes, he begins to fear that this war will lead the Lots not to freedom but to ruin.
So when another path to peace beckons, he has no choice but to walk it. Even if it means betting the Lots' fate, and his own, on the promises of the Bastards' wiliest adversary—and making a perilous journey into the heart of Hispartha itself.
Brimming with all the epic battles, surprising sorcery, and fiendish twists a Bastards fan could wish for, alongside unforgettable moments for characters old and new, The Free Bastards builds a new future for the Lots—even as it gives our beloved trio of Jackal, Fetching, and Oats the rousing, blood-soaked sendoff they deserve.
Review
First of all, a big thanks to Orbit, Nazia, and the marketing team for an early copy of the book (which I failed at reading in time for release because I was so immersed in it I decided to take it slow). It in no way affected my review.
The Free Bastards is a final book that takes everything we hold dear, all the cool, badass, components we've loved from the first two and throws a dash more of court intrigue that's a weird fit with mongrels around, more strange magic and ramps it all up to a hundred! It's a book that knows itself and ain't scared to flaunt it. It's a tapestry of all that the Lot Lands had to offer in books 1 and 2, woven into a tight picture then set ablaze; let me tell you this, reader, when the fire that's Oats starts, it doesn't stop.
Immediately, my first thoughts when stepping into the Lot Lands and Ul-wundulas again are that I'm dazzled by French's writing, how it has both evolved and the same it's always been: clear, concise, and brutal, in parts, and how he draws us into a new voice … one we know but not as closely as the past two, yet we're treated to a distinguished, familiar voice. A friend coming home. A side point to the creativity of the writing: I really enjoyed the way Oats described the town as it was plotted on their rudimentary map, where he'd viewed the town plotted on old paper, marked by bits and bobs they could find, we're treated to a very Oats field of view instantly; the way he complained about his beard etc. It helped fit right into character and ground us immediately. Though, after the initial pages it wends slow, and I did admit I found it a bit difficult to orient myself in Oats' voice. I found myself searching for Jackal or Fetch, but that quickly disappeared with … a … certain …
Maiden Spear are so. Freaking. Cool. And that, my friends, is where Oats took over and I never looked for anyone else.
The story truly comes into form by 20%, the relationship between Oats and Muro is honest and genuine; knowing French is a father himself, this is more sincere. Oat's character arc, and the two little boys that surround it is ever endearing and couldn't grip the heart more if it tried. It really put Oats forefront as a real, believable character and not just the brute force he was in earlier books. The 'healing' I share the same sentiments about. It, along with the rest of the book, is painstakingly plotted. Ever intriguing.
Story of Herathos Lionclad is cool and sets us up for a bit more world-building, a bit more history and culture. And I was definitely there for it. Until now, we've seen Hispartha and the frails as just evil jailers keeping the Lot Lands under control. We saw a bit of them at Castille but nothing like we do in this book. The world expands before my eyes, sprawls into histories with Herathos' story and the promise of powers and magic beyond what we first thought they wielded. The Maiden Spear and whatever else lurks in their power made me wonder why the Incursion wasn't easily stopped. Hispartha are a force to be reckoned with.
Battles are quite obviously at thew forefront of this book, visceral and fully formed. There's wet beneath you, mud caked, and you wait for the blare of the horn; then it's a churn of madness, cannon fire, all of it experienced, not felt. The show not tell is strong in this one. I loved the carnage that French sowed in this book; this is the first time we've seen the Bastards go to war. And it was war at its best and worst. Wars claim much and give little, and that's no truer here than it is anywhere else.
A side note: Ruin … whoa. What a scene. You know if you know.
There's such a change of pace in the second half, where the Bastards go to Hispartha to duel with words and royals, that it really does slow down. In fact, before the last act it feels like an entirely different series. It displayed versatility in writing and what the land of the frails is really like. If the first part of the book is a pitched battle, a muddy and bloody scupper for land in the Lots, the second very much is at court in the land of humans, castles, and royals. And the funny thing is that French makes this seem a lot more vicious and brutal than any of the battles before it. There's a stark cruelty to those who wield power over another group, something that's far more harrowing than war. It's in these last chapters that we truly see how much French can break our heart (damn you!) and how mature, heartfelt and complex the writing was up until that points. I'm not going to lie; I was utterly stunned at one point in this book. I honestly had to stop reading and go back over the page. Yes, there's a lot of badassery and magic in the end, but it's those personal moments, those last conversations, those subtle cues that make this book and make this series. You care about the characters, despite them being half-orcs you relate to their suffering.
Overall, this gave me a lot more than I thought it would. If you've read Grey Bastards or as far as True Bastards, then it's criminal not to read this one. It truly is a work of art, but, be warned, there's certain parts that may trigger you (I mean, who am I kidding, the Lot Lands are one big trigger warning). I feel … or hope … that this isn't truly the end. Not with some of the hints that French drops in his acknowledgements page, nor with the unexplored parts of Ul-wundulas, nor with certain people still at large. I'm hoping we see these lands again.