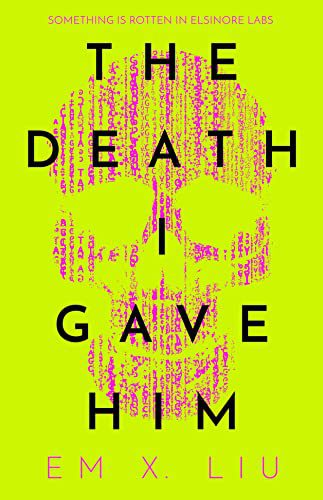 Rating: 7/10
Synopsis
The corpse of Dr Graham Lichfield lies brutally murdered in the Elsinore Labs, watched over by Horatio – the Elsinore Labs Operating System. Lichfield's death-defying research, the Sisyphus Formula, is now the target of the killer. It's up to his son, Hayden, to find out who the killer is and to keep the formula safe.
With the lab in lockdown, Hayden is trapped inside with, his ex Felicia, Felicia's father and head of security Paul, uncle and fellow researcher Charles and the research assistant Rasmussen.
Someone is lying. Someone murdered Hayden's father. And Hayden will get his revenge.
Review
The Death I Gave Him is a bold locked room Sci Fi that really doesn't hold back. The premise is simple – scientist is horribly murdered after developing a formula that, in theory, can cheat death. I say in theory because it hasn't been signed off for human testing. Yet.
If that hasn't piqued your interest then how about the main character augmenting his mind with the lab AI to record his investigation into the murder?
TDIGH has a great hook and, like a cyborg Agatha Christie, Em X Liu presents a sombre Sci Fi STEM mystery. Dare I say … STEMpunk?
But what also transpires is a story of Hayden and Horatio's relationship together and to an extent Hayden and Felicia's too. Liu's main gaze looks at a thoroughly intimate integration of Horatio into Hayden's neurological network and just how a sentient AI might behave in a situation. Is it love? Is Hayden actually crazy and in love with himself, AI or not? Is there a sex scene between the two of them? No spoilers but yes, yes there is.
And with this, TDIGH, as you can probably tell, veers away from its hook. It stops being a locked room murder mystery and instead rips into revenge, relationships and romance. The narrative is a jagged mix of Horatio observing Hayden, extracts from Felicia Xiu (Hayden's ex and Elsinore colleague of sorts) and an editor piecing everything together to preserve the story of what went down in Elsinore Labs. The editor, and Liu themself, wish for the story to stay in the memory.
As such, we find out who the killer is a little too quickly for comfort. No song and dance, no sleight of hand. We just know who it is and move along. With that, the payload has been dropped and all that remains is the blood.
There are moments of excellence. When Hayden enacts his plan to avenge his father's death it is a true masterstroke. That moment when you say "No!" out loud as you see what's about to happen but you, and the characters, are powerless to do anything about it. The juxtaposition of the sterile lab environment with the ugly, butcher's shop violence was effortlessly done and was satisfyingly unsettling.
Just, for me, the payload came too early and meant the rest of the book's themes didn't grab me enough. I'm a reader who devoured crime fiction for many years and because of this, I need the reveal to be done right. I need that formula as much as the killer in TDIGH needed Dr Lichfield's. Perhaps this isn't therefore the book for me but it was certainly nowhere near the realms of a DNF. I enjoyed the parts I enjoyed but subsequent scenes of violence, killing, and self harm also weren't for me, and as such I lost my way with Hayden's motivations.
What TDIGH does is look at some interesting ethical questions under a STEM Sci Fi scalpel. Should our relationship with AI really cross this line of direct interfacing? Is the fear of death worth killing for? Do we really have the right to try and live forever?
The Death I Gave Him
It had moments where it hits and misses but I'm glad I could step into Elsinore Labs and really see what happened. TDIGH ended up being a solid read. While I wanted something else, Liu ultimately succeeded in their goal of creating a story that I won't forget and that, at the end of it all, is exactly fitting of the death they gave.