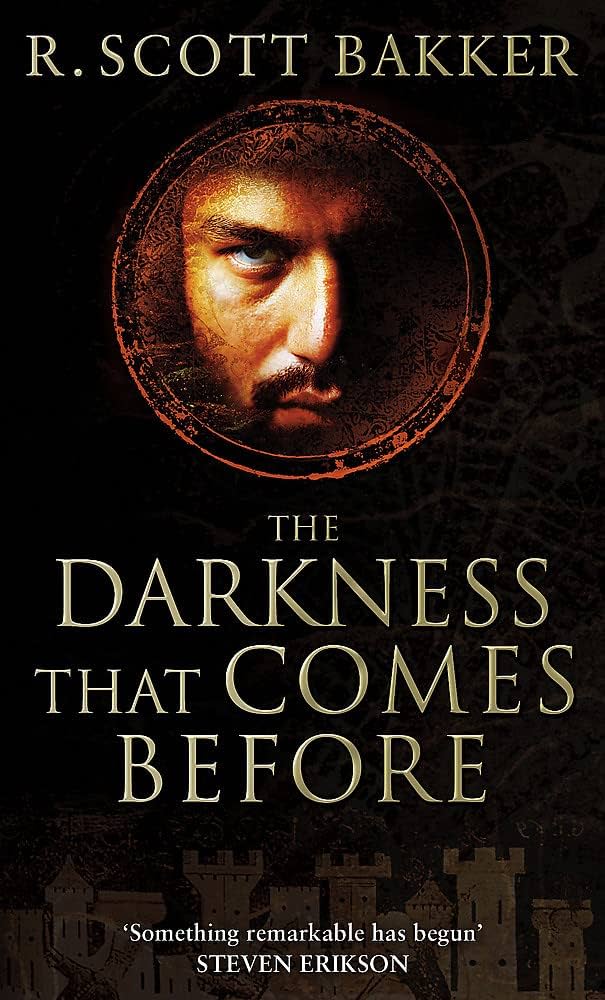 Rating: 9.5/10
Synopsis
The first book in R. Scott Bakker's Prince of Nothing series creates a world from whole cloth-its language and classes of people, its cities, religions, mysteries, taboos, and rituals. It's a world scarred by an apocalyptic past, evoking a time both two thousand years past and two thousand years into the future, as untold thousands gather for a crusade. Among them, two men and two women are ensnared by a mysterious traveler, Anasûrimbor Kellhus – part warrior, part philosopher, part sorcerous, charismatic presence – from lands long thought dead. The Darkness That Comes Before is a history of this great holy war, and like all histories, the survivors write its conclusion.
Review
That was absolutely incredible, compelling, and just bloody brilliant. The Darkness That Comes Before is the first is first book in the Prince of Nothing trilogy, and damn, I'm just in awe.
This book is, without a doubt, one of the most detailed fantasy books I have ever read and has an incredibly rich world with dozens of religious factions and rivalries, whether they be political, cultists, barbarians and heathens. Multiple converging storylines and sub-plots will keep you gripped whilst R Scott Baker, a richly dark imagined historical world that takes place, will draw you in hook line and sinker.
A full cast of intriguing and amazing characters that you will absolutely love, some of my favourites are Kellhus, the superhuman who has mastered himself, and may just be a god, we will find out soon enough, a brilliant, if deeply troubled, tribesman named Cnaiur, an old mandate sorcerer and teacher, Achamian and the prostitute, Esmenet are they are just the tip of the iceberg.
Excellently written, and the prose is just beautiful. Fantastic worldbuilding, plot, and setting are sublime. As Steven Erikson has put it, Something remarkable has begun, and I couldn't agree more.
In The Darkness That Comes Before, A score of centuries has passed since the First Apocalypse, and the thoughts of men have turned, inevitably, to more worldly concerns.
The spiritual leader of the Thousand Temples seeks a Holy War to cleanse the land of the infidel and heathens.
But the fate of men, even great men means little when the world itself may soon be torn asunder. Behind the politics, beneath the religious fervour, a dark and ancient evil is reawakening. After two thousand years, the No-God is returning. The second apocalypse is coming, and you best be ready when it does.
I implore you beautiful fantasy readers to check this out. You will not regret it, I very, very highly recommend….