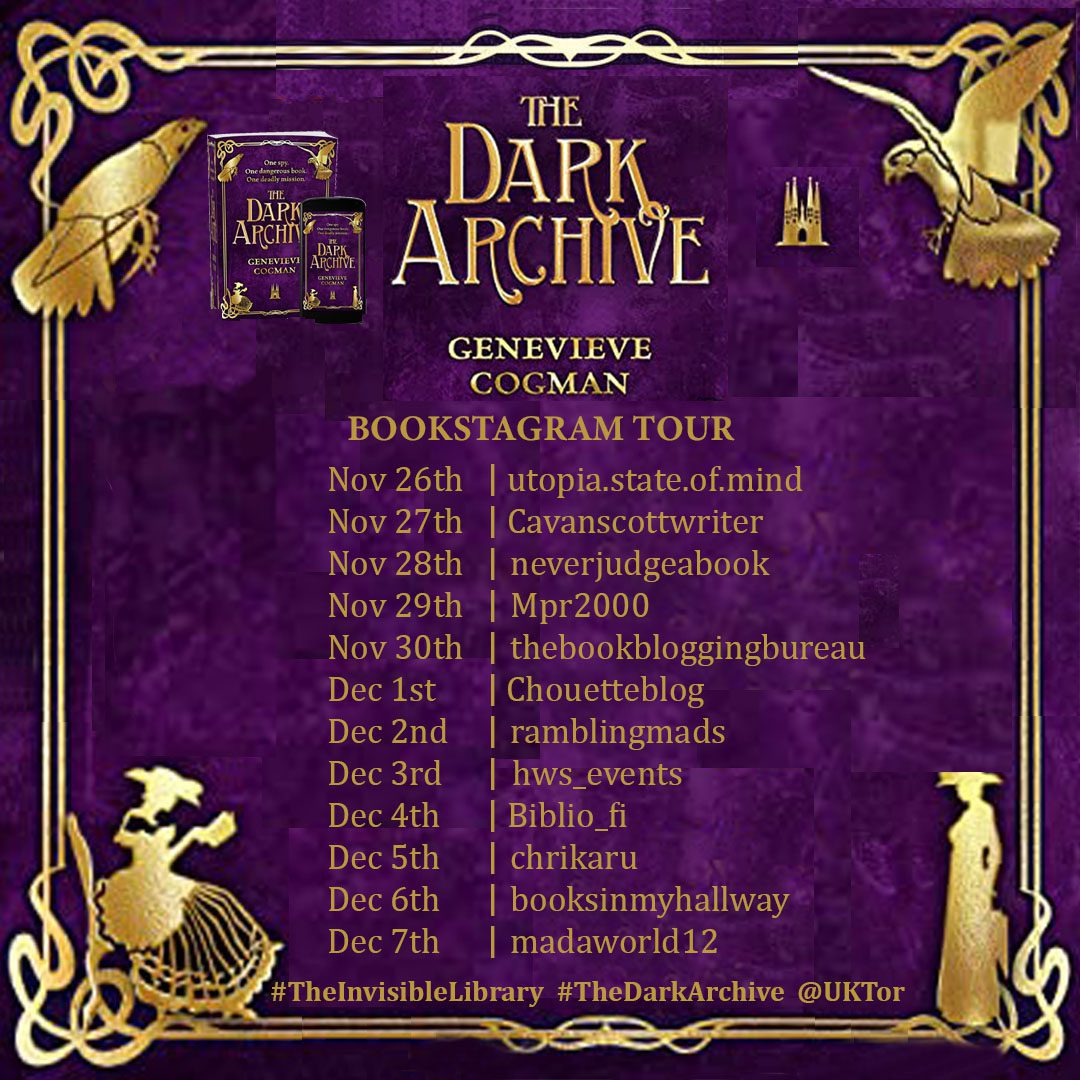 Rating: 10/10
Synopsis:
A mysterious archive. A powerful enemy. And a cunning plan.
Danger is part of the day job for a Librarian spy. So Irene's hoping for a relaxing weekend. However, her jaunt to Guernsey proves no such thing. Instead of retrieving a rare book, she's almost assassinated, Kai is poisoned and Vale barely escapes with his life. Then the attacks continue in London – targeting those connected with the Fae-dragon peace treaty.
Irene knows she must stop the plot before the treaty fails. Or someone dies. But when Irene and friends are trapped underground, in a secret archive, things don't look so good. Then an old enemy demands vengeance, and a shocking secret is revealed. Can Irene really seize victory from chaos?
The Dark Archive is the seventh book in the Invisible Library series by Genevieve Cogman.
Review:
Thank you to Jamie-Lee Nardone, Stephen Haskins, Tor Books and Tor UK, and thank you to Genevieve Cogman and Pan Macmillian for allowing me to participate in this instagram/blog tour.
The Dark Archive is a lush, paradoxical book that challenges your belief of the human idea, the human system. In a sense, it felt like Inception combined with Victorian England along with this concept: Parallel universes and Time Travel. This is very much like the BBC's Dark Materials and Amazon's Carnival Row. This world is alive, it is immersive, and you are dealing with not just one villain, but multiple villains that make you question the heroine herself. Irene, no doubt is a character that loves attracting tension and drama even when she doesn't want to. And that attracts creatures of all kinds, unimaginable monsters and werewolves that you don't want to be near. The journey to an island like Guernsey is the last thing you'd expect anything spectacular to happen. Yet, it does. You're thrown into the bases of submarine bases, exploring modern-day cities yet time traveling across different periods. I did feel Catherine's character wasn't utilized enough in this novel, since her viewpoint also contrasted with many other character's viewpoints.
I felt Inspector Singh was used the most, and to his capability that was needed. Still, I would have wanted to see more of him and Vale working together in the later stages of the novel. Kai's my favorite character, and I wish Kai and Irene could stay together, they are perfect. Except one's a dragon and one's a human, and you know what happens when things like that happen. Kai's brother, however, is a very interesting character who's always jealous of Kai despite their social ranking. I think Kai's brother will have more of a role to play in the future.
And the villains, well there's the Gauntes and then there's Alberich, but they're going to play a much bigger role in this novel. This is more than brilliant, more than amazing, this is the ability of an author to craft a traditional fantasy world and remake it in the eyes of a new reader. She has crafted a breath-taking, immersive action-orientated world where if any reader picks this up, new or old, they will enjoy this series. I didn't feel too much that I needed to go back and read the other books, but I would advise reading from the start. And I cannot wait for the Ancient Egyptian stuff that could be explored in the future. And yes, the Library does have a will of its own. The writing is tremendous, this is easy to read and can easily be a children's book. A very good children's book.

I loved this. Really Did! 🙂