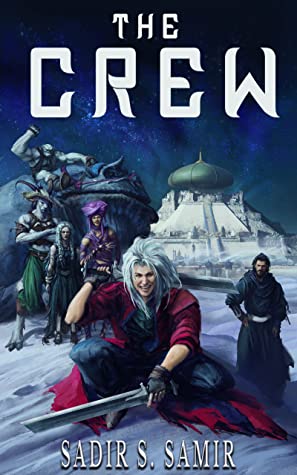 Rating: 10/10
Kings of the Wyld meets Deadpool in this action-packed fantasy adventure set in an Arab-inspired landscape.
Varcade fled to the deserts of Harrah to escape his past as an Educator, a member of an order of zealot warrior-monks that aims to shape the world according to their sacred Teachings by force. Varcade makes his living as a reckless sword-for-hire, caring only about himself, until his self-centered lifestyle is turned on its head when he is contracted to recruit a misfit team of unruly assassins and take out the mighty Bone Lord of Akrab.
But the Bone Lord is aware of the plot and sends her band of Dusters to stop them; individuals who have gained bizarre and lethal magical powers by snorting the pulverised bones of dead gods. Hunted by Educators and Dusters in a city-state where an escalating conflict between the human and demon population threatens to boil over in a civil war, will Varcade and his ragtag crew save Akrab from the cruel Bone Lord, or will they make things even worse?
Review
If I had one word to say about this novel, think of it as Castlevania and Vox Machina having a baby together and then deciding: How do we make this even more crazy? Sure it has all the fantasy tropes of old, but there was something about Sadir's writing that made me want to read on. There are so many interesting characters written with incredible detail regarding their backstories. The prose is so easy to read that that's a thing in writing: how to keep your prose good enough that readers will keep on reading. It's no easy job. Sadir has done the impossible with this! He's achieved, a fantastically amazing written novel.
At the same time, the backstory of Varcade and how he interacts with other characters around tells and reveals a lot about his nature. There's the spy and his lover, the bounty hunters, and the city is stuck in a past of time, and I would compare certain elements of this novel to Gareth's A Sword Defiant because it too has scenes of people being oppressed, people wanting freedom, and much more. These stories bring tales of colonialism and evil yet of hope and resurgence. There are gory details galore in this one too.
This is a fantastic story, written with great prose, and is a fun-action romp adventure with full of colorful characters and crazy heists! There is plenty to go through, and I wish this novel had been longer because it deserves to be a longer series! 10/10 from me!