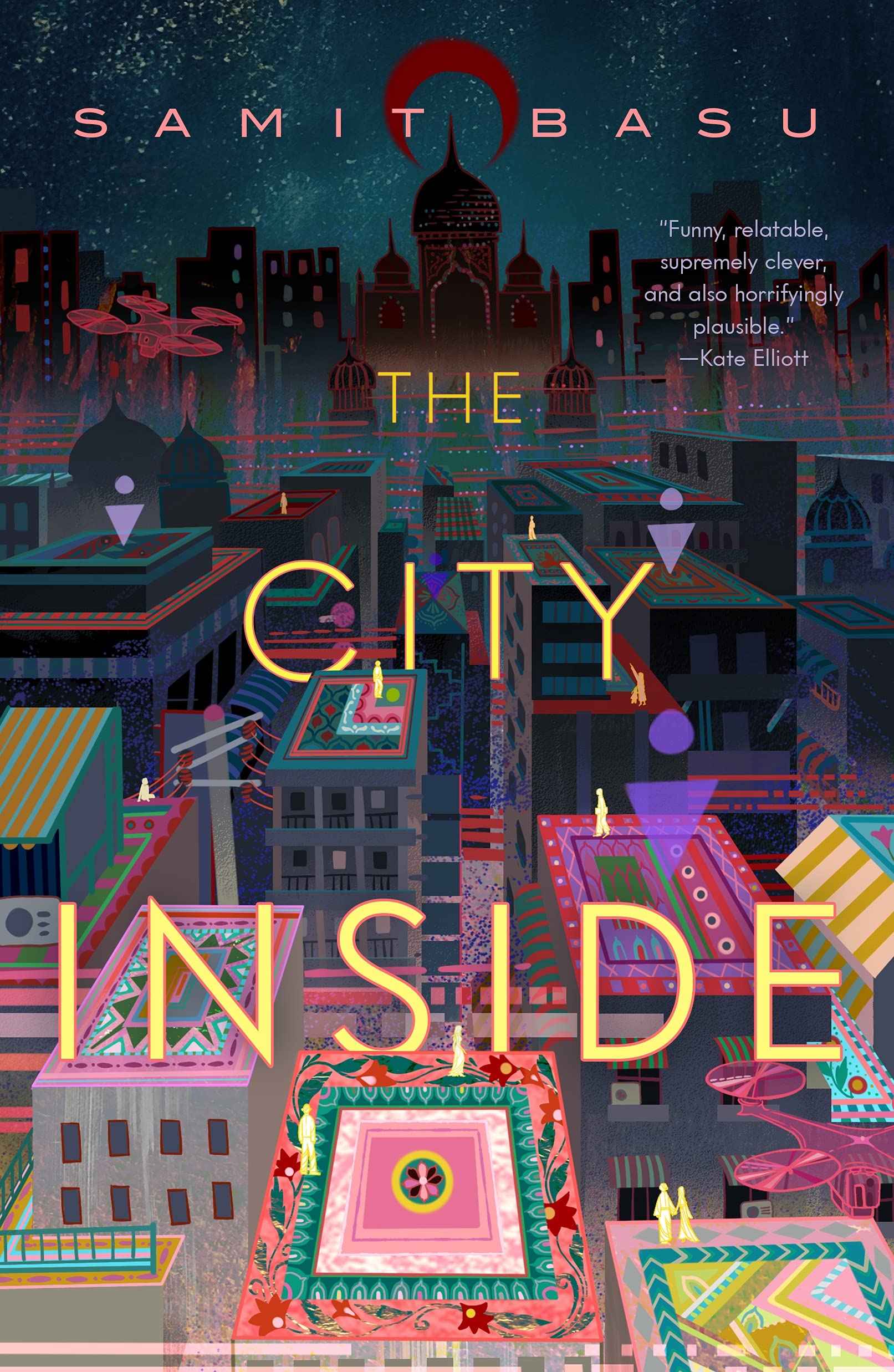 Rating: 8.5/10
Synopsis
"They'd known the end times were coming but hadn't known they'd be multiple choice."

Joey is a Reality Controller in near-future Delhi. Her job is to supervise the multimedia multi-reality livestreams of Indi, one of South Asia's fastest rising online celebrities―who also happens to be her college ex. Joey's job gives her considerable culture power, but she's too caught up in day-to-day crisis handling to see this, or to figure out what she wants from her life.

Rudra is a recluse estranged from his wealthy and powerful family, now living in an impoverished immigrant neighborhood. When his father's death pulls him back into his family's orbit, an impulsive job offer from Joey becomes his only escape from the life he never wanted.

But as Joey and Rudra become enmeshed in multiple conspiracies, their lives start to spin out of control―complicated by dysfunctional relationships, corporate loyalty, and the never-ending pressures of surveillance capitalism. When a bigger picture begins to unfold, they must each decide how to do the right thing in a world where simply maintaining the status quo feels like an accomplishment. Ultimately, resistance will not―cannot―take the same shape for these two very different people.
---
Thank you to Tordotcom Publishing for sending me an ARC of this book for review consideration. This does not influence my thoughts or opinions.
---
Review
New Delhi takes center stage in this character-driven narrative, set in a near-future rife with class struggle, corporations, surveillance and manic multimedia stars.
The City Inside is a tricky novel to review. On one hand, I enjoyed it a lot—its characters, world, technology and atmosphere. On the other, the narrative structure is strange, and the real story takes a while to coalesce and impress. That said, it's also a short book, and author Samit Basu manages to pack in a ton of great ideas, character development and worldbuilding. It's also a book that contains a heaping pile of heart, humor and positivity, offering up some much-needed levity in these strange times we are in.
First off, I love Basu's future representation of New Delhi—his New Delhi. The world feels alive, with small details packed into every sentence. I could smell New Dehli's menagerie of pollution and spices, I could feel the oppressive, muggy heat of the city, and I could sense the inequality between its citizens. There is an impressive density to the book's prose, but it doesn't feel weighty and reads quite fast.
Despite this immersion, it took a lot of time for the narrative to find its footing. The beginning third of The City Inside is overloaded with a lot of exposition/info-dumping, and, in all honesty, not a lot happens. In terms of story structure, it doesn't have much of one at first. There is so much cool stuff packed into the exposition, but it took me a while to understand where the story was actually going.
The slow burn of the first third also bleeds into the character representations. It took me a while to relate to them, 'cause there isn't much in terms of stakes early on. Joey and Rudra are both great characters, and relatable in many ways, but I needed something to sink my empathetic claws into. Thankfully, that does come, albeit farther along than I would have liked. But when the story really kicks off, I connected with Joey and Rudra a lot, such that I was wholeheartedly rooting for them by the closing chapters.
Mainly, this character connection came in the form of two things. First, the humor. Basu nails a comedic touch that transcends his own Indian heritage. I laughed constantly during this story, finding humor in the small, human moments as well as the absurdities of its near-future scenarios. Second, a sense of community-building and small-scale change. By the end of The City Inside, this is what affected me the most. The book left me brimming with positivity and hope for where our world can go, as characters combine their skills and mutual goals to open doors across economic, social and cultural barriers. It's a beautiful message, one that has trickled into my life and inspired me in my family and community relationships.
I also enjoyed the representation of technology and social media, offering a strange-yet-familiar glimpse into the future of a place so foreign to me as New Delhi. There are absurd multimedia stars that reflect upon our current fascination with social media influencers and reality television. There are also annoying AI virtual assistants, big corporations, VR games, surveillance drones and all manner of technological innovations that blur the line between the real and the virtual. Most importantly, all of the tech Basu introduces in the story has a use, as well as being presented in a way that is true of our reality: all technology has the power to improve or oppress, enforce peace or prosperity.
This duality is also a perfect reflection of The City Inside as a whole. It's a book that shows there is always hope in the future, despite class oppression and technological control. There is always the possibility for an individual to be and do better, despite what they've done in the past. And amidst all of this, there is so much nuance—in how we live our lives, how we interact with one another, the good we do as well as the bad. What matters is our willingness to accept our faults, embrace our talents and lend an honest hand to our friends, families, neighbors and communities.
Positive change can occur, one choice at a time.