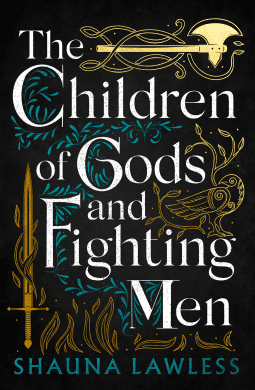 Rating: 10/10
Synopsis
981 AD. The Viking King of Dublin is dead. His young widow, Gormflaith, has ambitions for her son – and herself – but Ireland is a dangerous place and kings tend not to stay kings for long. Gormflaith also has a secret. She is one of the Fomorians, an immortal race who can do fire-magic. She has kept her powers hidden at all costs, for there are other immortals in this world – like the Tuatha Dé Danann, a race of warriors who are sworn to kill Fomorians.
Fódla is one of the Tuatha Dé Danann with the gift of healing. Her kind dwell hidden in a fortress, forbidden to live amongst the mortals. Fódla agrees to help her kin by going to spy on Brian Boru, a powerful man who aims to be High King of Ireland. She finds a land on the brink of war – a war she is desperate to stop. However, preventing the loss of mortal lives is not easy with Ireland in turmoil and the Fomorians now on the rise…
Review
"𝙸𝚏 𝚢𝚘𝚞 𝚠𝚊𝚗𝚝 𝚜𝚘𝚖𝚎𝚝𝚑𝚒𝚗𝚐, 𝚢𝚘𝚞 𝚖𝚞𝚜𝚝 𝚝𝚊𝚔𝚎 𝚒𝚝 𝚋𝚎𝚏𝚘𝚛𝚎 𝚜𝚘𝚖𝚎𝚋𝚘𝚍𝚢 𝚎𝚕𝚜𝚎 𝚍𝚘𝚎𝚜."
This debut novel is a magical blend of Irish history and mythology. Set in 981AD the story follows two female POV's.
Fódla is one of the Tuatha Dé Danann, a magical people that most people think no longer exists, with a healing gift. She is sent by her people to spy on one of the Irish Kings as a war is looming between the different nobles in the country. We also follow Gormflaith who is one of the last remaining Fomorians; an immortal and a right piece of work honestly. She also bears fire magic. She is in a position of power, seeks to win the throne of Dublin for her son Sitric, and gave me lots of Cersei Lannister vibes. We follow these two women and their stories against the political backdrop of the looming war for the throne. There is plenty of intrigue, mystery and lore in this thrilling story.
I found it so easy to get sucked into this world. Despite knowing little to nothing about Irish history everything was easy to follow and the exposition was spot on. Never too much or too little.
I loved both of the main characters we follow. Fódla's story was really engaging and my favourite overall. From her grief about the past and her relationships, to watching her struggle to remain impartial and distant from the new people she meets I was itching to see what happened. The scheming and viscous nature of Gormflaith was equally as fun to follow. I loved how the author made it really easy to understand her POV and avoided her becoming a stock standard villian type character. A hard line to walk but it's so well done here.
I loved the world building in this story so much. The author's note at the end shows how much care has been taken to blend all the elements of this story together and it shows. I found myself just wanting to fall into historic Ireland. It all felt magical and real.
The pacing was spot on, and when the action is low there are so many emotional moments that kept me on the edge of my seat. This was book was addictive and wonderful in every way.
I'd recommend this book to everyone. I can't wait for what comes next. This book is released on Sept 1st. Check it out!
Thank you to the author, Netgalley and Head of Zeus publishing for the ARC copy.