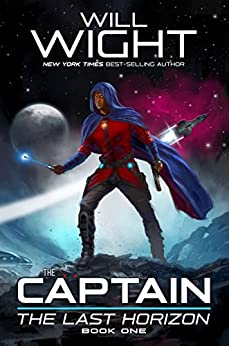 Rating: 7.0/10
Synopsis:
"To survive in this galaxy, you need a wand in one hand and a gun in the other."
On a little-known planet, Archmage Varic Vallenar casts a grand spell to empower himself with the magical abilities of his alternate selves. The ritual works too well, granting Varic not only the magic but also the memories from six lives.
Including their gruesome deaths.
Now, Varic has power greater than any wizard in galactic history, but he knows that won't be enough. The enemies he faced in those alternate lives were apocalyptic in scale. Terrors of technology and magic. Nothing that he, or anyone, can defeat.
Sun-eating extra-dimensional insects, shadowy secret organizations, genetically enhanced alien super-soldiers, ruthless mega-corporations, and hordes of cyborg undead all lurk in the darkest corners of the galaxy, and Varic knows that any of them can become a world-ending threat at any moment.
All these are beyond any wizard, no matter how many spells he's mastered or how many interstellar warships he's rallied to his cause. Hopeless, Varic finds himself trying to preserve what little he can from the coming doom.
Until he hears rumors of a mythical starship, an invincible vessel of heroes made to do battle against galactic threats.
A ship called The Last Horizon.
Review:
So, finally I got to read one of my most anticipated reads of the year. Certainly was a shock and a source of joy to myself and many fans that Will Wight decided to release a new series before finishing off Cradle with Waybound. But then having read, Cradle and The Traveler's Gate by Will, pretty sure everyone was eagerly awaiting for this.
To start with, this is a Science Fantasy and set in a world different from Cradle and The Traveler's Gate. the books is set in a futuristic society which blends the sci-fi elements of interplanetary travel, starships, hyper/sub space travel etc but also has traditional magic elements of Archmages, elemental magic, wands, mantles etc. Also the books is not a Progression Fantasy (like Cradle) and feels closer to traditional sci-fi/fantasy books.
It's kind of a In Medias Res introduction, where we enter the book right in middle of a grand spell ritual (as given in synopsis) to grant the MC, Varic more magic, but the spell has unintended consequences. With magics, he gets the life experiences of those alternate versions of himself. This being a two edged sword as with the power come knowledge of all the impending doomsday scenarios faced by the alternate versions. So, off goes Varic to ensure his current dimension does not suffer the same fate, but then the enemies his alternate versions were so powerful and formidable that not even with his newfound powers, he's not sure of success. As he despairs, he comes across news of the mythical The Lost Horizon, a renowned starship of ancient lore surfacing. And there on begins the plot. Nothing is simple as he faces hurdles and has to push his own limits to both unlock the powers of the starship and face his ultimate nemesis, with not just his own fate, but the fate of entire galaxy depending on his wand and gun.
It's a fun book to read as the events pick up from get go and we are treated to space battles and awesome magic spells. The pacing is taut and there is no lag between the events as things spiral out bigger and not necessarily better.
On the flip side, this is book not without it's flaws. Personally for me, the biggest drawbacks are the lack of gravitas both in worldbuilding and character development. Since the book beigns with Varic getting OP, I felt the lack of backstory a serious detriment to understand what kind of person he is, what drives him etc. Not just with Varic, but none of the characters get a backstory making it hard for me to connect with any of their motives which takes away the weight behind their decisions and actions. On a similar note, the world has no explanation on why science and magic co-exist peacefully, why scientists have accepted the magical nature of Aether, why someone is able to summon elemental/water magic even in space etc. Sadly, "it's magic" isn't a satisfactory answer to patch these flaws. It lacks the humour of Dross as the Lost Horizon comes across more as duplicitous and annoying more than cheeky or fun.
This is just the first book, so I'm still hopeful that the flaws will get fixed with proper explanations in the coming books. Despite the flaws, the books hints of a fascinating, rich and diverse world and characters and I'll eagerly await the release of "The Engineer" to see where this adventure takes me.