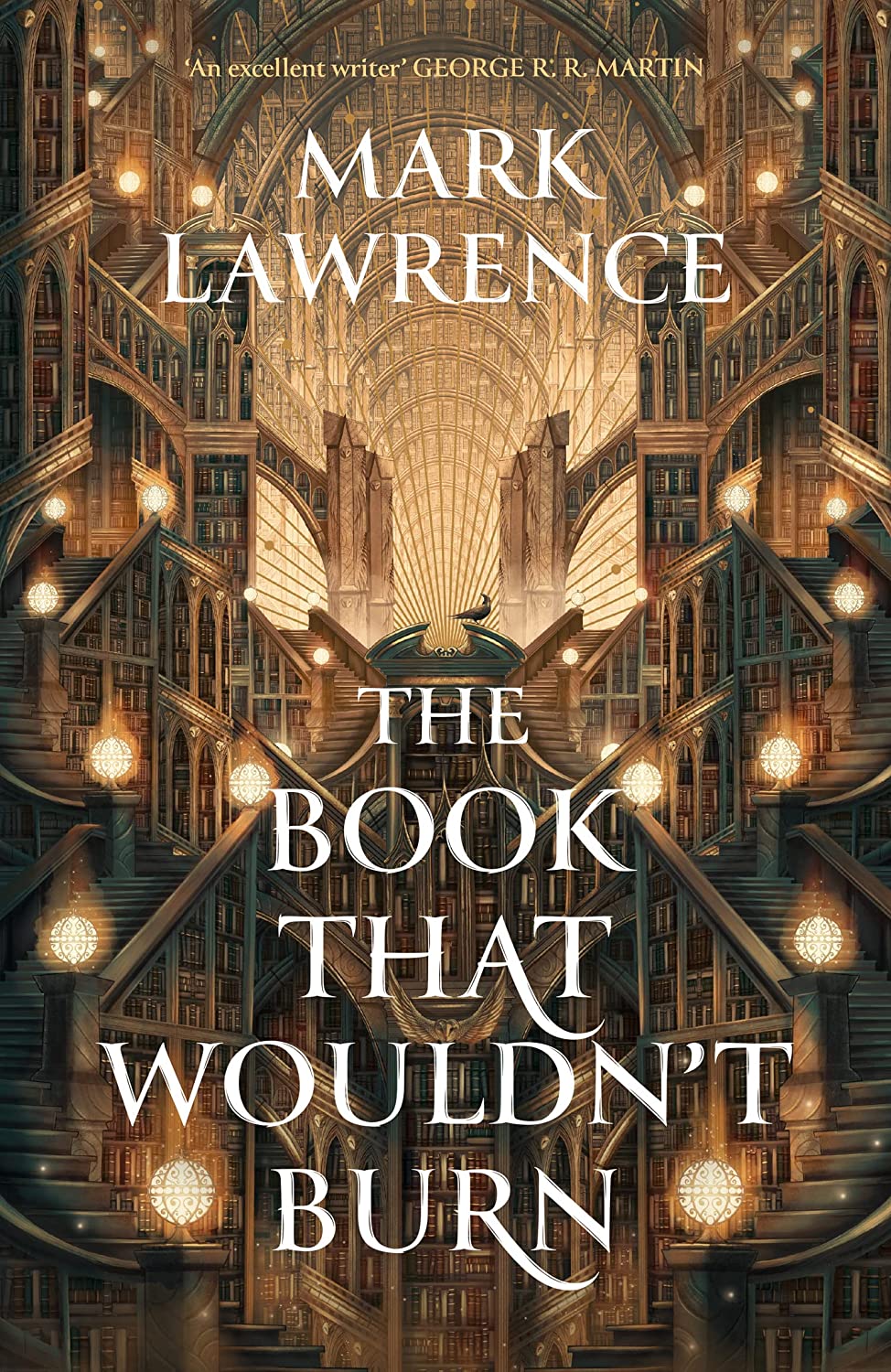 Rating: 10/10
Synopsis
A boy has lived his whole life trapped within a vast library, older than empires and larger than cities.

A girl has spent hers in a tiny settlement out on the Dust where nightmares stalk and no one goes.

The world has never even noticed them. That's about to change.

Their stories spiral around each other, across worlds and time. This is a tale of truth and lies and hearts, and the blurring of one into another. A journey on which knowledge erodes certainty, and on which, though the pen may be mightier than the sword, blood will be spilled and cities burned.
Review
I want to start by explaining, or excusing, myself, as it's taken me three months to write a review for this book.
"They say, 'time is fire in which we burn'" – is one of my favourite quotes from film (Star Trek: Generations, where Soran quotes a famous poem to Captain Picard).
Why am I telling you this? What's the connection to The Book That Wouldn't Burn?
Well, let me try to explain… the preceding line of the quoted poem by Delmore Schwartz is, 'Time is the school in which we learn'.
For me, the meaning and parallels to Mark Lawrence's story have had a profound impact on me. The themes in this book, of learning through histories and books, whilst society continually repeats the same mistakes, where one is burned away by war and time, another rises only to follow the same destructive pattern.
We move through time as we do through the flames, eventually perishing, turning to ash. However, there is always hope, something that cannot be ignored, that cannot be burned. For me, the eponymous book of the title, is that thing – hope, or a truth that will not burn, and will eventually break the cycle of generations.
'Ask yourself in the face of the remarkable speed of progress: where did we come from, where are we going, and – most importantly – have we walked this path before?'
OK, I've waffled on a bit too much and have probably not made much sense at all, but this book and its meaning transcends genre. It is one of the best books I've read. The prose is sublime, the story is mindblowing in scope and complexity, and the execution is mystifying. The use of two distinct narratives that eventually interconnect is worked to perfection. The differing timelines, which are not immediately evident, for which I will not go into at the risk of spoilers, are a work of sheer genius.
There was a moment in this book, when the puzzle pieces started to take shape, that I can only describe as an epiphany. I have not had a moment of surprise realisation like this from a book in a very long time.
Suffice it to say, I haven't been impacted by a book on this level since I read Philip Pullman's His Dark Materials many moons ago. That trilogy still remains one of my personal favourites; the Library trilogy could be THAT good for me.
What I haven't said yet, is that this was actually my first foray into Mark Lawrence's writing. It certainly won't be my last. His writing, story, plot, characters, emotions, twists and turns, have left me in awe, and too intimidated to tackle a review, until now.
I just had to write something, anything, to do justice to this astounding book. Granted, this isn't my usual review content, it's more of a mind-dump of my thoughts, feelings, and ideas, about a book that has burned itself into my mind.
The Book That Wouldn't Burn is the book that will not leave my head.