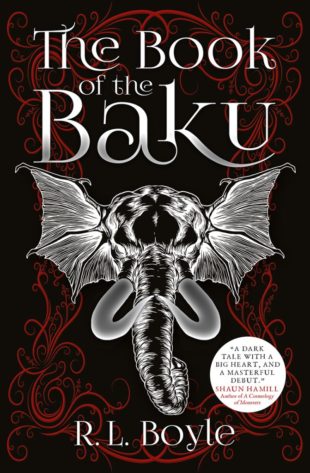 Rating: 6.0/10
Synopsis
Sean hasn't spoken a word since he was put into care. When he is sent to live with his grandad, a retired author and total stranger, Sean suddenly finds himself living an affluent life, nothing like the estate he grew up in, where gangs run the streets and violence is around every corner.
Sean embraces a new world of drawing, sculpting and reading his grandad's stories. But his grandad has secrets in his past. As his grandad retreats to the shed, buried at the end of his treasured garden, The Baku emerges.
The Baku is ancient, a creature that feeds on our fears, and it corrupts everything it touches. Plagued by nightmares, with darkness spreading through the house, Sean must confront his fears to free himself and his grandad from the grip of the Baku.
Review
I was sent a copy of this book in exchange for an honest review.
** There are content warnings at the end of the review for those who may need them **
I devoured this book in just over a day. The Book of the Baku dragged me in and didn't spit me out until it was done with me. For a book marketed as a YA Horror it gets way darker than I expected it too. This isn't a criticism, it just shocked me because some of the themes this books touch on are incredibly dark and the ending hit me a lot harder than I thought it would.
The Book of the Baku follows Sean, a teenager who has been through something so traumatic that he is mute. We follow his story both in the present day and in the past as he tries to stop what is happening to him and his Grandad. While dialogue is minimal in the book (after all Sean is mute for most of it) there's still this real feeling of connection. From the moment Sean picks up The Book of the Baku his whole world starts to turn upside down and slowly things get creepier and creepier. The relationship between Sean and his Grandad goes through several different stages and while they may only have met each other I found myself really rooting for them both.
Boyle weaves other stories through out the book. Sean reads from the book his Grandad wrote and through this we see a series of short stories about children and their nightmares. This is the catalyst for the horror portion of the novel and some of the imagery would have given me nightmares as a child! They're so vivid and touch on things children are generally afraid of.
The portions set in the past are equally as fascinating, and as chilling. Sean grew up on a council estate and is surrounded by violence, drug abuse and he is no stranger to death. Despite the fact these chapters are rooted in reality at times they are equally as terrifying as the rest of the story. You want Sean and his friends to be able to get out as you watch them struggle to grow up in this environment.
The ending gets dark. I didn't expect it and didn't see it coming but it really goes there. Be warned.
CW // abuse, drug abuse, alcohol abuse, suicide, sexual assault, violence.