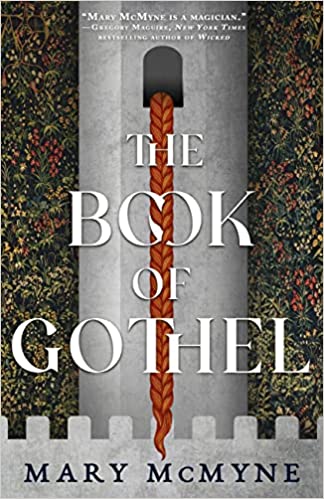 Rating: 8/10
Synopsis:
Everyone knows the tale of Rapunzel in her tower, but do you know the story of the witch who put her there?
Haelewise has always lived under the shadow of her mother, Hedda—a woman who will do anything to keep her daughter protected. For with her strange black eyes and even stranger fainting spells, Haelewise is shunned by her medieval village, and her only solace lies in the stories her mother tells of child-stealing witches, of princes in wolf-skins, of an ancient tower cloaked in mist, where women will find shelter if they are brave enough to seek it.
Then, Hedda dies, and Haelewise is left unmoored. With nothing left for her in her village, she sets out to find the legendary tower her mother used to speak of—a place called Gothel, where Haelewise meets a wise woman willing to take her under her wing.
But Haelewise is not the only woman to seek refuge at Gothel. It's also a haven for a girl named Rika, who carries with her a secret the Church strives to keep hidden. A secret that unlocks a dark world of ancient spells and murderous nobles behind the world Haelewise has always known…
Review:
Ah, the trend of retellings continues. I'm partial to them, especially when they include women originally perceived as villainous in nature. This book will definitely make you care about Haelewise and the Gothel women in general.
I was lucky enough to get a physical copy from Orbit/Redhook and an audio copy from Hachette Audio, so I flipped back and forth between the two. I will say, I think I paid better attention when I was physically reading––if only because Vanessa Johansson's voice was so soothing that after a while, it became a part of my surroundings. I had to jostle myself back to the story every once and a while.
Haelewise is brave and kind even though she's spent her life being mistreated by almost everyone she comes across. She maintains a thick skin but ends up keeping that kindness while also gaining an ability to do brutal things for survival.
I never thought about the backstory of Mother Gothel, and I'm always thankful when an author can bring new dimensions to a character, which Mary McMyne certainly does here. There's non-stop progression in this book and I loved the way our author framed this story. There's a bit of romance in here, for the romantic fantasy lovers, but not enough to scare away those that prefer very little in their reading.
The Book of Gothel is beautifully woven, and full of depth and compassion. It's adventurous, and manages to be classic and modern all at once. Thank you again to Orbit/Redhook and Hachette Audio for the review copies!