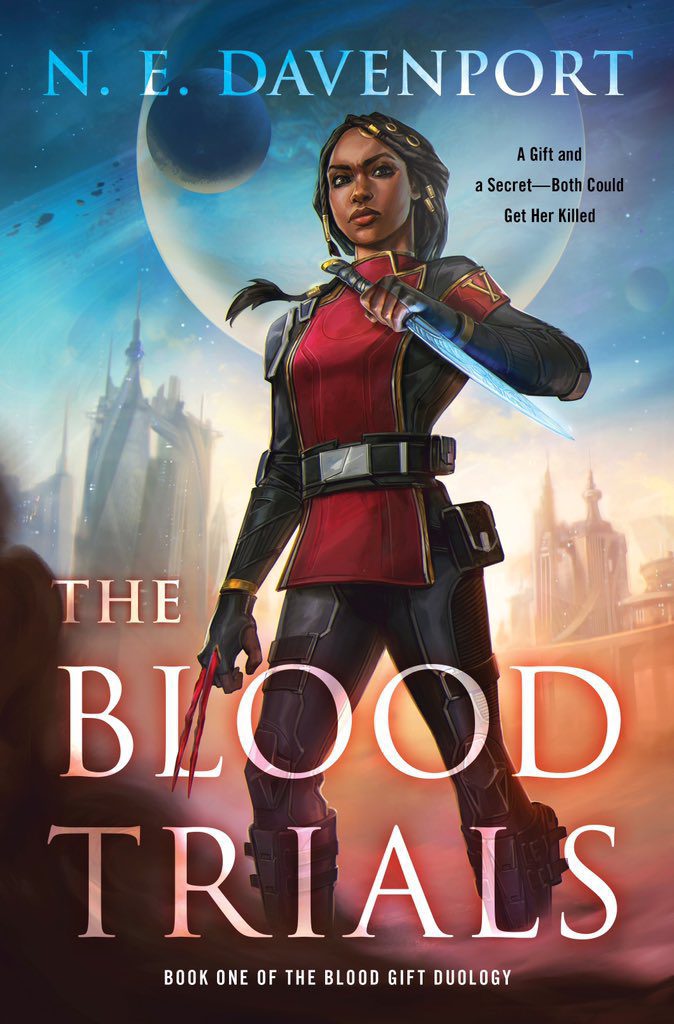 Rating: 9/10
Synopsis
Blending fantasy and science fiction, N. E. Davenport's fast-paced, action-packed debut kicks off a duology of loyalty and rebellion, in which a young Black woman must survive deadly trials in a racist and misogynistic society to become an elite warrior.

It's all about blood. The blood spilled between the Republic of Mareen and the armies of the Blood Emperor long ago. The blood gifts of Mareen's deadliest enemies. The blood that runs through the elite War Houses of Mareen, the rulers of the Tribunal dedicated to keeping the republic alive. The blood of the former Legatus, Verne Amari, murdered.

For his granddaughter, Ikenna, the only thing steady in her life was the man who had saved Mareen. The man who had trained her in secret, not just in martial skills, but in harnessing the blood gift that coursed through her. Who trained her to keep that a secret. But now there are too many secrets, and with her grandfather assassinated, Ikenna knows two things: that only someone on the Tribunal could have ordered his death, and that only a Praetorian Guard could have carried out that order.

Bent on revenge as much as discovering the truth, Ikenna pledges herself to the Praetorian Trials–a brutal initiation that only a quarter of the aspirants survive. She subjects herself to the racism directed against her half-Khanaian heritage and the misogyny of a society that cherishes progeny over prodigy, all while hiding a power that–if found out–would subject her to execution…or worse. Ikenna is willing to risk it all because she needs to find out who murdered her grandfather…and then she needs to kill them. Mareen has been at peace for a long time… Ikenna joining the Praetorians is about to change all that.

Magic and technology converge in the first part of this stunning debut duology, where loyalty to oneself–and one's blood–is more important than anything.
---
Thank you to Harper Voyager for sending me an ARC of this book for review consideration before its release on April 5. This does not influence my thoughts or opinions. Click here to find out more about N. E. and her work, and stay tuned on March 29 for my one-on-one interview with the author.
---
Review
A tight narrative, stunning action set pieces, thrilling fights and a fast pace fuel this solid debut novel.
I loved N. E. Davenport's The Blood Trials. I went into this book without any expectations and turned the final page both surprised and satisfied. It offers up a complex world, rife with geopolitical conflicts, futuristic technologies and awesome fight scenes. But it also introduces a dark, supernatural magic system that plays into the racial and social dynamics of its corrupt society. All of this and more combined for a solid debut and a wondrous world that I can't wait to read more of.
So why did I connect so much with this novel? It's a bit strange, 'cause I didn't at first. The main character, Ikenna, is brash and arrogant. She has a hot temper, but she also has incredible combat training and blood magic powers to back up her "fight first, ask questions later" attitude. She came across as a bit grating at first, almost unlikeable. I mean, the whole book hinges on her, right? It took me until chapter two to warm up to her and understand how the story's inciting incident and promises could turn her into an amazing protagonist—and that is exactly what happened.
The story kicks off with the death of Ikenna's grandfather, and what follows is a story of vengeance that fuels her journey. This revenge mystery was compelling, and I appreciated how the clues and red herrings of Ikenna's investigation clashed with her over-confident personality. This led to dead-ends and false expectations that were quite satisfying in how they unfolded, and, overall, the revelations of her grandfather's mysterious death were well managed.
Ikenna also came into her own as an individual and a leader—for the most part. She deals with racism and discrimination, due to her dark skin color but also her high position in society (both of which many find abhorrent). A lot of her ability to overcome various hurdles is due to her own skills, endurance and luck, but also the people around her. Her core crew, Seline and Zayne, were both great foils and contrasts to Ikenna, each complex in their own ways. There were also some stereotypical character types—notably on the antagonist side of things—but even they were given moments of relatable moral complexity.
On top of that, the pacing was top notch, delivering a rip-roaring action thriller that didn't shy away from character moments, relationships and emotion. The fight choreography was tight, and there were some spectacular action set-pieces throughout the novel. As well, action was often seamlessly blended with conversations and relationship building in a way that I loved. This also played well into a side of Ikenna that I liked, which was the more calculating, observant side she inherited from her military leader grandfather. It balanced well with her outward aggressiveness.
Another highlight for me was the worldbuilding, which incorporated an intricate chess board of geopolitical rivals, each with their own goals and societal quirks. Once again, contrast is key. The mostly white-skinned, techno-capitalist, militaristic society that Ikenna lives in is compared to their innovative, dark-skinned neighbors and an empire of bloodthirsty magic wielders led by a despotic emperor. All this when Ikenna is a mixed-race female with dark skin who has to hide her blood magic, and she's been indoctrinated by a misogynist, military industrial complex that prejudices her very own skin color and magic. It was fascinating commentary on our world, on modern America, and the contradictions of Ikenna's life panned out toward a satisfying conclusion.
On the flip side, I had some criticisms. While the pacing was mostly excellent, the book hit a lull in act three until things pick up towards an exciting finale. It threw me off a bit, but I was definitely invested enough to push through the minor slog. Also, there were romance and sex elements that were interesting, but at times felt a melodramatic—kind of like a CW show. Sure, things got steamy, but there was a YA vibe to it when so much of this book leans more adult. Still, the majority of characters in this book are nineteen-years-old, and thinking back on me at nineteen, yeah, I get it. Shit at that time was messy and awkward.
While The Blood Trials wasn't entirely perfect, it nailed it in so many ways, leaving me aching for its sequel. So, are you looking for a tight, fast-paced narrative brimming with stellar action and geopolitical drama? What about a thoughtful blend of technology and magic/sci-fi and fantasy, or a female protagonist who kicks some serious ass? The Blood Trials delivers all that more, and N. E. Davenport's debut proves she has a ton of talent—this book is clearly just the beginning.