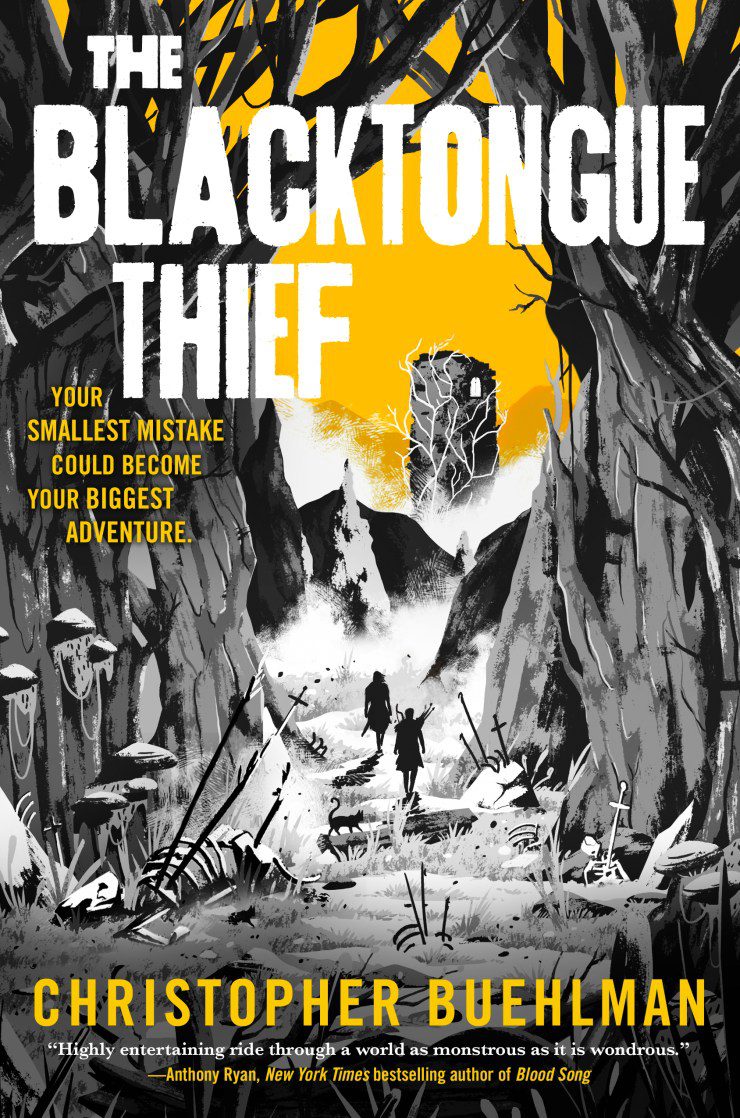 Rating: 10/10
Synopsis
Kinch Na Shannack owes the Takers Guild a small fortune for his education as a thief, which includes (but is not limited to) lock-picking, knife-fighting, wall-scaling, fall-breaking, lie-weaving, trap-making, plus a few small magics. His debt has driven him to lie in wait by the old forest road, planning to rob the next traveler that crosses his path.
But today, Kinch Na Shannack has picked the wrong mark.
Galva is a knight, a survivor of the brutal goblin wars, and handmaiden of the goddess of death. She is searching for her queen, missing since a distant northern city fell to giants.
Unsuccessful in his robbery and lucky to escape with his life, Kinch now finds his fate entangled with Galva's. Common enemies and uncommon dangers force thief and knight on an epic journey where goblins hunger for human flesh, krakens hunt in dark waters, and honor is a luxury few can afford.
Review
That was one of the funniest and most hilarious fantasy books I have had the pleasure to read. Thanks to my good friend DB Rooks review and recommendation, I knew I had to bump it up to the top of my list, and after a couple of bad weeks, this was just the cup of tea I needed.
The Blacktongue Thief is an action-packed adventure and the first book in an upcoming series and will have you doubled over laughing and snorting with Christopher Bulhlmans comedic style of writing.
It's a unique, quirky style of writing. His character building and descriptive texture are so compelling and excellent that you will lose sleep because it is just one of those books you are afraid you'll miss out on, if you even put it down once.
What I love about this book was its pace and setting, I found it a refreshing take on the fantasy genre. The authors imagination and storytelling to bring this world to life, I found, most welcome and exciting and can't wait to see what comes next in the series.
I can't say enough things about this book. Hilarious, adventurous, deeply emotional, witty, and heart-wrenching at times as the characters are put through the ringer as they battle goblins and giants.
In this book, our main protagonist, a thief, Kinch Na Shannack, is up to eyes in depth for his thief training, and guild are on his trail as he owes a very considerable fortune. But when he decides to rob unsuspecting road travellers. He may have just picked the wrong person to steal from.
Galva is a bad-ass veteran of the Goblin wars, a lady knight, and one hell of a sword woman. Seeing his predicament, he opts to join her on her travels, offering his services and taking them on a dark adventure for the search of her missing Queen across lands infested with flesh eating goblins, witches, giants and big ass birds. They must use all their skills and wit if they have any chance of finding her and staying alive in the process.
If you love fantasy, hilarious comebacks, fantastic witticisms, harrowing adventures, a thieves pure of heart, and just some good oul storytelling. I very highly recommend The Blacktongue Thief, go pick it up, I promise you won't regret it…😁🖤💀☠️🔥