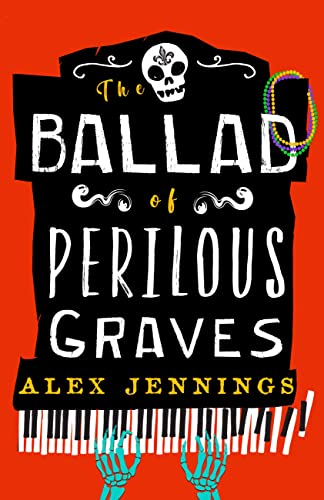 Rating: 9/10
Synopsis:
In a fantastical version of New Orleans where music is magic, a battle for the city's soul brews between two young mages, a vengeful wraith, and one powerful song in this vibrant and imaginative debut.
Nola is a city full of wonders. A place of sky trolleys and dead cabs, where haints dance the night away and Wise Women keep the order, and where songs walk, talk and keep the spirit of the city alive. To those from Far Away, Nola might seem strange. To failed magician, Perilous Graves, it's simply home. Then the rhythm stutters.
Nine songs of power have escaped from the magical piano that maintains the city's beat and without them, Nola will fail. Unexpectedly, Perry and his sister, Brendy, are tasked with saving the city. But a storm is brewing and the Haint of All Haints is awake. Even if they capture the songs, Nola's time might be coming to an end.
Review:
I finished The Ballad of Perilous Graves by Alex Jennings over two months ago but life got in the way and I wasn't able to sit down for a review.
I figured moving into fall would be the perfect time to finally do so! When I saw that this novel was set in New Orleans, I had to pick it up. It's a city that speaks to my soul, and Alex Jennings captured the soul of NOLA beautifully. The jazz, the history, the supernatural aura. Jennings had me itching to take a trip immediately.
I LOVED that this novel centered around music being the literal heartbeat of NOLA and the songs being spirits. There are beings that want to destroy NOLA by taking away that heartbeat and the songs that it beats through.
Our protagonists are tasked with battling these dark spirits with none other than music itself.
The writing almost reminded me of being in a Neil Gaiman novel; fully immersive and a bit confusing, but with patience, the pay off is stunning. Yes, I just compared Jennings to Neil Gaiman. Jennings writes with a magical, dreamlike quality that few writers can boast. It felt unforced and joyful. It was mythological and musical. Glorious work!
The audio was absolutely fantastic, as well. Graylen Bryant Banks takes narration to the next level. I could hear the heartbeat of NOLA's music in their voice. I felt surrounded by these spirits. GBB is fully committed to taking us on a journey with their voice and it was astounding.
If you're looking for a fall book to dive into, what better than a novel set in New Orleans? Major thanks to Redhook/Orbit and Hachette Audio for the review copies.