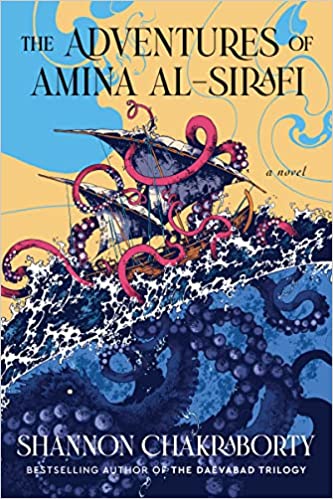 Rating: 8.0/10
Synopsis
Amina al-Sirafi should be content. After a storied and scandalous career as one of the Indian Ocean's most notorious pirates, she's survived backstabbing rogues, vengeful merchant princes, several husbands, and one actual demon to retire peacefully with her family to a life of piety, motherhood, and absolutely nothing that hints of the supernatural.
But when she's tracked down by the obscenely wealthy mother of a former crewman, she's offered a job no bandit could refuse: retrieve her comrade's kidnapped daughter for a kingly sum. The chance to have one last adventure with her crew, do right by an old friend, and win a fortune that will secure her family's future forever? It seems like such an obvious choice that it must be God's will.
Yet the deeper Amina dives, the more it becomes alarmingly clear there's more to this job, and the girl's disappearance, than she was led to believe. For there's always risk in wanting to become a legend, to seize one last chance at glory, to savor just a bit more power…and the price might be your very soul.
.
Note: This review is based on an Advance Copy. The book is available for purchase from February 28, 2023.
.
Tl;dr Snapshot Review
A fascinating book that reads like a story straight out of 1001 Nights. It's rich in world, excellent in characters and satisfied my fancy for swashbuckling sea pirate adventure. The Legend and the woman behind it, captain us into a tale of mystery and adventure filled with evil magic, sea monsters and mythical beings!
Full review:
Those who have read the authors earlier works (The Daevabad Trilogy) would know what to expect and won't be disappointed. From the get go, Chakraborty starts weaving a deft tale rich in world building and character development.
We start off with getting to know a retired Amina living with her daughter, hiding from her infamous past and hoping for a peaceful future. But as we read from the synopsis, fate has different plans. She is approached by the mother of a shipmate of hers who offers a heady mix of rewards and threats melded into an offer Amina can't refuse. Once she gets set, she immediately realizes that she has been misled and things are far more serious that she was let know. The kidnapping doesn't look like one, her supposed enemy takes on a new and far more frightening dimension and the stakes are far far larger and deadlier than her worst expectations. But with the threats hanging over her, she's forced to carry on.
The story then switches back and forth between the current quest and key events prior to her retirement. As she gets her crew back, more layers of history are revealed and we see both sides of Amina, the notorious pirate who wanted to be a legend and the mother who just wants to be back her family now.
.
After reading City of Brass, I became a firm believer that S.A. Chakraborty writes some of the best prose in the book world and this book just reinforced that. They way she weaves a rich tapestry of words, so rich in detail is absolutely phenomenal. The depth of detail brings to life the culture from the landscape in Arabia to the seascape life at the ports of Aden (Yemen) with a clarity that genuinely makes you feel you are right there journeying with Amina. the prose is predominantly told from the perspective of Amina, though she breaks the flow now and then to remind us that part of it is a narration by her to her chronicles/historian. Not just the worldbuilding, but the action of the characters, their speech, their mannerisms etc are perfectly in synch (at least to my own ignorant self) to fit that period lifestyle.
Amina is a superbly written multifaceted character. A pirate that other pirates fear to cross, a myth where stories and reality have lost their definitions, and now a mother living life of piety and motherhood in retirement and one where her suppressed past self and wages a war with current self to get back to good ol' glory days! The way she balances her inner desires to her reality, makes for one captain, I'd be happy to sail with! Not just her, but each of the supporting cast are etched well and have their own role to play.
On the flipside, fascinating though the worldbuilding has been, many a time I felt it took priority over the actual plot progress making it a unevenly paced read. I did end up slightly feeling that I'd have been OK if she had traded a bit less worldbuilding, so I could get a more crisper read. But then it's probably more to do with my personal preference for fast paced reads. Anyway minor niggles aside, this was a rich and fascinating read and one I believe would add to her previous successes with Daevabad Trilogy.
Recommended!