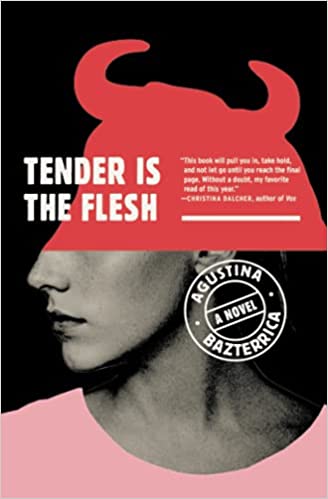 Rating: 9.5/10
Synopsis
Working at the local processing plant, Marcos is in the business of slaughtering humans—though no one calls them that anymore.

His wife has left him, his father is sinking into dementia, and Marcos tries not to think too hard about how he makes a living. After all, it happened so quickly. First, it was reported that an infectious virus has made all animal meat poisonous to humans. Then governments initiated the "Transition." Now, eating human meat—"special meat"—is legal. Marcos tries to stick to numbers, consignments, processing.

Then one day he's given a gift: a live specimen of the finest quality. Though he's aware that any form of personal contact is forbidden on pain of death, little by little he starts to treat her like a human being. And soon, he becomes tortured by what has been lost—and what might still be saved.
Review
Right from the off, before you even open the front cover of this book, Tender Is The Flesh, originally written by Agustina Bazterrica & wonderfully translated by Sarah Moses, hits you with its horrific premise. I've read plenty of novels that have a great concept or core idea, however the execution is not great.
This is not one of them.
In fact, the execution is delicious. The executions are plentiful.
Be prepared to be very uncomfortable for 200 plus pages, and maybe think about switching to a vegan diet whilst you're at it.
Tender Is The Flesh tells the story of a world ravaged by a virus that renders all animals, especially animal meat, fatally toxic to humans. We follow Marcos through a particularly turbulent part of his life where he finds his own ideology conflicting with that of the new world order.
I must now apologise, because the rest of my review will be sparse yet also just total rambling nonsense. Genuinely, my best recommendation that I can give to you, dear review reader, is to just pick the book up with the information you currently have from the above, and just give it a go. It reads very quickly (I read this in 2 separate 2 hour chunks, but I reckon you guys could do it even quicker). However, if you want to know more, keep reading!
Tender Is The Flesh is a very Orwellian tale, that of controlling governments, euphemisms for horrific acts of brutality becoming the societal norm, people kept in line by baseless fear. It shows a world that has lost it's humanity, it's empathy towards others, and so the people simply are, they exist and nothing more. Marcos as a character is interesting to follow, and the slow progression in his contempt for this world that has nothing left to fight for is truly gripping.
The novella is written in a very matter of fact way, with clinical precision that only seems to heighten some of the disgusting and disturbing things that occur here, making the imagery vivid. You're often told exactly what is going on in a scene with no frills, and its this dead straight storytelling method that really boosts the skin crawling factor.
Character wise, just know that this isn't one with a huge cast all with deep personalities, arcs and backstories. In fact, many of the characters in this book simply appear in one scene to highlight or drive home a theme, but all make an impression. Each one has been poisoned by this new society, and seeing how all these people have profited, lost, found pleasure in or so have simply been broken from the consumption of human meat and the various other now legalised trades, it keeps the novella fresh, and strangely hungry to find out more.
This book is not for the faint of heart. I have read, watched and experienced a number of horror, dystopian and other violent pieces of media, but this one kept me consistently uncomfortable from page 1. Agustina kept me up at night not because I was scared, but simply from the all the questions & dilemmas she throws at you. I although I put the book down to rest a few times, I didn't ever stop thinking about it. There is a reason this book is so popular on BookTok; it's creepy, it's very thought provoking and it's utterly brilliant!