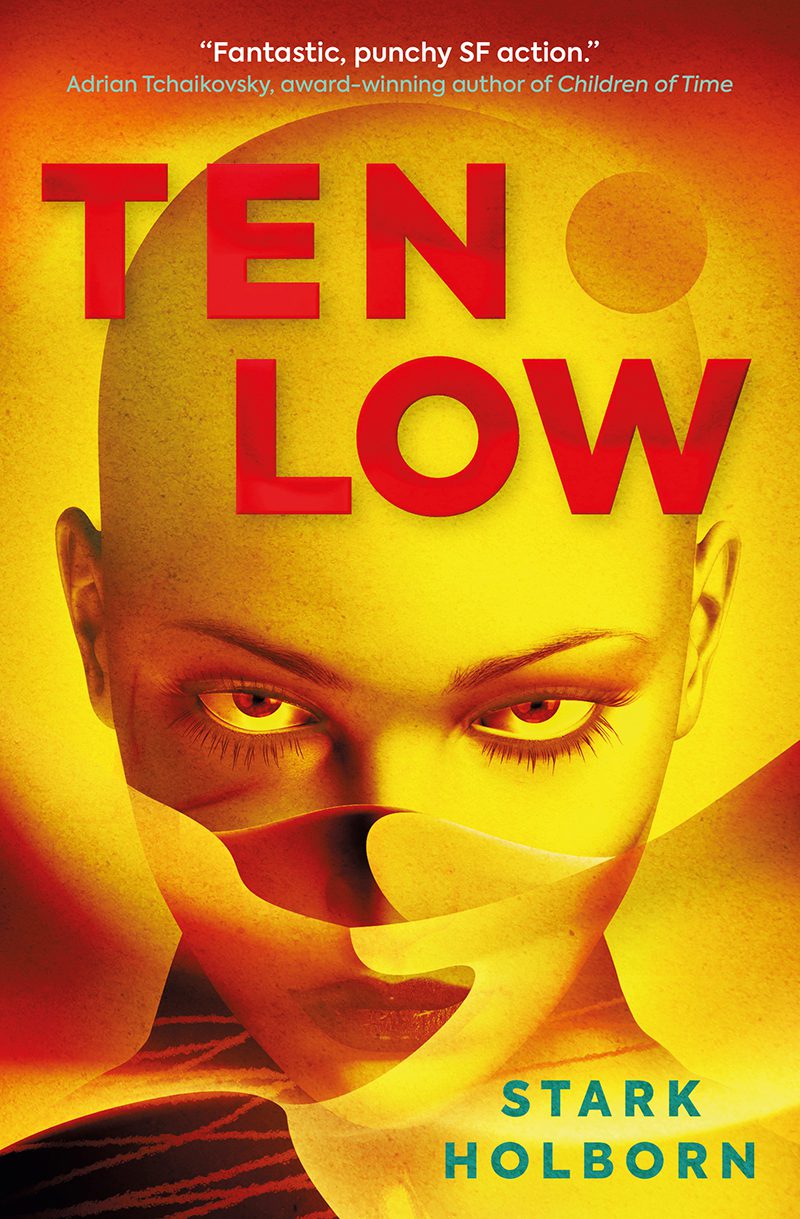 Rating: 8/10
Synopsis:
Firefly meets Dune in a breakneck race to escape across an alien moon thriving with aliens and criminals.
Ten Low is an ex-army medic, one of many convicts eking out a living at the universe's edge. She's desperate to escape her memories of the interstellar war, and the crimes she committed, but trouble seems to follow wherever she goes. One night, attempting to atone for her sins, she pulls a teenage girl – the sole survivor – from the wreck of a spaceship. But Gabriella Ortiz is no ordinary girl. The result of a military genetics programme, she is a decorated Army General, from the opposing side of the war to Ten. Worse, Ten realises the crash was an assassination attempt, and that someone wants the Ortiz dead…
The pair bury their hatreds and strike an uneasy deal to smuggle the General off-world. Their road won't be easy: they must cross the moon's lawless wastes, facing military hit squads, bandits and the one-eyed leader of an all-female road gang, in a frantic race to get the General to safety. But something else waits in the darkness at the universe's edge. Something that threatens to reveal Ten's worst nightmare: the truth of who she really is and what she is running from.
Review:
Thank you to Titan Books for sending me a review copy of Ten Low.
When a book is compared to Mad Max, Firefly & Dune you go in with pretty high hopes, and thankfully Ten Low surpassed my expectations! It gave everything it promised including morally-grey characters, LGBTQ+ characters, and a place called the Edge where you do not want to go.
This is a Sci-Fi set on a moon at the edge of the universe, where the reach of The Accord barely exists and lawlessness abounds. I loved reading a story about a backwater moon where the rest of the universe is clearly populated, if not entirely cared for. It gives the characters who live there a lot to fight for and not a lot to lose. The race across the landscape means you see farms where crops can't grow, towns built like prison hulks, and shining fancy transport that is at odds with its surroundings. Somehow Holborn has taken this space-desert moon and filled it with life and with threats.
Ten Low has a small cast of characters. It is entirely told from Ten's perspective, and while she is a loner she ends up with a constant companion in the General. There are vast swathes of this book where they are the only two characters we see. Their relationship is built on mutual dislike and distrust, but also a need to survive. We get to meet other morally-grey characters along the way. While they help Ten and the General there is always this undercurrent of potential betrayal and relationships formed out of need. There is no one to save and it's every man for themselves on this moon, so who needs heroes anyway?
Towards the last 50 pages of Ten Low I found myself wondering just how this was going to end. There isn't an overarching quest to complete and when plans are thwarted I wasn't sure how it was going to wrap up. After all, no-one needs saving and it's a fight for survival. I was very pleasantly surprised by the ending, and I actually feel like it wrapped everything up it needed to, while keeping some things open.
At the beginning of the book you don't know much about Ten or the General, but as they travel together their pasts begin to come out. Essentially they were both involved in a big war. Throughout the book you get to discover what they did, what sides they were on, and why they are where they are now. Everyone was involved in the war so it's something that binds some people together and pushes others out.
One of my favourite parts of the book took place in the Edge. Essentially the moon is at the edge of the universe because past it is the Void, and it sounds utterly terrifying. The Edge seems almost like it's a part of the Void. It very much plays on the fear of the unknown and it led to some of the most engaging scenes in the entire book for me. There is also a faction called the Seekers who I think are my favourite group, not because they're good, but because they are mysterious and everyone is afraid of them.
A big theme of this book is fear of the unknown and the role that fate plays in out lives. Ten is haunted by 'them', or 'the Ifs'. Mysterious forces who prey on confusion and muddled thoughts. I don't want to delve too deep into 'the Ifs', but they add a sense of inevitability to the story.
Ten Low is an action-packed adventure, filled with morally-grey characters and mysteries that is utterly unputdownable.