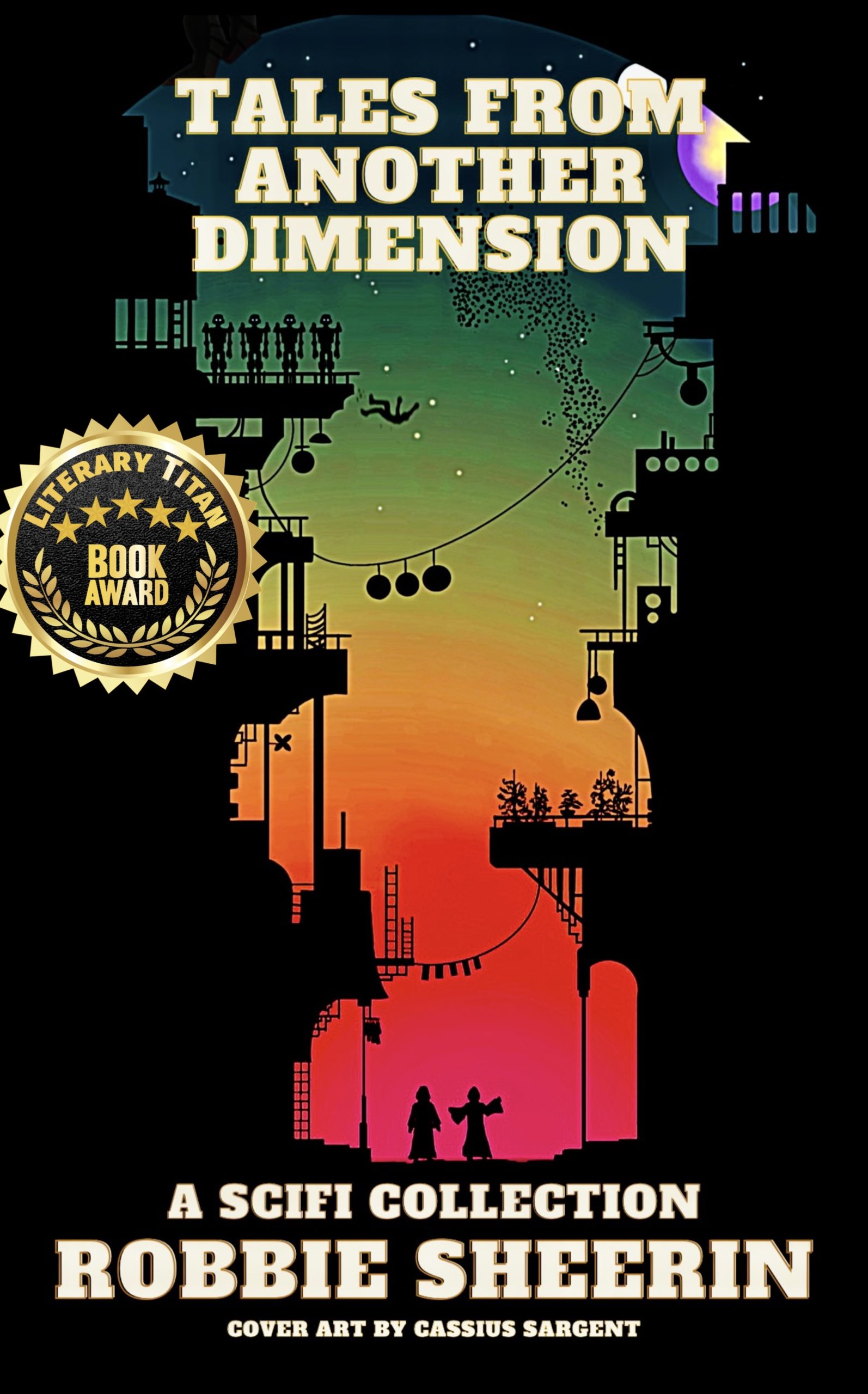 Rating: 8/10
Synopsis
How will HG Wells react when he wakes 200 years in the future on a strange planet, faced with a terrible truth?
Two young brothers make a frightening discovery about their neighbours.
Do robots secretly want to rule us all?
A scientist goes to the extreme in order to change the future of mankind. But is it possible to change destiny?
Tales From Another Dimension is a strange and fantastical collection of ten short stories. Travel to other dimensions and meet otherworldly characters. They will make you question the solidity of the Earth and mankind. Explore prejudice, fear, imagination, kindness, empathy, and human frailty.
Review
Tales From Another Dimension is a solid collection of sci-fi shorts that honours the classics and feels like a trip back to the golden age.
There's something wholesomely familiar about Robbie Sheerin's stories. They've been written with a sense of wonder which tints them with a retro flair. And I love a good dose of retro.
In terms of scope, you'll find a wide variety here, ranging from robots to aliens, and even a resurrected HG Wells himself — which is extremely appropriate, given the style of the book. In fact, I can't think of a better allegory for what this book feels like than a reanimated HG Wells!
There's certainly enough variety to keep you turning the pages. None of the stories feel too long. In fact, I'd be happy for some to be longer. The concepts are meaty enough to get you thinking, and there are plenty of speculative elements to keep you coming back for more.
A couple of highlights include "The Future You Imagine, Doctor, Is Not The Future of the Future" — a story which riffs on time travel and the consequences of discovery, and also "Martian Food" — a Philip K Dick-esque alien invasion ditty.
If you're a stickler for "show, don't tell," then you may find some of the entries to be a little on the expository side. But in terms of delivering short, smart narratives which leave you with plenty to think about, these little gems work well. The twists usually do a nice job of turning things on their head in a way that doesn't feel too contrived.
An acknowledgment in the book explains how Robbie Sheerin's daughter insisted that he tell her bedtime stories when she was a girl. That 'bedtime story' element carries into this collection because there's something personal about each of them. It's the writer's personal connection to these stories that you can almost feel through the pages, and it imbues them with a peculiar charm.
This is the kind of sci-fi that won't push the boundaries — rather, it makes a home within them. But it's all the better for it. There's plenty to explore among the big ideas that made the golden age so precious, and there's value still to mine in the foundations of classic sci-fi. If you're a lover of short stories, this is a worthy collection to have on your shelf. And if you prefer your sci-fi tinted with a little more gold, then you'll be very happy these Tales From Another Dimension have made their way into ours.

Tales From Another Dimension is available now through Robbie Sheerin's official website.