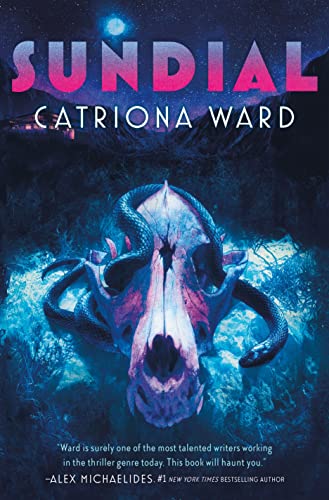 Rating: 9.0/10
Synopsis
"A story where nothing is what it seems—a thrilling hall of mirrors full of deeply disturbing twists. This book will haunt you." —Alex Michaelides, #1 New York Times bestselling author
Sundial is a new, twisty psychological horror novel from Catriona Ward, internationally bestselling author of The Last House on Needless Street.
You can't escape what's in your blood…
All Rob wanted was a normal life. She almost got it, too: a husband, two kids, a nice house in the suburbs. But Rob fears for her oldest daughter, Callie, who collects tiny bones and whispers to imaginary friends. Rob sees a darkness in Callie, one that reminds her too much of the family she left behind.
She decides to take Callie back to her childhood home, to Sundial, deep in the Mojave Desert. And there she will have to make a terrible choice.
Callie is worried about her mother. Rob has begun to look at her strangely, and speaks of past secrets. And Callie fears that only one of them will leave Sundial alive…
The mother and daughter embark on a dark, desert journey to the past in the hopes of redeeming their future.
"A wild, twisted, family gothic unlike any you've read before, and one you won't soon forget." —Paul Tremblay
Review
Thanks to the author and publisher for an advance reading copy of Sundial for review consideration. This did not influence my thoughts or opinions.
A twisty, horrifying story that sheds its layers with pinpoint precision. This proves, once again, that Ward is one of the premiere voices in horror fiction right now. If she isn't already a household name like Shirley Jackson or Stephen King, she needs to be.
Ward might be the ONLY author in the last few years who can wholly and completely pull the rug out from under me. With The Last House on Needless Street, and now Sundial, she is now 2 for 2 in blindside hits. Just when you think you have her all figured out… She just has this penchant for leaving you mouth agape by the time you turn the last page. It is absolutely mesmerizing.
Where the author excels, in my opinion, is with her characters. Yes, the reveal is clearly her specialty, but her characters are what makes that reveal SO FREAKING GOOD. In just a few short sentences, she can have you completely enamored, emotionally invested, and the biggest cheerleader for the protagonist, while also have you wholly loathing the antagonist – or who is perceived to be such. Her use of language is mind-bogglingly good and really puts her to the forefront as one of my favorite writers today.
Like a majority of novels that like to build up suspense until the very end, Sundial does tend to have its moments of pacing miscues as pieces of the puzzle are put into place. While this type of thing doesn't necessarily detract from the enjoyment of the story, I know it can be a turn off to certain types of readers. Trust me, the payoff is worth is it. If those pieces were missing, the ending wouldn't make sense.
While I'd love to do a deep dive into the story itself, any little misstep could lead to a massive spoiler. Just go into the story fresh; I suggest not even reading the synopsis – especially if you are already a fan of Ward's. This generally helps suppress the want and need to figure everything out before the end, especially knowing I'll be 100% wrong.