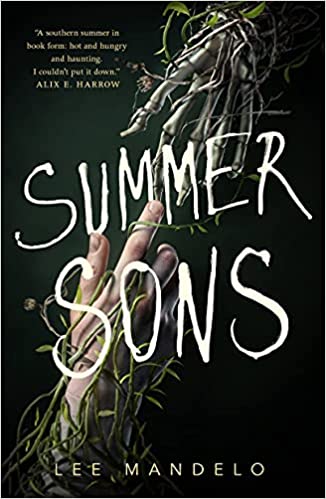 Rating: 7.5/10
Synopsis
Andrew and Eddie did everything together, best friends bonded more deeply than brothers, until Eddie left Andrew behind to start his graduate program at Vanderbilt. Six months later, only days before Andrew was to join him in Nashville, Eddie dies of an apparent suicide. He leaves Andrew a horrible inheritance: a roommate he doesn't know, friends he never asked for, and a gruesome phantom with bleeding wrists that mutters of revenge.
As Andrew searches for the truth of Eddie's death, he uncovers the lies and secrets left behind by the person he trusted most, discovering a family history soaked in blood and death. Whirling between the backstabbing academic world where Eddie spent his days and the circle of hot boys, fast cars, and hard drugs that ruled Eddie's nights, the walls Andrew has built against the world begin to crumble, letting in the phantom that hungers for him.
Review
I have had a copy of Summer Sons in my possession for quite some time, but I was waiting until spooky season to read it. I wanted to ensure I had a few reads ready that would really put me in the mood. All in, from the cover to the story and writing, Summer Sons definitely fits the bill.

The best spooky season reads are the ones that give its readers the major feels, and that is something Summer Sons is quite successful at doing. I felt like I constantly had goosebumps, and that is not only due to the spooky scenes themselves; honestly, the book as a whole was so atmospheric that creepiness was a major underlying current. The whole premise of Andrew searching for the truth about what happened in the death of his best friend sets the tone, and everything happens during the story just adds to it. The descriptions of Eddie and Andrew's relationship get more and more detailed as events unfold, and the nature of their connection really makes this story what it is. Andrew continues to feel that connection, as well as some type of ghoul that is interacting with him. Add that to him trying to understand Eddie's group of friends and the situation he was in (and not being very successful at it), it created so many awkward and chilling moments throughout the book that I felt like I was always on edge waiting for shit to hit the fan. Which it did, plenty of times.

The setting was a huge factor to the eerie atmosphere, as well. Set in Nashville and in an area known for occult-type happenings, the whole story feels like it is covered in shadow. Old families with secrets hide in plain sight, and curses abound. Vanderbilt University also plays a role, which is interesting because I think schools are a bit of a favorite for horror novels. The age, prestige, money, connections… they can be so versatile in their impact to a story. In my opinion, including the school and adjacent circumstances was a really good choice for this book.

There is one aspect of the book that I did not like as much, and that is the character decision making. I know characters in scary stories are known for making bad choices, but these are not "why did you go upstairs" kind of things. More like, "you are supposed to be investigating the death of your best friend, but there are obvious stones being left unturned" things. I was very perplexed by this, and no matter how hard I try I cannot come up with a good reason for it. Regardless, there is enough good about the book to overcome what is, in my opinion, a shortcoming.

Summer Sons is a really good, chilling read! The atmosphere is super eerie, and the story is dark and full of tension. It definitely gets my recommendation for those getting into spooky season.