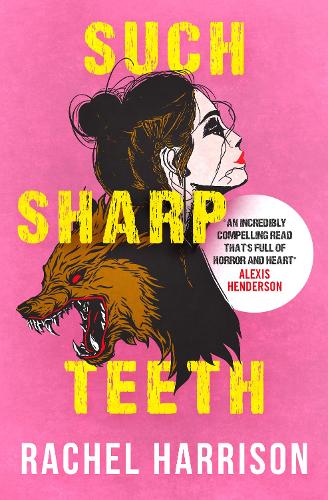 Rating: 8/10
Synopsis
Rory Morris isn't thrilled to be moving back to her hometown. There are bad memories there. But her twin sister, Scarlett, is pregnant and needs support, so Rory returns to the place she thought she'd put in her rear-view. After a night out at a bar where she runs into Ian, an old almost-flame, she hits a large animal with her car. And when she gets out to investigate, she's attacked.
Rory survives, miraculously, but life begins to look and feel different. She's unnaturally strong, with an aversion to silver―and suddenly the moon has her in its thrall. She's changing into someone else―something else. But does that mean she's putting those close to her in danger? Or is embracing the wildness inside her the key to acceptance?
Review
Such Sharp Teeth is a book about family, trauma and family trauma. It is about bodily autonomy, it is about vulnerability, and it is about the contemporary female experience. These is no doubt that these are loaded topics to tackle, but you would not know it with how Rachel Harrison masterfully bends these themes to her will.
The tone of the story transcends any thematic element at play. Such Sharp Teeth is whimsical and light-hearted in spite of its serious content, and it absolutely works. Main character Rory Morris is the star of the show. We wear Rory's perspective like a skin, catching quips of her inner monologue throughout the story, and it is often here where the humour lies. I am someone who tends to laugh out of instinct in situations where I should probably not be laughing so I definitely appreciated the 'if you cannot laugh about it, what can you do?' mentality of the book. Rory has a sense of humour and it is given the freedom to flourish. Humour is an interesting way of considering Rory in the context of the story. By all accounts she very much takes her newly gained lycanthropy in her stride, shrugging it off with the mentality of 'well, I can't do anything to change it so I might as well accept it'. Despite this it is her internal tussle for control and acceptance over her self that sits at the heart of Harrison's story.
When Rory says that the werewolf within her 'only enhances all the parts of me that were already broken and wrong', we see how her werewolf condition brings old traumatic memories back to life, along with the negative personal traits that inevitably come alongside such distressing events. It is a dynamic that constantly evolves throughout the story, and not always for the betterment of Rory. Healing and learning to be vulnerable is not a linear path and Rory's fallibilities – her rage and her tendency to avoid connection and shirk responsibilities – are a great way of highlighting the rollercoaster of a journey she goes on. She is by no means perfect, in fact a lot of the time she is very frustrating in her actions. That is what makes her human, regardless of her 'monstrous' side. Such Sharp Teeth follows a flawed woman simply doing her best to overcome factors out of her control. Of course we are going to root for her.
One of the highlights of the story for me was Rory's relationship with her pregnant twin sister Scarlet. It is by no means plain sailing but overall it was just nice to read about a relationship between two sisters not built on constant arguments and animosity. They genuinely care for each other and the evolution of their relationship as they both undergo their own very different transformations was a highlight of the book for me. In amongst Rory's challenging relationships with her mother, and romantic interest Ian, Rory's relationships with her sister Scarlet and also their best friend Ashley were pleasant relief from all the chaos.
There was only one aspect of the book that did not really click for me and that was the romance. It just felt for me that everything happened a little too quickly. There is a presumed connection between Rory and Ian, as they knew each other when they were younger, but time and distance in fictional time is not the same as time and distance in pages and so even if in the fictional world the romance is a slow burn, in the actual book everything still happened a little too quickly for me. Overall though this is a very minor issue in the context of the story!
Such Sharp Teeth confronts what we most want to hide head on, unabashed and unwavering in its pursuit for the truth. It is a lesson in that when you feel at your most vulnerable, and your claws come out, it is ok to show them, and even embrace them – they are a part of you after all.