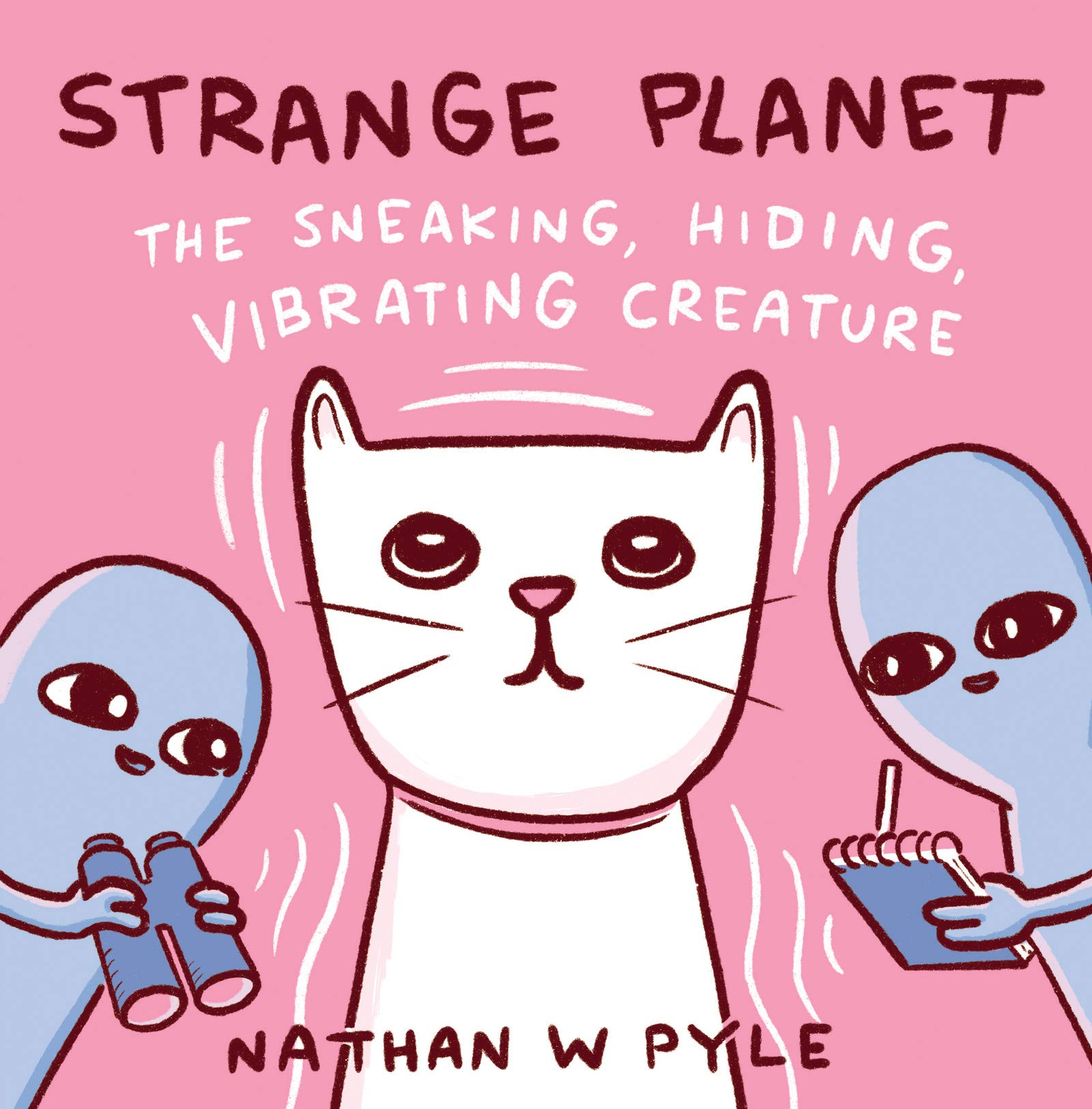 Rating: 9.0/10
Synopsis
Nathan W. Pyle's first picture book in his Strange Planet series, a #1 New York Times bestseller!
Based on his popular Instagram comics, Nathan W. Pyle presents a delightful, heartfelt, and clever picture book that young and old beings alike will enjoy reading together.
When the nearest star rises, Lifegiver has an exciting quest planned for Offspring! Follow along as they observe a strange creature that sneaks, hides, and vibrates around their house. Hilarity ensues as the blue beings try to mimic this talented creature.
As always, Nathan W. Pyle draws humor from his unique perspective on human activity and delivers a colorful experience that is an ode to cats and humans alike.
This book is a joy to read and share, no matter how many revolutions you've made around the nearest star.
Review
Thanks to the author and Wunderkind PR for a copy of Strange Planet: The Sneaking, Hiding, Vibrating Creature for review consideration. This did not influence my thoughts or opinions.
I am sure a vast majority of you are familiar with Pyle's 'Strange Planet' webcomic, and if you aren't, you must have been living under a rock for the past few years. I don't believe I could scroll any social media platform on a daily basis without Lifegiver or Offspring making an appearance. But it isn't the artwork itself that makes this webcomic so genius; it's the way in which these aliens interact with the situations, emotions, or simple everyday things we humans take to such extremes, or at the very least add way too much complexity to.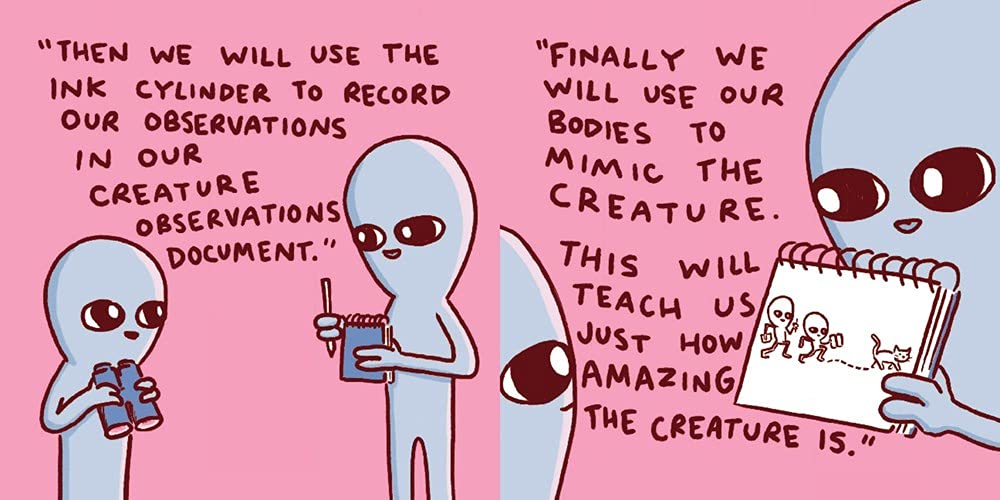 The Sneaking, Hiding, Vibrating Creature is Pyle's first picture book and one that is, time and time again, hilarious to read through. While it differs from his previous releases in that it doesn't take the webcomic approach, every bit of the author's humor is here to stay.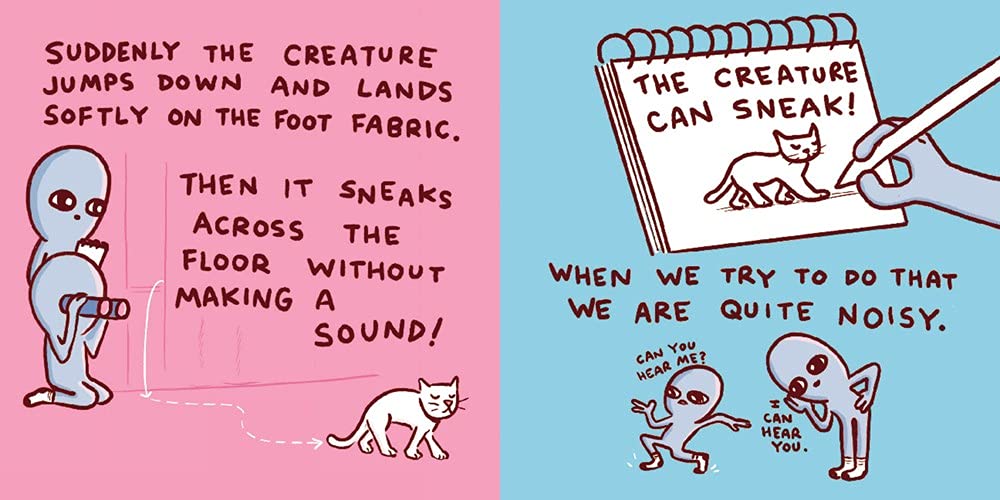 Let's face it, I could absolutely see myself doing these exact same things with my daughter had I even contemplated how hilarious and adventurous it would be. I used to watch Zoboomafoo as a kid and would write down every single animal they talked about that day, what they ate, and what climate they lived in. If I can be honest for a second, my kid is going to be just as big a nerd.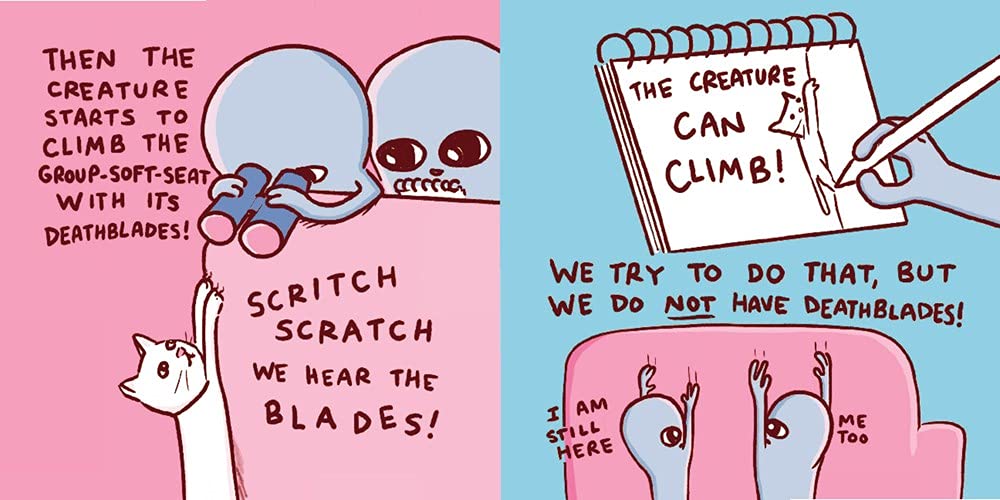 Throughout the book, Lifegiver and Offspring make tedious notes of how this creature interacts with its surroundings throughout a given day, and the one that continues to stand out to me is the introduction of deathblades. We all talk about how sharp cat claws are, but this one was new to me.
Highly recommend if you are Strange Planet fan, and especially if you want to introduce your Offspring to the webcomic.