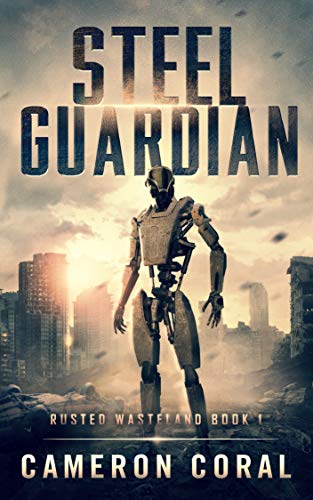 Rating: 8/10
Synopsis:
Can a gentle robot win the fight for humanity's last hope?
Before the Robot Uprising, Block the CleanerBot dutifully followed his programming as part of a hotel cleaning crew. Now in the aftermath of the AI Apocalypse that annihilated the world, he tries to simply do his job, avoiding the dangerous SoldierBots who wage war on the last human survivors.

But when Block finds a mysterious human infant, he's compelled to care for the girl and travel across the metal infested wastelands of America to a safe haven 700 miles away. Without proper food and care, the baby could die before he reaches safety. When he encounters Nova—a surly soldier who becomes an unlikely ally—they must tackle the biggest challenge of their lives.

Together they face mortal danger from bands of scavengers, militaristic SoldierBots, Combat Mechs, and a cyborg Bounty Hunter that will stop at nothing to find Block and the child—an infant who might hold the key to humanity's future.
Review:
Steel Guardian is a finalist in the first ever SPSFC! I read it as part of the judging process.
Well, when I started this book I didn't expect it to be as wholesome as it was. It was also a completely addictive read to the point where I read the first half in one sitting and got VERY sunburnt in the process.
Block is just a gentle cleanerbot who leaves his workplace to seek out a new building to clean. Literally, a war between humans and robots has broken out but Block just wants to clean. He looks at buildings and thinks about how he can make them look all shiny and new. Like I said, wholesome. Then he ends up on the run from some human and robot soldiers with a tiny baby in tow and the story really begins.
It's a simple but effective story. Set in an essentially post-apocalyptic world the main aim here is to get the baby to safety and to give them to a family, or person, who is worthy. It's such a simple premise but it makes for such a wonderful story. Despite the fact Block is a robot you start to see him have emotions and he develops such an attachment to the baby. For me, I think that emotional journey is the highlight of the book.
Pick this up for a quick, easy and wholesome sci-fi read. You won't regret it.