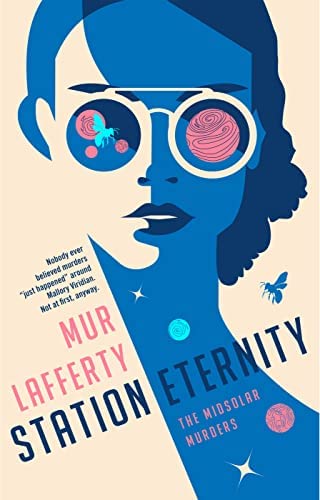 Rating: 9/10
Synopsis
From idyllic small towns to claustrophobic urban landscapes, Mallory Viridian is constantly embroiled in murder cases that only she has the insight to solve. But outside of a classic mystery novel, being surrounded by death doesn't make you a charming amateur detective, it makes you a suspect and a social pariah. So when Mallory gets the opportunity to take refuge on a sentient space station, she thinks she has the solution. Surely the murders will stop if her only company is alien beings. At first her new existence is peacefully quiet…and markedly devoid of homicide.
But when the station agrees to allow additional human guests, Mallory knows the break from her peculiar reality is over. After the first Earth shuttle arrives, and aliens and humans alike begin to die, the station is thrown into peril. Stuck smack-dab in the middle of an extraterrestrial whodunit, and wondering how in the world this keeps happening to her anyway, Mallory has to solve the crime—and fast—or the list of victims could grow to include everyone on board….
Review
A big thank you to Ms Stephanie Felty at Penguin Random House for sending me this eArc. As always, my thoughts are unaffected and honest.
Hello again dear reader, this is going to be the first of a few sci-fi reviews I have in store for you in the coming weeks, and what an entertaining ride it was!
Mur Lafferty's latest novel is marketed as Agatha Christie meets Doctor Who so, as any good Whovian, I didn't walk towards it, I ran. And I'm very pleased to say it most definitely paid off!
This is my first time reading anything from this author and I found her prose fast flowing and witty as hell. (Not to mention her digs at real world stuff – curtesy of being written during the pandemic – were *sharp*). Lafferty's world building is immersive without being info dumpy, with a wide variety of diverse characters and creatures, all coming together to render what life on the sentient Station Eternity would be like. It reminded me a lot of Sakaar from Thor: Ragnarok actually. Moreover, if when watching that movie, you thought what if Korg had more character depth other than being simple comedic relief? Lafferty's Gneiss aliens would be the answer.
In proper murder mystery fashion there is no easy way to solve all questions and protagonist Mallory is an engaging character whose generally done with life attitude and reluctant hero energy, on top of dealing with some chaotic side characters, make for a truly amusing read.
The way that Lafferty weaves her tale moreover, gradually adding each perspective into the narrative to eventually reach a 360 view of what truly happened, not only pays homage to our beloved Dame Christie, but it cleverly hooks the reader oh so well. It was nearly impossible for me to put this book down and if I hadn't been busy with life stuff I very likely would've read this one in one go.
I also appreciated that even though she touched on some really dark/harsh topics, Lafferty did so with tact and without sensationalism- in other words avoiding misery porn.
Overall this was an intriguing and entertaining ride, with a solid found family dynamic, delectable banter, cleverly woven plot twists and solid characters arcs, and finally, optimally placed flashbacks to catch the reader up on each new point of view that was needed in the moment.
I'm definitely looking forward to reading more from this author in the future!
Station Eternity comes out tomorrow October 4th and I definitely recommend it to anyone looking for a wild ride with different kinds of comedy (be it absurdist, clever, dark, or self aware) and a high stakes investigation.
Until next time,
Eleni A. E.