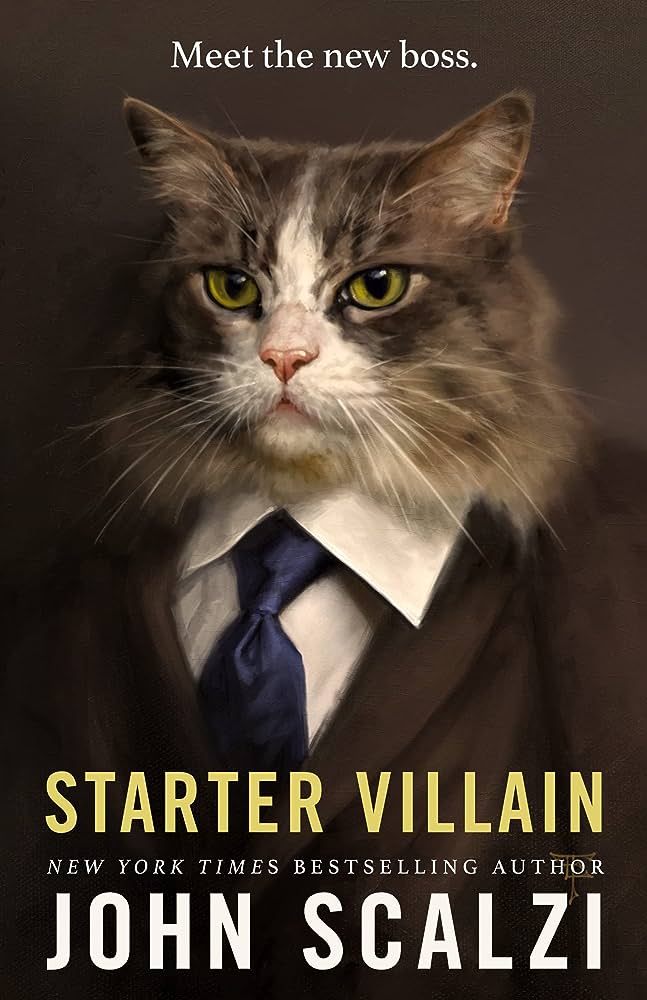 Rating: 7.5/10
Synopsis
Inheriting your uncle's supervillain business is more complicated than you might think. Particularly when you discover who's running the place.

Charlie's life is going nowhere fast. A divorced substitute teacher living with his cat in a house his siblings want to sell, all he wants is to open a pub downtown, if only the bank will approve his loan.

Then his long-lost uncle Jake dies and leaves his supervillain business (complete with island volcano lair) to Charlie.

But becoming a supervillain isn't all giant laser death rays and lava pits. Jake had enemies, and now they're coming after Charlie. His uncle might have been a stand-up, old-fashioned kind of villain, but these are the real thing: rich, soulless predators backed by multinational corporations and venture capital.

It's up to Charlie to win the war his uncle started against a league of supervillains. But with unionized dolphins, hyper-intelligent talking spy cats, and a terrifying henchperson at his side, going bad is starting to look pretty good.

In a dog-eat-dog world…be a cat.
Review
A light hearted take on supervillainy. I'm not sure if this is a spoof or a satire, but it mixes elements of both with lots of humour making this a fun read.
Charlie's dead end life is thrown out of sorts when he inherits his dead Uncle Jakes villainous empire along with his enemies. From a ex-journalist to a super villain boss, the book is all about Charlie trying to bring his head around the change and grasp being the head honcho of a evil enterprise…especially when he realizes that being a supervillain isn't all that he imagined it to be.
The book really feels like a satire replete with villainous cats, volcano lairs, stereotype villains and 'tech bros'. The prose is seamless and book is filled with one liners and quips making fun of modern society. It's literally a laugh a minute riot. The cats and the dolphins which were looking to unionize were absolutely hilarious and a riot to read.
On the flip side, the laugh a minute riot felt like reading a sitcom script for majority of the book. It was a bit frustrating that the there was no plot movement till about 70% of the book. I did feel it might have been better watching this as a TV show/movie, than reading as a book. The earlier jokes were a bit too much on the nose as it stretches imagination for every character to have funny bone and almost all the jokes were a PC (politically correct) satire rather than outright humour.
But after 70%, the plot twists made up for the lackluster earlier segments ending with a satisfying if albeit underwhelming climax. I was hoping for a supervillain overload and a appropriate super-dramatic finish, but author seems to have settled for a sensible finale.
Overall, it was a enjoyable and fun read. One, that I'd recommend to anyone looking for a lighter read or as a palate cleanser between heavier reads.