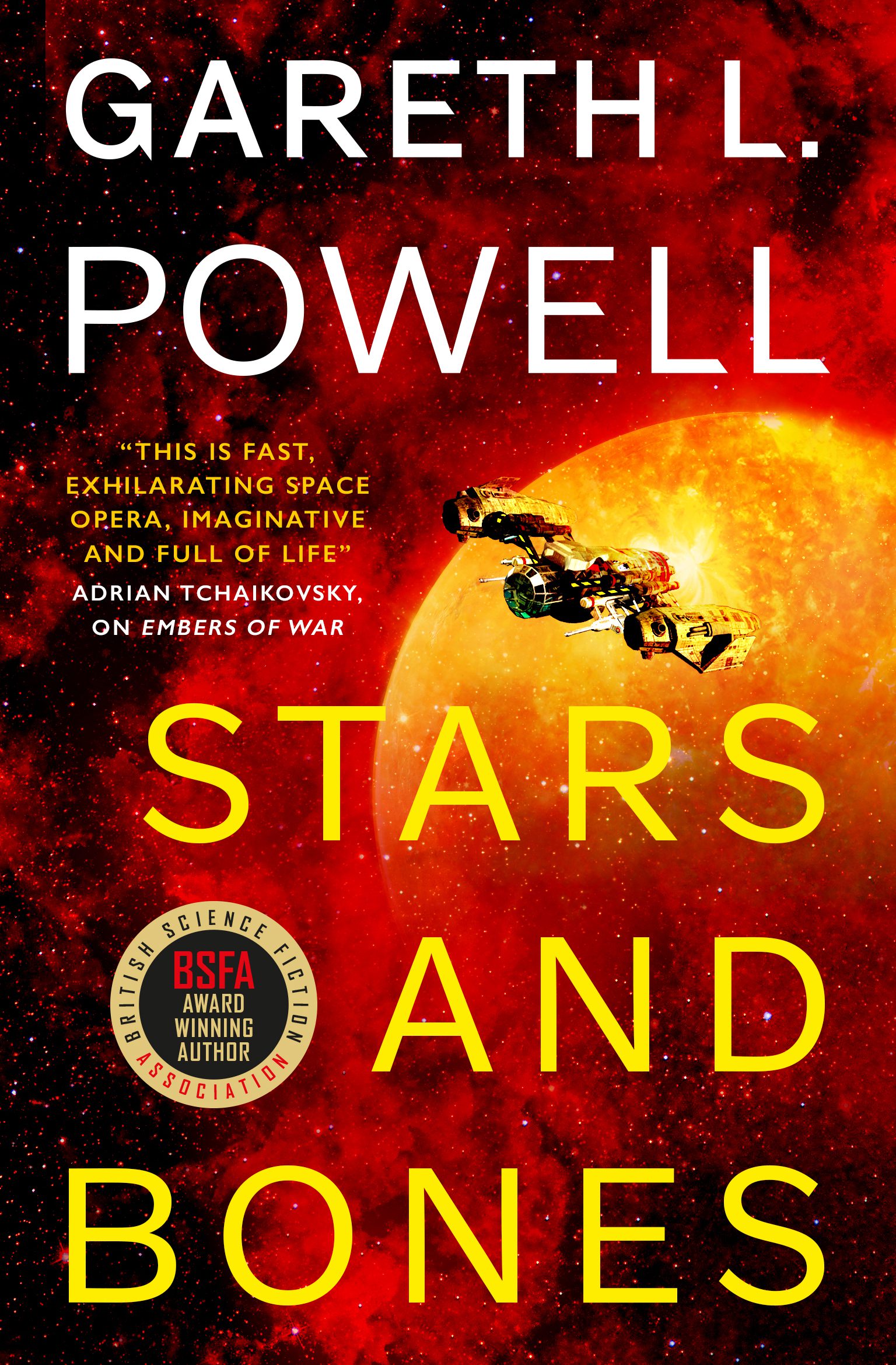 Rating: 10/10
Synopsis
A stunningly inventive action-packed science-fiction epic adventure for fans of Becky Chambers and Ann Leckie from the multi BSFA award-winner, Gareth L. Powell.

Seventy-five years from today, the human race has been cast from a dying Earth to wander the stars in a vast fleet of arks—each shaped by its inhabitants into a diverse and fascinating new environment, with its own rules and eccentricities.

When her sister disappears while responding to a mysterious alien distress call, Eryn insists on being part of the crew sent to look for her. What she discovers on Candidate-623 is both terrifying and deadly. When the threat follows her back to the fleet and people start dying, she is tasked with seeking out a legendary recluse who may just hold the key to humanity's survival.
---
Thank you to Titan Books for sending me an ARC of this book for review consideration ahead of its release on March 1. This does not influence my thoughts or opinions.
---
Review
A fast-paced space opera adventure that is brimming with heart, action and aliens, as well as genuine reflections of the human spirit.
In the canon of modern space opera, Gareth L. Powell has stood out as one of the genre's most accessible stalwarts. His work is consistently engaging and continues to improve book after book. With his latest novel, Stars and Bones, Powell kicks off a brand-new space opera series with a bang. Not only was this book a pure joy to read, gripping me from the get-go and never letting up until the final page, it was also full of relatable characters, clever humor and the relentless optimism of the human spirit. This book is unputdownable, popcorn sci-fi that explores big ideas with an equally big heart.
The number one reason I loved this book so much came down to its characters. There are several POVs, but the foundation of this narrative is built around Eryn. She's a navigator who can dream-link with a ship to traverse the wormhole known as the substrate. In this case the ship is the Furious Ocelot, who has a wicked awesome personality. (Bonus points to Powell for the continuously fantastic ship names, and extra bonus points for how they are sentient beings with walking, talking avatars called envoys!)
Eryn's story is immediately approachable as she is involved in a mission to find a missing ship, the Couch Surfer, which her sister was a crew member on. Her motivations are there, driven by empathy and love, and Eryn's reactions make sense as things progress and unravel. She also shows immense growth as an individual, a role model and a lover. On top of that, she's a strong woman with a flawed, funny and formidable personality—you don't fuck with this lady, especially when family is involved.
I felt a strong connection to Eryn and she grounded me as I was introduced to more characters, including Chen, Haruki, Frank and more. The entire cast of characters had a place and purpose throughout the novel, but none of them felt cookie cutter or throwaway. Each had a distinct personality and they played off each other in such satisfying ways. Despite delivering an epic space opera adventure with amazing technology, perplexing aliens and a truly vicious foe, Stars and Bones is a character-driven story, experimenting with the ways that human beings (and humanity as a whole) would react if their world was turned upside down.
And what a topsy-turvy, freakin' phenomenal job Powell does of building that world. He begins the novel with a bit of back-and-forth between Eryn's present and the past, through the perspective of a man named Haruki. He is the world's richest person, and humans being the dumbasses they are, launch nukes that will effectively wipe out most biological life on the planet. Meanwhile, a physicist named Frank who is funded by Haruki, makes a major scientific breakthrough the moment shit goes down. That's when things get really interesting, and I won't spoil much more there. Suffice to say, a divine intervention occurs and humanity is thrust out into the depths of space on a fleet of self-sufficient generation ships called arks.
Those Haruki-centric chapters were a pleasant mix of humorous and thoughtful, as humanity's near-demise unfolded to satirical effect amongst Powell's honest critiques of our real world. It was an effective balance, especially in contrast to the continuous horror show that Eryn underwent. But the fast-paced nature of this novel kept the ball rolling, balanced the POVs nicely and introduced more characters, tension, heart and threat to the story at just the right times. Things felt like they happened exactly when they needed to, and every character was given their fair due and fleshed out effectively for the purposes of their own arcs as well as the broader narrative.
It was also so beautiful how Powell tied humanity's history—how they ended up in this ark fleet and the flashbacks to Haruki and Frank—to the current alien threat that Eryn and the rest of humanity were facing. There were simply no wasted elements to this story, and it all came full circle in such a tantalizing way. On top of that, the enemy itself was so brutal in how it carried out its attack on humanity, and the body horror of those scenes was just delectable. So gross, so vivid, but oh so satisfying.
That enemy also laid the groundwork for a ton of excellent action scenes, all of which saw the characters using their wits and their environments for a succession of unique encounters. As the enemy learned about them, so too did they learn about it. And with that, Powell really nailed the emotional balance. There was a natural ebb and flow to it that dished out worldbuilding, character development, action and emotional depth in a smooth drip-feed. I felt every drop, savored them one by one, but the experience was seamless and scintillating all at once.
Stars and Bones is the kind of sci-fi that I truly adore. It's accessible without dumbing itself down. It knows what it wants to say and says it brilliantly. There are grand notions of the future that also reflect back on us humans, right here, in the present. The story is also positive, showing how optimism can bring about tangible change. And the book is made all the more powerful because it's wrapped in such a perfect package: an irresistible, blistering narrative, technology and science that make sense and fuel the fun, a mysterious foe that challenges the status quo, and characters you connect with and actually like. If you want to start 2022 with a genuinely magnificent space opera adventure, look no further than this book.
Click here to find out more about Gareth and his work, and click here to check out my one-on-one interview with the author.