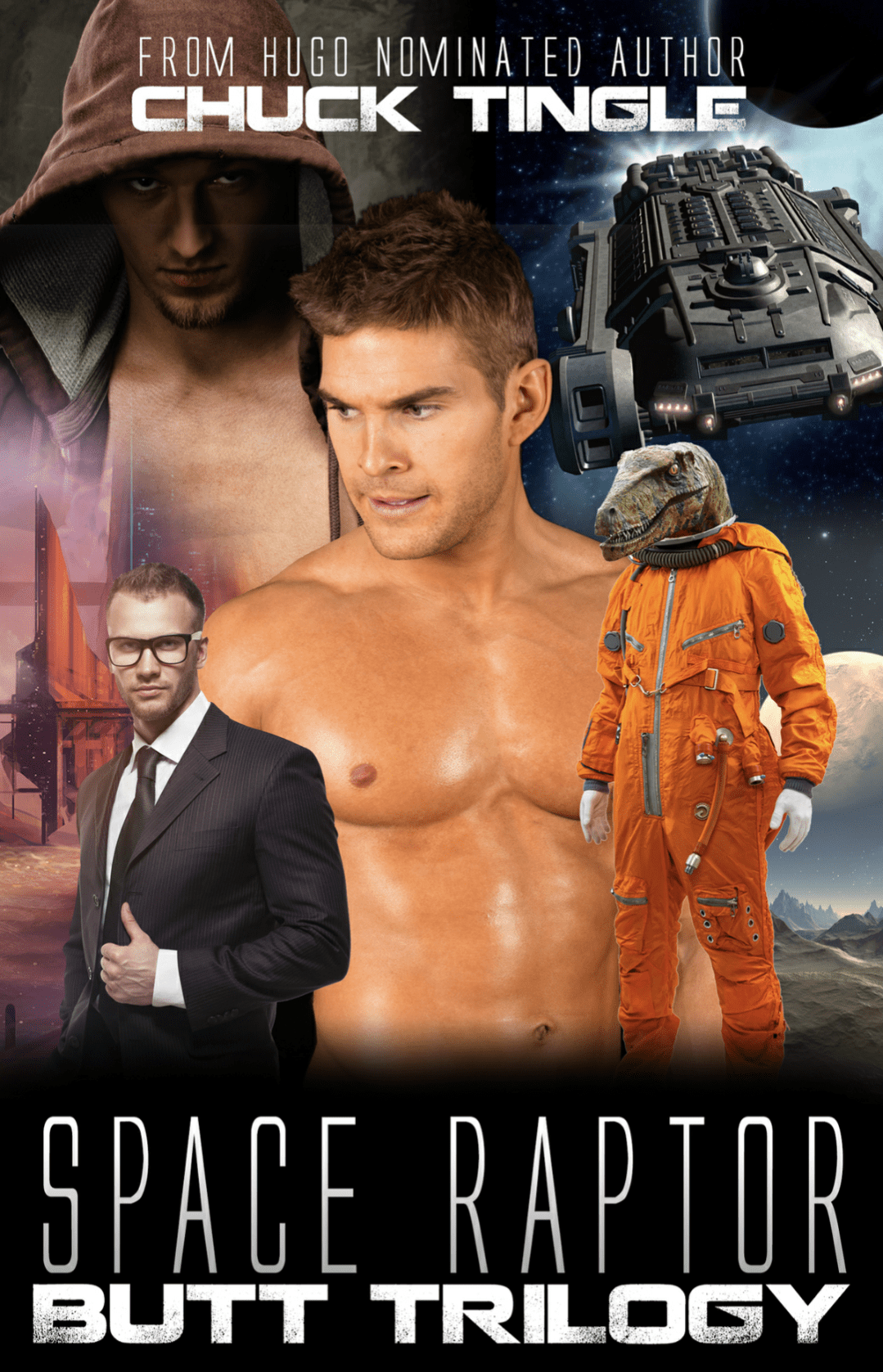 Rating: 6.5/10
Synopsis
Space can be a lonely place, especially when you're stationed by yourself on the distant planet Zorbus. In fact, Lance isn't quite sure that can last the whole year before his shuttle pod arrives, but when a mysterious visitor appears at Lance's terraforming station, he quickly realizes that he might not be so alone after all.Soon enough, Lance becomes close with this mysterious new astronaut, a velociraptor. Together, they form an unlikely duo, which quickly begins to cross the boundaries of friendship into something much, much more sensual.It's not gay if it's a man and a dinosaur, is it?
Review
This review is for the entire trilogy which comprises of:
Book 1 – Space Raptor Butt Invasion
Book 2 – Space Raptor Butt Redemption
Book 3 – Space Raptor Butt Ascension
.
Ill be honest. I picked this more for the lolz than any literary interest. I knew I was assking for trouble…BUT (yes, that's a big butt pun) given the Hugo nomination shenanigans, I was also curious about this.
These are short stories. Really short ones at that. The entire trilogy was like 60 pages or so all inclusive. So a lightning quick read if you are into Raptor Butt sex or simply curious with the eye catching titles!
As the blurb says, the plot follows MC, Lance who is stuck in a scientific research station trying to find another refuge for Humanity as we have stripped Earth completely heading to extinction.
Alone in space due to budget cuts, he meets your friendly neighborhood Space Velociraptor and his world is rocked, both literally and figuratively. Everything he knew about our past and future changes.
How pure "not gay" Human Raptor love triumphs over Evil corporate businessmen, a world prejudiced against interracial (literally) love makes for the plot.
Tbh, I'm not sure if Human-Raptor (sentient and consensual) sex would be classified as Interracial or Bestial, but that's a question for Jur-ass-ic (see more bad puns) experts. Let it not bother you.
Does true love and a healthy dose of butt sex triumph and save humanity? Can we put aside our prejudices and join together for redemption?
On this cliffhanger, I'll leave you all to read and find out.
I did go in with zero expectations and suggest you all do the same. This book did not tingle me enough to become a Tingler. But I've heard that his next book "Trans Wizard Harriet Porber and the Bad Boy Parasaurolophus" is more critically acclaimed.
Stay tuned!