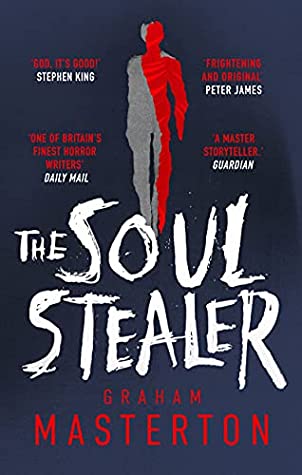 Rating: 6.5/10
Synopsis
Nemo Frisby used to be a detective. Now he drives an Uber between billionaire mansions in California. But he never lost the nose for the case – and when his housecleaner Trinity Fox discovers a young woman lying dead in her neighborhood, she persuades him to help her prove it wasn't suicide.
Their investigation leads them to the Bel Air home of a wealthy movie producer, who built his mansion over a Native American burial site. Ancient mythology tells of a demon who, if unearthed, can imbue evil men with terrible power. But only if the demon is fed by the sacrifice of innocent lives…
Graham Masterton is a true master of his genre, famous for his original, disturbing, and utterly terrifying novels. The Soul Stealer will stand alongside The Manitou as one of horror's most chilling explorations of the native magic of the ancients.
Review
Soul Stealer is a horrifying and compelling page-turner that really pushes the edge of the genre and what's readable; there's no hiding it, some of the scenes in this book are horror in its most acute form.
This is a difficult one for me to review; it has certainly stuck with me and there are a few scenes than I don't think I'll get out of my head. With regards to how graphic it is, I can't safely recommend this to anyone.
It is very brutal and hard to read in a lot of places – there's extreme violence and torture, the likes of which I've not seen in a novel before. I don't read many horror books and there's a few particularly unsavoury bits that have really stuck with me. I wouldn't recommend it for those who would suffer from such triggers. With regards to the plot, they sit nicely there, adding to the horror that awaits the main characters. It is grotesque but it is fitting with the plot in a way that drives it forward. With regards to how it sits within the genre, and what the genre aims to achieve, this works very well.
You have to know that it's very clever writing and I guess it's so much so that it passes off perfectly as ignorant and immature about some of the themes the book delves into, with regards to character voice and topics like the #MeToo movement in Hollywood – as it is a horror based around that industry. But this strikes to the very heart of character voice. I believe it's sometimes hard not to confuse the voice in the book with the author's on subjects like this where we have to at all times be considerate and sensitive, but I believe the authors successfully separates the narrative from fact, there's a serious skill of character voice on display here. He really pulled the wool over my eyes. This is a review, yes, but it's me sticking up for voice. It's very important, sometimes, especially if it makes you feel uncomfortable. But most of all, it's a sign of a good author.
The only note I'll mention is the dialogue felt awkward at times for me; it all felt a little too deliberate and sometimes I felt the main characters were discussing things just to tell the reader and sometimes they explained things to people that I didn't understand – i.e, an ex-cop telling everyone he met that he was being chased. It isn't that extreme, but you'd have thought the guy might be a little more inconspicuous. But perhaps that's part of Nemo's character … and perhaps why he's an ex-cop. If you were to read into it that way, then it works. But for me, at the time of reading, it was jarring.
Overall, it's not a genre I'm widely read on, but the book did what it said on the tin and horrified me.