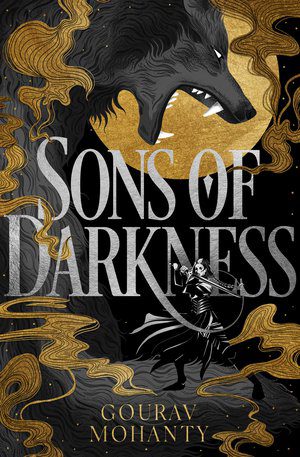 Rating: 10/10
Synopsis
Game of Thrones meets Mahabharata and Ramayan in India's first epic-grimdark fantasy series

"Through humor, torture, gore, lust, magic, dangerous power games and bloodcurdling battles, Sons of Darkness takes us on an unforgettable wild journey set in re-imagined Vedic India." –SF Book Review
A brilliantly imaginative talent makes his exciting debut with this epic grimdark fantasy saga inspired by ancient Indian epic Mahabharata and filled with treachery, war and vengeance, in the tradition of Steven Erikson's Malazan Book of the Fallen Series and George R.R. Martin's A Song of Ice and Fire Series.
SOME BALLADS ARE INKED IN BLOOD.
Bled dry by violent confrontations with the Magadhan Empire, the Mathuran Republic simmers on the brink of oblivion. Krishna and Satyabhama have put their plans in motion within and beyond the Republic's blood-soaked borders to protect it from annihilation. But they will soon discover that neither gold nor alliances last forever.
They are however not alone in this game.
Mati, Pirate-Princess of Kalinga, has decided to mend her ways to be a good wife. But old habits die hard, especially when one habitually uses murder to settle old scores. Brooding but beautiful Karna hopes to bury his brutal past but finds that destiny is a miser when it comes to giving second chances. The crippled hero-turned-torturer Shakuni limps through the path of daggers that is politics only to find his foes multiply, leaving little time for vengeance.
Their lives are about to become very difficult for a cast of sinister queens, naive kings, pious assassins and ravenous priests are converging where the Son of Darkness is prophesied to rise, even as forgotten Gods prepare to play their hand.
Review
I haven't reviewed in a long time, but this is a book that I just had to come out of hiatus to review (in the interest of being spoiler-free, I've kept this as an overview, rather than speaking about particular events):
Sons of darkness smashes open the fountain of originality, spilling insidious plot, incredible characters, and grim violence. I loved this book. Described as the Indian ASoIaF, it has feuding families, politics, war, and deceit in equal measures, but tops this with inspired world-building and a plot that starts as embers and ends as a blazing inferno.
I don't usually mention prologues, but this one was incredible in execution. Very good, very bloody. Very necessary. It sets the tone for a book so epic in scope and grim in its nature. It is perhaps the most effective prologue I've seen used since the Rage of Dragons and that's because it does two things, very effectively and efficiently: tells us the 'why' and I mean the 'why is anyone here in the main plot doing anything' and the 'what' as in what's to come. What happened. What will happen. As a bonus, it explains the state of the world, gods, magic system and that's without really telling us, but showing by way of a cool, badass opening sequence.
It is centered around Princess Panchal's Swayamvar: heroes from all around the lands are being called to test themselves in the swayamvar and see whether they will win the Princess' hand in marriage. The many heroes and hopefuls make up the POV, in some respects. These points of view have their own issues, like war etc, but for now, they turn their attention to the beautiful princess, that is after we've met them all in stunning fashion. In many ways, the stories centre around this but it isn't the main plot point. Now, I'm not about to spoil what is, you'll have to read that, as the story expands many pages beyond this. But it is the core and what comes after could be said as a ripple that comes from the stone thrown in the pond of this event, based around an Indian wedding. It truly was one of my favourite sequences from a book ever. How the character paths are interlaced here is truly genius. In the backdrop, there's a prophecy linked to the prologue. My favourite part of the book was perhaps the duel of arrows, but you'll see. At its depths, the plot is grim and fully embraces the staples of the grimdark genre, throughout there are depictions of gore and bloody, brutal battle scenes … nearing the end, there's little hope to be had. Just how I like my reads.
A plethora of character involved, I feel like we're only just getting to know through the end of the book which does promise an epic series; my favourite POV (of which there are many) is Karna, a student of Parshuram (oh boy, just wait until you find out about Parshuram and the history that stretches behind that man), who has been inflicted by not one, but two shraps (read on for a look into the magic system) and has a golden breastplate fused to him: he's the picture of a hero, he wants to be remembered and is a guy who stands at the bottom of society, holding his bow upward to those who stomp from above. He represents the Reshts, those born poor to stay poor – Gourav builds quite the complex society and this is just one part of it, that I perhaps don't have the skill to explain, but include Namins, Ksharjas who are higher class – and he's valiant, but holds a deep anger within him. Perhaps, something waiting to emerge. I love how honest and sincere the character is while being surrounded by snakes. He is kept so by his nephew, Sudama and their relationship paves the way for his character, his beliefs, strengths, and hopes rest upon the child who sits on his shoulders. And he is just one of many characters, like the plotting Krishna who I don't very much like; Shishupal the disaffected Claw of the Magadh Empire; Shakuni, the tortured spy-master, and Nala, the girl risen again. There's so much about the characters that make this story epic, lovable, and page-turning, but I can only prick the surface here because I wouldn't want to spoil the magic. 
Now, about the magic, for those of you who like strict magic systems, with rules and well-thought-out uses, this is one of them. Well, I say one, but there's perhaps a handful. Or a handful of different ways to use the same energy. Though I'd be no great explainer of them all, I have to say it really hits the right balance of magic for my tastes, that being said there's a lot of it. Shraps are one very intriguing magic where (as I understand it) the saving up of soul-energy can allow a person to inflict a shrap on someone, which I believe comes in the form of a curse, something that follows them. But I'm not sure that's the extent. However, this usually kills the caster, because it spends soul-energy. These are unlike elemental Mandalas that only use said energy, and do not expend it, but elemental mandalas are gone, anyway. Humans can no longer use them. The point of telling you all of this is to give you a glimpse of the time and effort Gourav has gone to craft this world – not only are there many peoples and cultures interwoven here, but there's much magic, with many rules and uses, and a lot of awe and wonder and discovery. Each magic system itself here isn't a way for characters to find new ways to harm each other, but it's another facet to the story, something else to trip and stumble on, to turn the storyline slightly, to twist our characters, or to add something there for later. Something you read and forget. Something which might come back and cause despair. Who knows, that's the magic of this epic, grimdark adventure.
Fantasy suffers from the same cultures explored, the same western histories interspersed into the stories over and over again, so we need books like the Sons of Darkness that build their stories from a different foundation. It was a refreshing read and also a crucial read for epic fantasy fans wanting to diversify their reading and shed light on new, upcoming authors from different areas of the world. When we call for variety on our shelves, books like this are important and should be consumed voraciously (especially when they are this good.)
Overall, please read this. It is fantastic and I definitely need to get myself a physical copy for my shelves – it is that amazing.