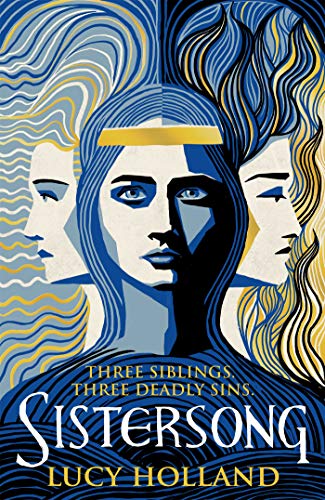 Rating: 9/10
Synopsis
King Cador's children inherit a land abandoned by the Romans, torn by warring tribes. Riva can cure others, but can't heal her own scars. Keyne battles to be seen as the king's son, although born a daughter. And Sinne dreams of love, longing for adventure.
All three fear a life of confinement within the walls of the hold, their people's last bastion of strength against the invading Saxons. However, change comes on the day ash falls from the sky – bringing Myrdhin, meddler and magician. The siblings discover the power that lies within them and the land. But fate also brings Tristan, a warrior whose secrets will tear them apart.
Riva, Keyne and Sinne become entangled in a web of treachery and heartbreak, and must fight to forge their own paths. It's a story that will shape the destiny of Britain.
Review
Thank you to Black Crow PR for sending me a review copy of Sistersong.
I'm just saying please buy this book, please read it, please experience it and please feel everything it is going to give you. I was caught out by just how much emotional punch it has, and those last 100 pages are going to be a roller-coaster of emotion. I wanted to cry happy tears at the end. The kind of tears where your heart is broken, then fixed just enough that you feel almost happy again.
We get to read from the point of view of all three of our main characters;
Riva, the oldest sister who falls for a stranger.
Keyne, born female, but wants to be seen as the King's Son.
Sinne, the youngest sister who longs for romance.
I loved reading each of their stories. Each of their struggles and the turbulence they experience as children of the King. Keyne was hands down my favourite of the three, and it's Keyne's story that feels at the centre of the book.
Sistersong features a trans character in Keyne, and a gender fluid character in another important person (it's best to find out who by yourself). The message in the book is that the most important name you have is the one you give yourself, one that comes across as poignant & powerful. Especially so as you watch Keyne get accepted by those around them. It gives a bit of humanity to the book, making it incredibly special.

Set in a time when Christianity was first being preached across England. It's a fascinating look into how Christianity converted communities, and the religion that was left behind in its wake. It's the first book I've read where the battle between the old religions and Christianity is highlighted. I loved reading about the rituals of the pagan religions, and how Gildas, our Christian priest, tries to stop them, to convert the community to his way of religion. It's a subject that makes for fascinating reading, and important lessons. This intolerance is a driving force for the events in the book, and it effects the world around them in more ways than one.

The plot of Sistersong is based upon the folktale of the same name. The original folktale speaks of two sisters, with a third occasionally being spoken of just with a small forgotten role in the tale. Lucy Holland has taken this folktale and woven a magical, poignant story with it. One that has major character development, and actually, some of the best character development I've read in a while.

The purpose of this rambling review is to say that Sistersong is a must-read of this year. It's an important story of change, identity and love.