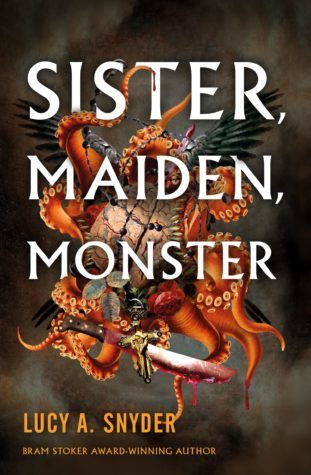 Rating: 8/10
Synopsis:
To survive they must evolve.
A virus tears across the globe, transforming its victims in nightmarish ways. As the world collapses, dark forces pull a small group of women together.
Erin, once quiet and closeted, acquires an appetite for a woman and her brain. Why does forbidden fruit taste so good?
Savannah, a professional BDSM switch, discovers a new turn-on: committing brutal murders for her eldritch masters.
Mareva, plagued with chronic tumors, is too horrified to acknowledge her divine role in the coming apocalypse, and as her growths multiply, so too does her desperation.
Inspired by her Bram Stoker Award-winning story "Magdala Amygdala," Lucy A. Snyder delivers a cosmic tale about the planet's disastrous transformation … and what we become after.
Review:
Thank you Titan for sending me a copy of Sister, Maiden, Monster to review!
So I read this exclusively on my work commutes and still managed to finish it in just a few days. This book is addictive and it's a miracle I never missed my stop. Sister, Maiden, Monster does that thing where the book is weird and then the last 50 pages go absolutely insane, and I was totally here for it.
There are three PoVs in this book, but it didn't work the way I expected. Instead of switching between each of the three stories, the book focussed on one at a time, with Erin's story taking up more than half of the book. Erin's story is so much longer because Snyder uses Erin's experience with the virus to explain the situation and how the virus affects people. She basically acts as the world-building part of the story, while also having an impact on the ending too. Savannah felt like she got the smallest part in the book, but hers was also important and added extra context to some of the weirder stuff that happens.
This is a truly gory cosmic horror and I couldn't get enough of it. If you want answers you're (mostly) out of luck, Snyder gives enough clues that you can put together your own theory and ideas about why the apocalypse happens and how, but ultimately this isn't a story about answers. Instead it's a wild ride of a nightmarish virus, cosmic roles and the potential end of everything we know.
Cosmic horror is a genre I'm fascinated by and Sister, Maiden, Monster did not disappoint. I can't sum up my feelings because I don't know what they are, other than overwhelmingly positive and I desperately want to explore more of Snyder's work now.