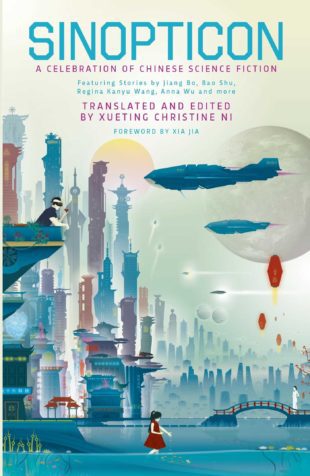 Rating: 9/10
Synopsis:
A stunning collection of the best in Chinese Science Fiction, from Award-Winning legends to up-and-coming talent, all translated here into English for the first time. 

This celebration of Chinese Science Fiction — thirteen stories, all translated for the first time into English — represents a unique exploration of the nation's speculative fiction from the late 20th Century onwards, curated and translated by critically acclaimed writer and essayist Xueting Christine Ni.

From the renowned Jiang Bo's 'Starship: Library' to Regina Kanyu Wang's 'The Tide of Moon City, and Anna Wu's 'Meisje met de Parel', this is a collection for all fans of great fiction.

Award winners, bestsellers, screenwriters, playwrights, philosophers, university lecturers and computer programmers, these thirteen writers represent the breadth of Chinese SF, from new to old: Gu Shi, Han Song, Hao Jingfang, Nian Yu, Wang Jinkang, Zhao Haihong, Tang Fei, Ma Boyong, Anna Wu, A Que, Bao Shu, Regina Kanyu Wang and Jiang Bo. 
Review:
Thank you to Rebellion for sending me a review copy in exchange for an honest review.
Oh man. Let me start by saying that if you're a sci-fi fan, and especially if you're a translated fiction fan you should pick this up now. Trust me, you will love this collection of short stories.
I honestly think this is a collection of short stories where I loved each and every one of them. They're all wildly varied in themes and plots, but they all work together so well in this collection. Xueting Christine Ni has done an incredible job in translating and editing these stories. They showcase some incredible Chinese Sci-Fi talent that I would never otherwise get to experience.
I do have a particular favourite though. The longest story in the collection is called Flower of the Other Shore and is a zombie story. Aka, one of my favourite things to read. This isn't your average zombie story. It's told from the point of view of one of the zombies, and they can communicate with their fellow dead using hand gestures. They are thinking, feeling creatures who are consumed by hunger when they are near humans, but otherwise they're just trying to survive the end of the world too. It explores the zombie themes and adds an extra something with where the story goes.
Another favourite is The Great Migration, where the humans who have colonised Mars all gather to try and leave Mars to return to Earth for a spell. This story gives an incredible sense of scale both in the Olympus Terminal where it is set, and the idea that just because humans have colonised Mars it doesn't mean space travel is easy or accessible. It explored an idea I had never considered when reading other Sci-Fi books and it just drew me in.
Every single story in this collection deserves its place. I'd recommend this if you're looking to explore Chinese Sci-Fi (which I now really, really need to do more), or if you're looking for a great collection of sci-fi stories.