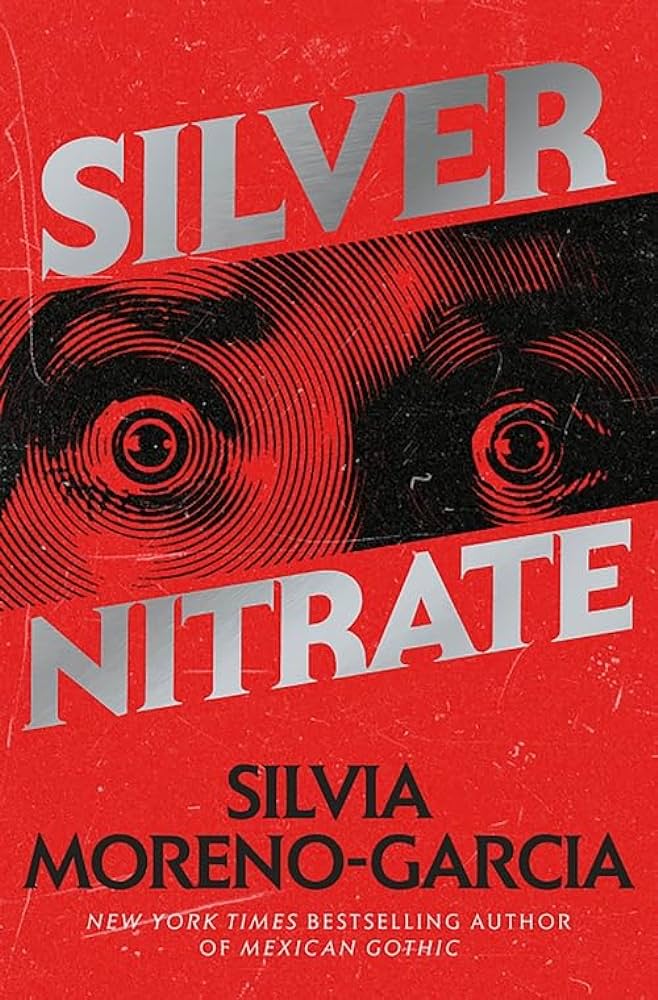 Rating: 8.5/10
Synopsis
Montserrat has always been overlooked. She's a talented sound editor, but she's left out of the boys' club running the film industry in '90s Mexico City. And she's all but invisible to her best friend Tristan, a charming if faded soap opera star, even though she's been in love with him since childhood.

Then Tristan discovers his new neighbour is the cult horror director Abel Urueta, and the legendary auteur claims he has a way to change their lives – even if his tales of a Nazi occultist imbuing magic into highly volatile silver nitrate stock sounds like sheer fantasy. The magic film was never finished, which is why, Urueta swears, his career vanished overnight. He is cursed.

Now the director wants Montserrat and Tristan to help him shoot the missing scene and lift the curse… but Montserrat soon notices a dark presence following her.
Review
'Words are rituals, gestures are spells'
If words are rituals, then 'Silver Nitrate' is the altar that allows these rituals to create something magical. Silvia Moreno-Garcia's novel is brimming with magic; it coats every word and lies between every gap on every page. If you have never read any of Moreno-Garcia's works before then you are in for a treat. The writing style is smooth and silky, instantly enveloping you into 1990's Mexico. I found myself taking much longer than usual to complete this book but not for any negative reason. Every page felt like a luxury, an expensive chocolate that should not be overindulged. 'Silver Nitrate' is a deep dive into Mexican cinema, it is a detective novel with a wicked curse at the crux of it, and it is a story about love, friendship, and the boundaries that shift between the two. But before anything else, 'Silver Nitrate' is magic.
The concept is a simple one, but not one that I have seen before. We have all read stories that metaphorically or otherwise tell you that books and the written word are magical. A famous Stephen King quote says that 'books are a uniquely portable magic'. What I had not seen before was the coupling of filmmaking with magical qualities. Admittedly I am far from a film expert, and minor elements of the story went over my head because of this, but the origin of magic within the story, the combination of fire, water, air and earth that exist within a film, with silver nitrate being the key ingredient, is so simple and yet so logical that it only had a positive impact on my enjoyment of the story.
Main characters Montserrat and Tristán, and cult horror director Abel Urueta, awaken a curse that had been dormant for decades, and along with it the memory of deceased Nazi occultist Wilhelm Ewers. I find curse stories genuinely creepy, and the book loosely reminded me of 'The Ring' through its impending dread and the slick and desperate attempts of Tristán and Montserrat to gain answers. The moments of terror within the story are few, but they are certainly effective. Whether it is the spectre of Ewers or the memory of Tristán's dead ex-girlfriend, there are some truly haunting moments within the story that only standout more so due to the infrequent and erratic nature of them. Just like Montserrat and Tristán, you have no idea when the supernatural is going to rear its menacing head.
I very much enjoyed the unravelling of the mystery and learning about the dark history of Ewers, Urueta, and the cursed film that they were forced to abandon, but the stars of the show for me were undoubtedly Montserrat and Tristán.
A testament to how well Moreno-Garcia creates the two characters is that I cannot think of any other characters in any book that I can visualise in my head as clearly as those two, even though a film adaptation would undoubtedly dash those dreams. Montserrat is unabashedly herself. She loves horror, she is not afraid of confrontation, and she is happily independent, tackling her problems head on. She is everything you would want in a FMC. Tristán is not so unflawed, still dealing with the emotional ramifications of the death of his ex 10 years ago. Tristán can be self-centred and selfish, relying on Montserrat only when it suits him.
There are elements of their friendship, for better or for worse, that really struck a chord with me personally. Regardless of any arguing, Montserrat and Tristán always found themselves returning back to each other. I always enjoy a book that values its friendships on the same level or above any romantic ones, and 'Silver Nitrate' is the quintessential example of two friends who love each other, even if they don't always show it. I particularly enjoyed the inversion of gender roles within the friendship. Montserrat is always the fearless one, protecting and comforting Tristán throughout:
'It was Momo [Montserrat] who forgot to fear, and he who feared everything.'
'Silver Nitrate' feels both familiar and unfamiliar at the same time. In some ways it offers everything you would want in a story of this genre: compelling relationships, a mystery, and some frights, but at the same time Moreno-Garcia absolutely put her own spin on the story. If you have read any of her works before you will soon realise that 'Silver Nitrate' is unapologetically her, and that is where the story truly shines.