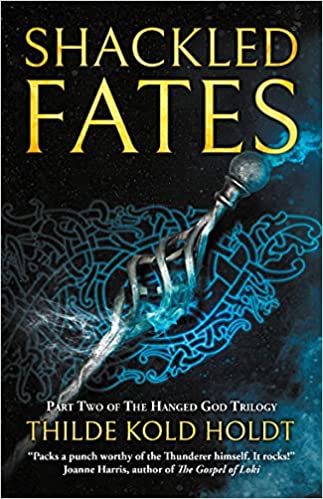 Rating: 10.0/10
Synopsis
As Ragnarok looms, the trickster Loki breaks free from his chains.

In the battle to come, all shall die, but Ragnar will do anything to save his gods.

Einer scours the nine worlds for Hilda, who walks among gods and goddesses, searching the truth of the Runes.

For centuries Siv has run from her past, but she knows that to protect her daughter, and Midgard, she will have to face her worst fears.

It is time to confront the Alfather.
Review
Shackled Fates is the follow-up to author Thilde Kold Holdt's 2020 debut novel Northern Wrath (which I absolutely loved. You can read my review here.) Northern Wrath was one of my favorite books of 2020, and I honestly did not think there was any way I could like book 2 more. But something happened on my way to Niflheim…

In my opinion, second books in trilogies can be hard. You might have seen me rant about this before, but I think it is extremely hard to find the right balance of keeping and expanding upon what worked in book 1 while also introducing new aspects of the stories to keep readers' interests. This is what impressed me most about Shackled Fates: Holdt's ability to walk that line between old and new and still make everything feel fresh.

The author is so good at writing characters. The character set of this book is extremely diverse, and every single one of them is going on an journey into the depths of The Nine Worlds (more on that later). For me, the intrigue that comes with each storyline is that each character has strong motivations: they are trying to find a loved one, or looking for a place where they belong, or saving the world from Ragnarok. The stakes are so high and the quests are so intense that the whole book becomes one big emotional roller coaster. With the first book I said I was constantly awaiting Ragnar's narrative to come back up (not that the rest were not good, but I found his to be the most provocative). With this book, I can easily say I do not have a favorite because they are all great.

One of the best aspects of the book is how the author uses the character arcs to explore The Nine Realms. The reader gets to experience the different domains along with the characters as they travel along their paths. Holdt is really descriptive, and that really helps for those of us who are not experts in Norse mythology. But we also get to spend time with many Norse icons of legend. It was a one of the coolest parts of the story.

I have to give a shoutout to the author for the writing. Great characters, intriguing storylines, and amazing settings are nothing without good writing. Holdt really nailed it, here. The pacing was just right, steady with mini-crescendos and climaxes mixed in along the way. I would not say it was constant action, but there was always something to look forward to, something pulling things along. I was never bored or even distracted from the story, and I could not put it down. Even the chapter lengths were perfect, ranging from 4-10 pages most of the time, feeding into my "just one more chapter" policy.
With Shackled Fates, Holdt brings The Nine Realms to life. It has no doubt made the short list for my favorite books of 2021. I recommend it 100% for fans of fantasy. Now, do we really have to wait another year for book 3?