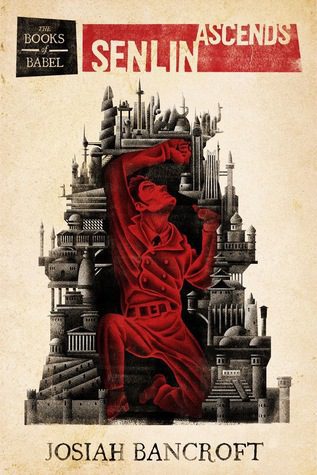 Genre – Steampunk / Fantasy
Publisher – Orbit (01/16/2018)
Paperback – 361 pages
Audiobook – 14 hours and 14 minutes
5/5 Stars
So, Senlin Ascends (The Books of Babel, #1) was released by Orbit publishing today (01/16/2018 in the US) after spending almost five (5) years as an indie. The unfortunate bit is that is took being recognized in Mark Lawrence's SPFBO to get the fame is rightly deserves. Bancroft has written a brilliant novel here, one that will captivate any reader of modern fantasy and will never let you leave.
Thomas Senlin and his new bride, Marya, are on their way to what was supposed to be the perfect honeymoon getaway: The Tower of Babel. Comprised of several large and fascinating "ringdoms", the tower stands more magnificent than any other in the world. Every ringdom houses unique cities, each with their own quirks and attractions; a perfect adventure for a lovely couple with guidebook in hand. But what hides behind those wonderful facades is something Senlin did not account for. When he and his beloved are separated shortly after getting off of the train, Senlin must look deep inside himself, and inside the tower, to find her. Through a slum, complete with a beer-go-round, a theater where all newcomers are given a role, and a ballroom full of friend and foe alike, he must find a way to survive in order to make it to the top.
While listening to Senlin Ascends via audiobook (narrated by the wonderful John Banks, and courtesy of Hachette Audio), I couldn't help but think about the video game Bioshock Infinite; but you can nix the vigors. The world-building of Babel felt sort of like the cloud city of Columbia, where everyone seems friendly until you start poking about and airships are the norm on the outskirts. I would also compare it to Kingdom Hearts (if I can use another video game reference) as each new "level" had a completely unique experience for Senlin. But enough about that… Bancroft's craft for character building is the real reason you should read this book. You will be rooting for Thomas throughout this entire novel, in both the ups and downs of his situations, and you will feel the need to lend him a hand at times. In such a situation you would never wish upon your worst enemy, Thomas must venture through an entirely new (and don't forget HUGE) place with nothing other than a guidebook, and what you can barely consider, acquaintances.
Whether or not you are a fan of steampunk fantasy, I suggest giving Senlin Ascends a go. This is truly a unique work of fiction and one that I think will come to the big screen one day. It is a ton of fun and, honestly, it has EVERYTHING you could ever want in a book. Now, on to the sequel!
-Review by David