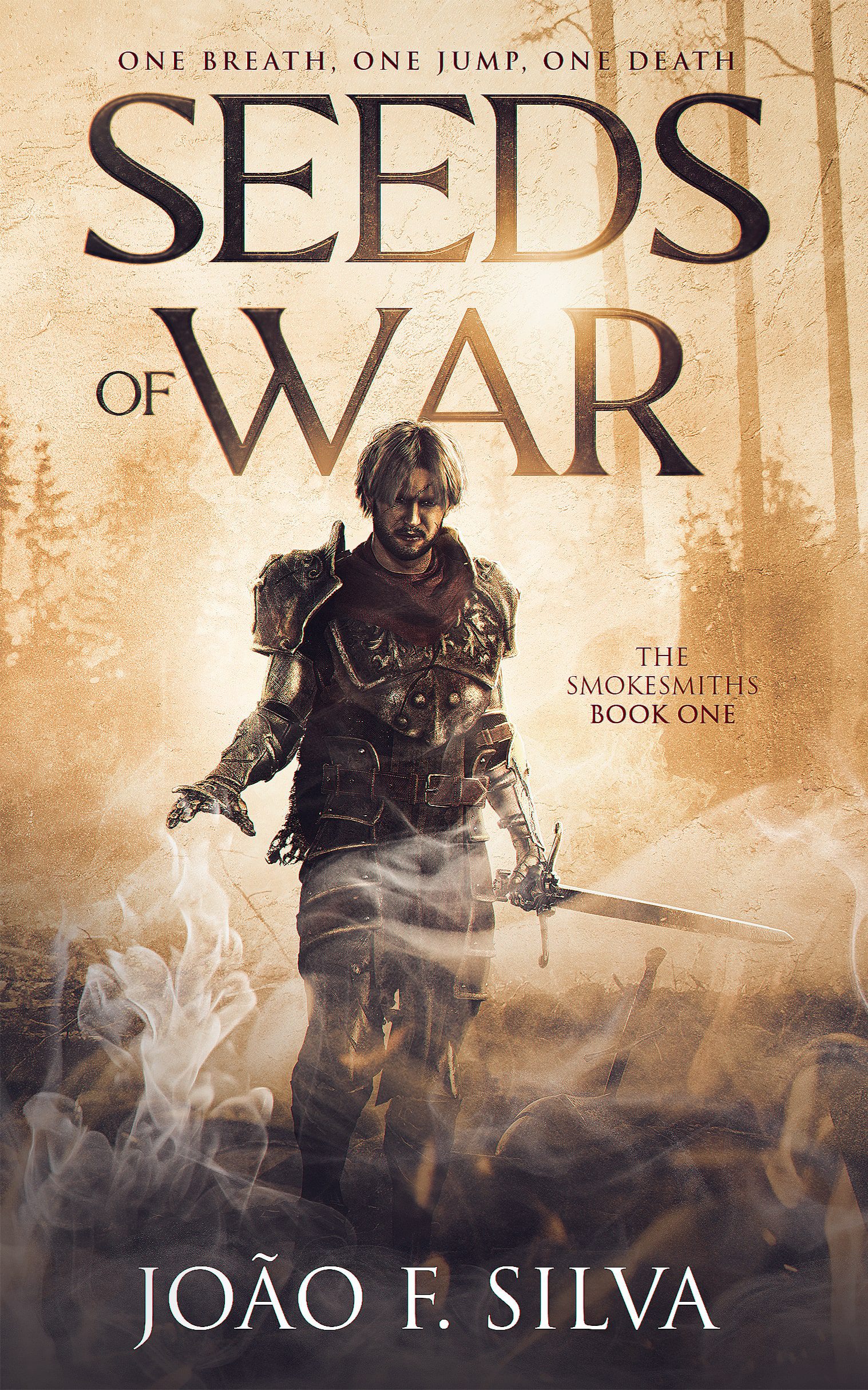 Rating: 9/10
Synopsis
GIMLORE is a single mother and war veteran turned crime boss set on protecting her family and her town.

ORBERESIS is a petty thief pretending to be God to protect a terrible secret.

REDNOW is the world's most feared mercenary, but his best days are behind him and there's one job left to do.

In a world of dangerous monsters and devastating smoke magic, the seeds of war are being planted. Allies must be treasured and enemies defeated.

The Smokesmiths is a gritty epic fantasy series with a harsh world of smoke magic, alien creatures and ancient secrets where characters do their best to come out on top. Peace will not last.
Review
Seeds of War is a self-published epic fantasy novel. From the cover alone I was so intrigued, and when I heard it had destructive smoke magic and a host of interesting characters to follow I was even more so. I went into this book fairly blind, as I often do, and once again it paid off. What a ride this book was!
It follows three main protagonists. Orberesis; a thief and a con man who has somehow convinced a host of people he is a God and now has a cult following, even though his one 'godly' act is something he can't seem to repeat. Gimlore: a former soldier and a single mother, who has built a thriving community and is now trying to protect it from invaders. And Rednow; a mercenary for hire who is famed and feared for his power and strength, but is forced to think about retiring after this one last job.
One of the highlights of the book for me was the character development. The struggles they go through were all portrayed well, and I felt every moment alongside them. Put that alongside with the great action sequences, heartfelt moments of emotion and the great world building this book has so much to love.
All three protagonists have their own stories and I found them all equally compelling to follow. Rednow was likely my favourite, but I've always had a soft-spot for grumpy veterans/mentors in books. I loved how all of their stories are woven together by the end. It was well done and by the half way point I couldn't put the book down.
Another aspect of this story I really loved was the magic system and the world itself. The magic of the 'smokesmiths' was imaginative and unique, as the smoke manifests different abilities in the different users. I loved that there was a cost to using it as well. The world is also full of cool details, as well creatures that added a lot of life to the story.
The only thing I felt I wanted more of was some more details on the past of some of the characters. Gilmore in particular. She seems like she has a great story to tell, and I'd love to get more details on her past as a soldier. However, this is just the opening to this series so there is plenty of time for that.
This book is a great start to what I'm sure will be an epic story. I can't wait to see what else Silva has in store as an author.
Thanks to the author for the advanced review copy of this book. This book releases on May 1st.