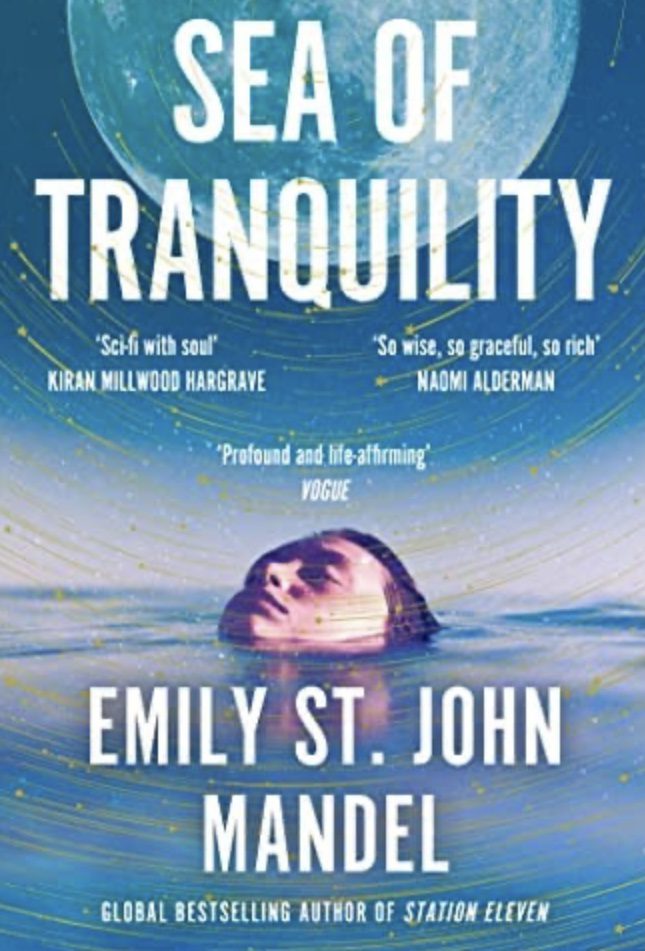 Rating: 10/10
Synopsis
The sound of a violin plays an otherworldly tune in an airship terminal. 
That same tune is heard in moments across time and space, transporting the listener backwards and forwards to this same point. This single melody connects lives that are separated by centuries.
An exiled Englishman, a writer trapped far from home, and a girl destined to die too young have each glimpsed a world that is not their own.
What is causing this strange anomaly that threatens to rip apart the fabric of reality? The answer will require a journey that spans half a millennium, from post-Victorian Canada to distant-future moon colonies, blurring the lines upon which time should run in an astounding mystery. 
Review
Sea of Tranquility's hook revolves around a violin melody played in an airship terminal that's heard across time. Reading the book made me feel like I'd heard it myself. The story is astonishing, lyrical, and as haunting as the melody woven through its pages.
A series of vignettes transport us across a span of 500 years, providing glimpses into the past and future. There's beauty and a sort of poetry to be found in each perspective. These flashes of different lives, whether they're from the 1900s or the 2400s, advance a single thread which holds the narrative together. They build, one on top of another, but each is so distinct. It's like listening to different sections of an orchestra adding their own flavour to the fullness of the overall sound. Each vignette narrows our lens while simultaneously opening up the story's scope. Every chapter is somehow both sanguine and wistful, and never less than absolutely captivating.
In terms of style, Emily St. John Mandel's tone is sumptuous. There's a precision about the details she includes which speaks to so much more than mere description. Every sentence is a brushstroke that enhances an already mesmerising canvas. The book could've been a thousand times longer and I'd have still gladly soaked up every word. The future she paints is intriguing and recognisable — drawing ingenious parallels with our present to root the reader in the far-flung space-faring cosmos-filling colonies.
In terms of characters, there's an honesty about each of them, and a sincerity of perspective which gives them nuance and makes them real. I felt like I knew them. Like I lived there with them. Choosing to focus on one over another would feel wrong somehow. But what I particularly enjoyed was the mystery of one character who seems to run in to the others, no matter at what point in time they live. If there's a protagonist to be found among this cast, then the way they're introduced is spellbinding, patient, and very rewarding.
I don't want to spoil anything by revealing too much, but let's just say that the book won the 2022 Goodreads Choice Award for Science Fiction, and to call it a worthy winner is a bit of an understatement.
This is the epitome of a must-read.
Sea Of Tranquility is as elegant as it is powerful. It's thought-provoking, heart-stirring, and expectation-busting. Expect this to be a very special book indeed, and then get ready for those expectations to be wildly surpassed. This is time-travel at its most poignant, and most perfect. An earworm of literature that won't fade or diminish, but will endure in the heart and mind long after you finish reading.
While it may be true that no star burns forever, this book is going to shine for a very, very, very long time.