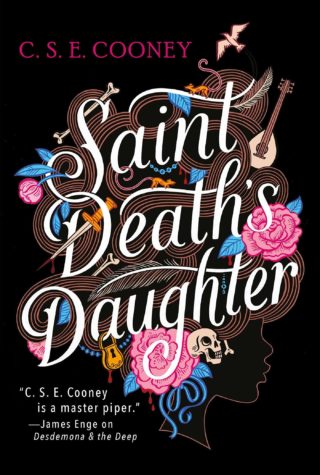 Rating: 10/10
Synopsis:
Life gets complicated when Death gets involved.

To be born into a family of royal assassins pretty much guarantees that your life is going to be… rather unusual. Especially if, like Miscellaneous "Lanie" Stones, you also have a vicious allergy to all forms of violence and bloodshed, and an uncanny affinity for bringing the dead back to life.

To make matters worse, family debt looms – a debt that will have to be paid sooner rather than later if Lanie and her sister are to retain ownership of the ancestral seat, Stones Manor. Lanie finds herself courted and threatened by powerful parties who would love to use her worryingly intimate relationship with the goddess of death for their own nefarious ends. But the goddess has other plans… 
Review:
I was sent a copy of this book in exchange for an honest review.
Where do I start with this incredible book? I was completely blown away by the premise, the writing, the characters, and I was very sad for it to be over. I've tried to explain the plot to multiple people, but there's something about it that is just completely inexplicable and it just WORKS.
The book starts with a list of key dates, gods & other useful terms. Take a look but do not let it scare you. I'm someone who gets easily lost in books, I can easily confuse characters and places. But let me tell you that this did not happen once during Saint Death's Daughter, at every turn I understood who was who, which God did what, and I never once questioned what was happening.
I've never met a book that is so completely sure of itself, and where the worldbuilding is so secure. Cooney could have gone off on any tangent and I would have completely believed it. I can only describe her writing as chaotic, complex and so utterly sure of itself.
Lanie just wants to exist. She's meant to be the next great necromancer, born with great power. But she doesn't want that, this isn't the story of her ascent to greatness and power. It is the story of a girl who just wants to exist, who wants to look after her family and who builds this wonderful found family around her who will protect her at all costs. It's the story of her life, of someone who doesn't want the power but ends up with it anyway.
I loved Saint Death's Daughter for its complexities and characters and chaos and I think this will remain one of my top reads of 2022.
I loved this. So, so much. Please go and get a copy and dive into this incredible world that Cooney has created.