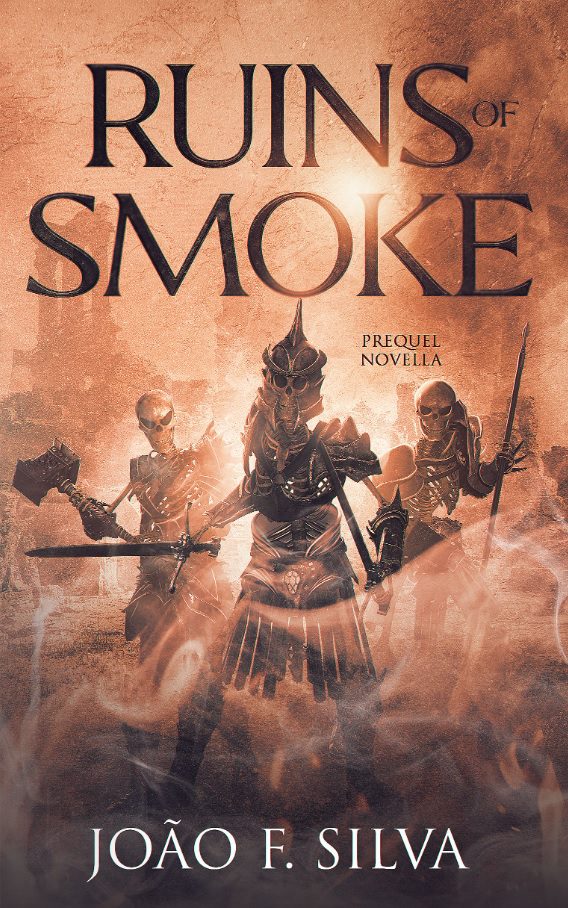 Rating: 8.5/10
Synopsis
The Usharian Empire rules the Known World with an iron fist. Imperials protect their world from the tainted hand of the Deceiver, but he is back with an avatar capable of breaking the Empire and grounding humanity into ash.
JEHA is a sentinel of the Empire, willing to fight and die for kinship and duty.
AGOR is an imperial general. Disgruntled by the darkness he sees seeping into everything he loves, he makes his move.
MATALA is a young smokesmith who sees his courage tested as Ushar burns.
ALAMAKAR is the world's most powerful man, but even strong blood ties can hold him down and tear him apart.
As the Deceiver threatens the Usharian Empire's heart, fiends walk the streets of the capital. Men and monsters clash in a battle fit for gods. And the smoke follows them.
Review
I received an ARC of Ruins of Smoke, and I gotta say: it packs one hell of a punch and has solidified my track record for picking up amazing novellas. It's action packed, fast-paced and character driven with some genuine emotional moments, and despite it's small size, covers a lot of story and acts as a nice little appetizer to the main course – Seeds of War.
Ruins of Smoke is set quite some time before the main events in Seeds of War. You could easily read these in any order, although I enjoyed being able to relive events referenced in Seeds of War. The story mostly follows two deities vying to overcome each other, both believing the other is in the wrong and that their power is the problem. What could possibly go wrong? Oh just the complete destruction of an entire city and deaths of its inhabitants.
Before picking this up I was thinking "how the hell do you fit four POV into a novella?!" Well, it's possible, which João F. Silva has clearly shown in Ruins of Smoke. The plot follows Jeha, a Sentinel of the Empire, Agor an imperial General, Matal a Smokesmith and finally Alamakar king of the Usharian Empire. Overall Jeha really stood out for me, mostly because I loved the thought of a badass sisterhood of sentinels fighting as one AND she has a super cool power. However, I also want to highlight Alamakar, who is part of one of the coolest and epic one on one fight scenes I've read in fantasy.
I also again wanted to highlight the unique magic system, which is again present in this book alongside some variations and earlier appearances of Smokesmiths. The magic behind the two deities was also very unique.
The writing was a major highlight through it's smooth fast pace. I never felt bogged down and instead just enjoyed the flow of the story.
I can't recommend this novella enough, especially if you've already ventured into the world of The Smokesmiths. If so, I'd say it's more than mandatory to read this – especially if you're a lover of fantasy lore! If you're still new to João F. Silva's novels, then this could potentially be a great starting point to whet your appetite before venturing into this intriguing world.