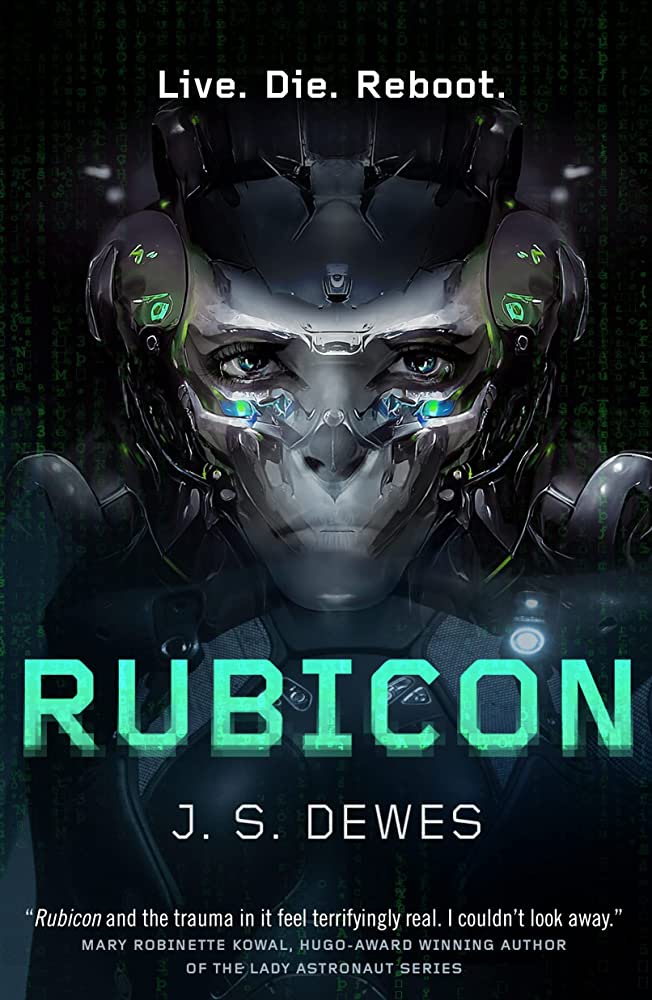 Rating: 9/10
Summary:
Sergeant Adriene Valero wants to die.

She can't.

After enduring a traumatic resurrection for the ninety-sixth time, Valero is reassigned to a special forces unit and outfitted with a cutting-edge virtual intelligence aid. They could turn the tide in the war against intelligent machines dedicated to the assimilation, or destruction, of humanity.

When her VI suddenly achieves sentience, Valero is drawn into the machinations of an enigmatic major who's hell-bent on ending the war―by any means necessary.
Details: Release: March 28 2023
Publisher: Tor Books
480 pages
Audio Length: 16 hrs and 20 mins
Narrated by: Eunice Wong
Review:
J. S. Dewes returns from her 'Divide' duology (The Last Watch, The Exiled Fleet) to take you on a more 'boots on the ground' military sci-fi thrill ride amidst a galactic war between humans and the robotic 'Mechan' for the future colonization of the outer planets.
Rubicon drops you right into the action from the beginning. We're thrown into a deployment of Specialist Adrienne Valero and the 803rd Ground Assault unit of the Exoplanet Reconnaissance Division. Things get a little hectic and our lead character is met with a task; rather than let her squad-mates get captured by the enemy, she has to take them out herself.
We're then introduced to more of this world's military structure. The 'rezoning' process and how these militaries work. We learn that currently Adrienne is on her 96th iteration. We're also introduced to her Rubicon, which is also like a sentient brain chip that allows for communication and overlays and a military-issued HUD.
The rest of the story takes you on a ride where Adrienne is deployed with an unfamiliar squad and into more 'frontlines' type missions. She needs to execute prove herself and earn her respect amongst the squad. She shares some of her past experience with the squad and we learn more about her traumatic past. When she encounters some Rubicon 'glitches' in the field, she has more questions than answers. This lends to an increase of tension and mystery and places your expectations on shaky ground. This uncertainty of expectations is a strong part of this narrative and Dewes plays it very well.
Rubicon hits hard with action as well as philosophical ideas and solidifies J. S. Dewes a place within the upper mil-sci-fi echelon. This was a great combination of elements of Kameron Hurley, Scalzi's Old Man's War, and even Mickey7. An engaging, action-packed adventure with a twist of AI, intelligence, and humanistic themes.