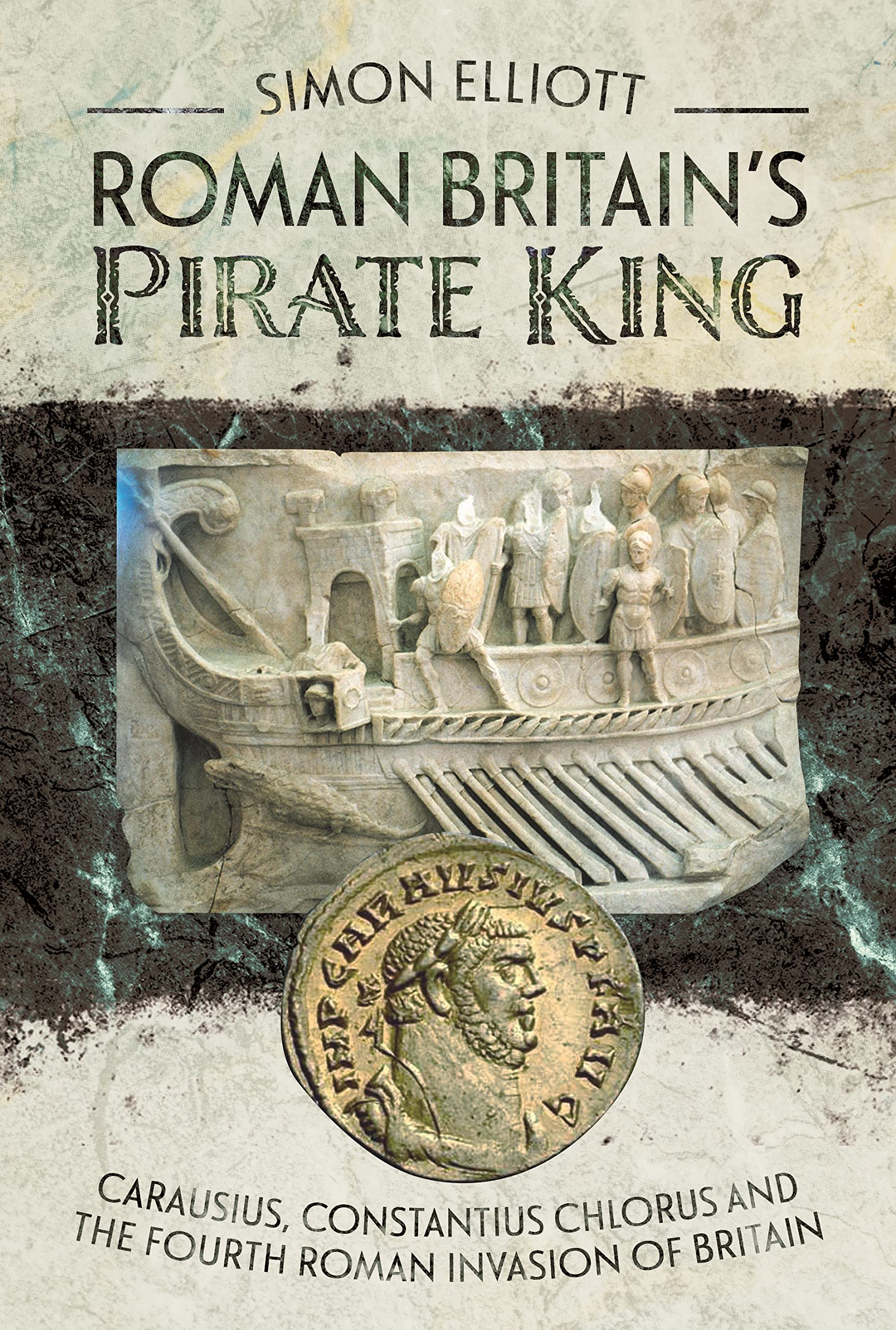 Rating: 10/10
Synopsis:
In the mid-3rd century AD Roman Britain's regional fleet, the Classis Britannica, disappeared. It was never to return. Soon the North Sea and English Channel were over-run by Germanic pirates preying upon the east and south coast of Britain, and the continental coast up to the Rhine Delta. The western augustus (senior emperor) Maximian turned to a seasoned naval leader called Marcus Aurelius Mausaeus Valerius Carausius to restore order. He was so successful that Maximian accused him of pocketing the plunder he'd recaptured, ordering his execution. The canny Carausius moved first and in 286 usurped imperial authority, creating a North Sea empire in northern Gaul and Britain which lasted until 296. Dubbed the pirate king, he initially thrived, seeing off early attempts by Maximian to defeat him. However, in the early 290s Maximian appointed his new caesar (junior emperor), Constantius Chlorus (the father of Constantine the Great), to defeat Carausius. A seasoned commander, Constantius Chlorus soon brought northern Gaul back into the imperial fold, leaving Carausius controlling only Britain. Carausius was then assassinated and replaced by Allectus, his treasurer. Allectus was in turn defeated by Constantius Chlorus in AD 296 in the fourth Roman invasion of Britain, the caesar arriving just in time to prevent London being sacked by Allectus' Frankish mercenaries. Once more Britain was part of the Roman Empire.
Review:
Imagine the Roman Empire in the crisis of the Third Century. Over-run by wars, plague, banditry, and Germanic tribes becoming more bolder to raid Roman lands, as the Roman bueacracy or the political administration becomes increasingly aware that the Empire has grown too big to rule under one Emperor. The old system of the Principate, i.e that was the old structure of the Empire from Augustus is not fit for purpose anymore. This book consistently sheds light on what numerous Roman Emperors tried to do to solve the crisis of the Third Century, which in effect was a massive civil war across the entirety of the Roman Empire, and contained pockets of mini wild west scenarios. Britain would in effect, become one of those provinces. Simon goes into great effort to detail the effects of the economy something that's not often taught or learned about. The Roman Empire was massive, its army massive, but to run it needed effective military leaders and an effective civilian administration – something which the Third Century crisis almost weakened Rome because of this.
At this age, we are somewhere around the 280s-290s when Emperor Maximian restored rule to Gaul. Imperial Gaul had become a trove of banditry ever since it had seceded from Rome, and former Roman citizens, dispossessed and disillusioned with the Empire, began to raid their own lands. Very much as to what was happening in Roman Britain. Carasusis of course was appointed to restore the rule in Britain from the Germanic incursions and he did it. Suffice to say, this then lead to Carausis putting on his big boy hat, and he became the so-called Emperor of Britannia for a time, being a very strategically cunning commander until Maximian brought in Constantine Chlorus, the father of Constantine the Great, who would go onto take control of Britain and defeat Carausis's holding in Gaul. Constantine Chlorus was one of the most monumental figures of Roman history that in my opinion is often ignored. Suffice to say, this is the best way I can summarise this book: Lands are in revolt, and a new Emperor comes and restores order. An island is under raid, so the new Emperor appoints a cunning general who restores order on the island and usurps his rule. Then the Emperor brings in another cunning general who is making the way to power, and then that cunning general who was once ruling that island gets killed by his own subordinate. You can't make this stuff up, half of it is especially brilliant for a Hollywood series adaptation or Netflix TV show. And half of it resembles Monty Python.
I think Simon did a brilliant job in showcasing just how fragmented this world was. That being said, he does cover the origins of the Roman Military and how it changed. I would have wanted more images illustrating this, and I would have preferred less of detail on the military and more on the story of the Pirate King because I feel, this could be the subject of much discussion itself. Pen and Sword are doing an excellent job in showcasing the history and I wish their books were longer. Thank you to Rosie at Pen and Sword for providing me with a review copy of this book. I think this is a great novel and it's a 10/10 from me!