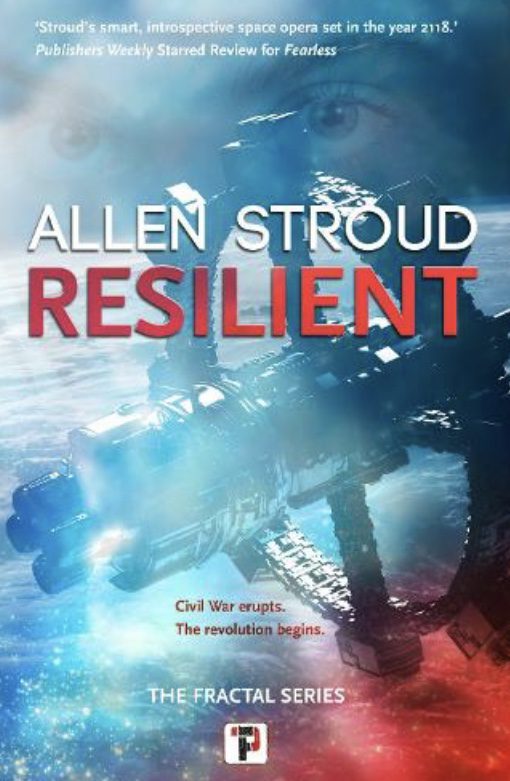 Rating: 9.5/10
Synopsis
AD 2118, Earth. The world is about to change as a terrorist strike obliterates the planet's biggest solar farm.
AD 2118, Mars. Phobos Station is ready to receive an emergency shuttle full of wounded miners, but when those miners turn out to be insurgents, Doctor Emerson Drake realises he's trapped and must fight to survive.
AD 2118, deep space. Captain Ellisa Shann must come to terms with her guilt. What remains of her crew cannot manage without her. And they need her to get home.
Three situations. Only one resolution. Humanity's future is on the line. What can save us?
Review
Resilient is a superior space thriller that'll keep you on the edge of your seat long after you've finished reading it.
The pitch for this book is "Die Hard in space," which makes it sound like it's going to be awesome. And it is. But to say this book is "Die Hard in space" is wildly underselling it. Yes, it's high-octane, action packed, and the main events revolve around a space-station taken over by terrorists. But there's so much more to this book than just an underdog trying to save the day.
This is the second book of a series that belongs to Ellisa Shann, a complex starship captain who was born without legs. Ellisa is struggling to reconcile the actions she took which led to her losing her ship. Those left of her crew have commandeered an enemy vessel, which sets out on a course that's been pre-selected by their adversaries, raising new mysteries and conundrums to solve. Ellisa must find a way to overcome the aftermath of her decisions. For her, resilience is something that she's lost, and must learn all over again.
Meanwhile, Doctor Drake travels from Mars to a space-station in orbit. This becomes the station that terrorists hijack, and Drake fills the role of the "everyman" who'll need some serious John McClane smarts and on-the-fly thinking to stay alive long enough to figure out who's attacking the station, and why. His resilience is under fire, and his principles as a doctor are tested to the limit in an ever escalating kill-or-be-killed scenario.
But as well as John McClane smarts, for this to be "Die Hard in space," there needs to be some John McClane muscle. This comes in the form of Natalie Holder, who may just be my favourite invention of the whole book. She's a person who gets uploaded into different bodies. She's a chameleon, a killer, and a weapon. With her memory wiped after each kill, she's battling to free herself from the cycle of assassinations, desperate to hold on to some semblance of identity. She escapes her lab and wakes up in the body of a space-station administrator. The same space-station that's under a terrorist attack. Cue the fireworks. Natalie must demonstrate resilience like never before if she is to escape from the shackles of her masters, and free her mind from their control.
These three strands are woven together masterfully and artfully. Twists abound as the plot moves through the gears of survival to civil war. Claustrophobic tension aboard the station is juxtaposed beautifully with the crew's journey aboard the enemy's spaceship. The pacing is flawless and the prose is clean. There's an unputdownable quality to the writing, and it makes for compulsive reading.
One feature of the book which really elevated its scope was how it weaved world-building into the narrative. Most chapters end with a brief and ingenious insight into the world, be it a recording or a transcript, which thematically relates to the journey of that particular character. These snippets of information act as soundbites to help the reader piece together how the characters relate to the world of 2118. Backstory and context is given without ever straying into the realm of exposition. The narrative remains tight, and yet, the puzzle of this world is intriguing and vast. It's a really beautiful way of building a universe without ever straying from the characters or plot.
There's so much to admire about this book. It tackles such a wide array of issues, from corporate greed to living with a disability, and yet, these threads are fused with the story so seamlessly that it's only after you finish reading that you realise how deep the story goes. There's no time to ponder the impact of the book while you're immersed in the relentless suspense of the novel, but once it's done, the book reveals itself to you in new ways, and this makes for a very rewarding experience. If the story were a meal, then the aftertaste is magical, adding flavour to a rich, delicious, and meaty dish.
Resilient perfectly balances memorable characters, an engaging plot, and immense world-building. It's a supreme piece of intelligent science fiction, as well as an absolute blast to read. The ingredients that make up this story are entertaining in themselves, but the book is so much more than the sum of its parts. Resilient is an outstanding achievement, a sequel that works just as well as a standalone, and I cannot wait to see what's coming next.

Release date: April 22, 2022
Publisher: Flame Tree Press