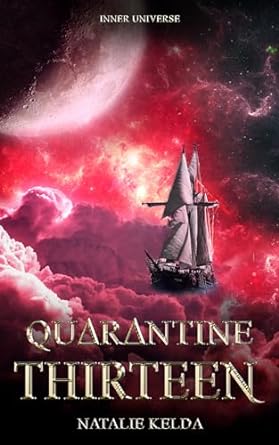 Rating: 8.5/10
Synopsis:
Since her fight against the last Star-Eater, Tara Polendi's energy-vision has become unreliable — a truth she is too humiliated to share.

When Tara unwittingly directs Lucia into the heart of a portal storm, the ship and her crew portal back to the last place they want to go: Outer Universe.

Now, they can't take off from their crash-site, and Tara's unstable vision becomes the least of her worries.

There is someone – or something – else on the island. And if Tara doesn't get control quickly, it might cost the lives of everyone she holds dear.

Quarantine Thirteen can be read as a standalone or in connection with the River in the Galaxy Duology.
Review:
I was given a free ARC of this book in exchange for an honest review.
I don't typically read a book 3 in a series without reading the prior installments first, but I was assured this one can be read as a standalone. For the most part, that held true, but there are references to events and characters that I believe were from books 1 or 2 that were not fully explained. It didn't happen often and didn't detract from this story, though I think those passages would have held a bit more meaning for me if I was familiar with the earlier books.
But I have to say, I absolutely love the notion of traditional sailing ships being used to move between galaxies. What a cool concept. As a science nerd, I would have loved to learn more about how those ships worked, but again, I suspect this was something explained in the previous books. (Meaning I will probably read them at some point in the future to satisfy my curiosity.)
And in line with the sailing theme, there were instances of being stranded on an island, pirates to fight against, and unpredictable "sailing" conditions (as in portal storms, pirate traps, and the appearance of erratic wildlife.)
There are a bunch of memorable characters in this story too, though Tara is the main focus. She's the ship's navigator, gifted with the ability to see energy flows. Her pseudo-sibling relationship with Fabian was really fun, and her romance with Merlon was sweet. I liked that the romance was in the background, more to illustrate the motives behind some of their actions than anything else. And the found family theme in this story was so heart-warming. I loved that.
And since dragons are kind of my thing, I have to mention the dragons in this book. I really liked the notion that due to their significant age (millennia, possibly?) that their memories were horrible. And because of that, their actions were decidedly unpredictable, since the crew never knew if they were remembering recent events or something that happened centuries ago. The dragons were fascinating in that regard.
Overall, I really liked this book. It can be read as a standalone as long as the reader is willing to wonder a little about some references to earlier events, though I personally would like to read the other books to learn more.
Quarantine Thirteen is currently available for preorder and will release November 27, 2023.